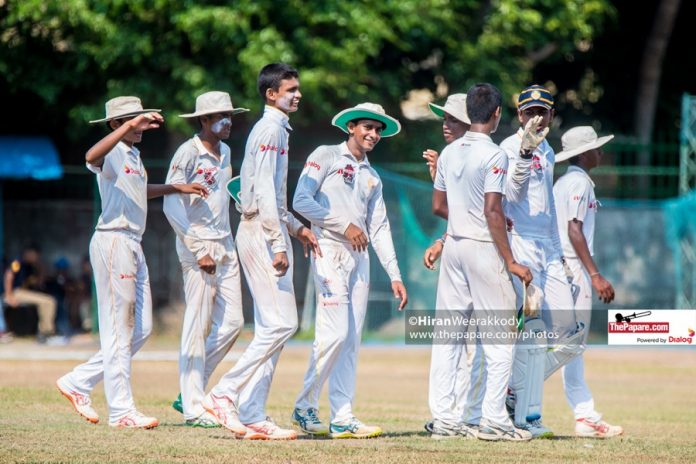 The final of the Singer Under 19 'Division 2' Two Day Cricket Tournament 2018/19 between Royal College, Colombo vs St. Anthony's College, Kandy concluded today (11th April) at Colts Cricket Ground, crowning the Royalists as the Division 02 champions.
Report – Day 01
Royal College started the second day on 26 for 1, trailing by 240 runs against St. Anthony's College's 1st innings total with Isiwara Dissanayake and Ahan Wickramasinghe being the overnight batsmen.
Dissanayake couldn't stay in the middle for long as he was dismissed by left arm spinner Nimnaka Jayathilaka who went onto pick up 5 Royal scalps.
But Jayathilaka's performance was over-shadowed by the brilliant Royal batsmanship as 3 batsmen from Reid Avenue went past 50 runs.
Under 19 national cap, batting maestro Pasindu Sooriyabandara contributed to the Royal cause with a rapid half century while experienced Bhagya Dissanayake missed out on a well-deserved century by just 9 runs.
Photos: Royal College vs St. Anthony's College | U19 Div II Cricket Tournament 2018/19 – Final – Day 2
But the pick of the batsmen was Ahan Wickramasinghe who smashed a brilliant century with 11 boundaries. He ended up scoring 116 runs and helped Royal surpass St. Anthony's College's first innings score of 266.
Royal's first innings was restricted to 314 by the opposition but it was too late as Royal already had secured the first innings win. Two teams agreed to conclude the match as a draw but Royal won the championship of Singer Under 19 'Division 2' Two Day Cricket Tournament 2018/19 by bonus points.
Both teams had already secured their spots in division 01 next season after being qualifying for the final of the tournament. Royal College won the limited overs edition of the division 02 too.
>>Click here for more Schools Cricket News<< 


Batsmen
R
B
4s
6s
SR
C Wickramasinghe
c Kavindu Madarasinghe b Kavindu Pathirathne
8
13
2
0
61.54
A Wanninayake
c Bagya Dissanayake b Kaushan Kulasooriya
32
63
5
0
50.79
Prabath Sachin
c Kavindu Pathirathne b Kamil Mishara
15
39
2
0
38.46
T Gunasinghe
c Isiwara Dissanayake b Manula Perera
3
25
0
0
12.00
T Abeykoon
run out (G Dissanayake)
31
53
4
0
58.49
K Senarathna
not out
102
173
13
0
58.96
L Werellagama
c Isiwara Dissanayake b Kamil Mishara
6
16
0
0
37.50
M Kamil
lbw b Kamil Mishara
27
76
3
0
35.53
G Ebert
c Kavindu Madarasinghe b Manula Perera
6
29
1
0
20.69
S Hirudika
c Ahan Sanchitha b Manula Perera
0
1
0
0
0.00
N Jayathilaka
c Kaushan Kulasooriya b Kavindu Pathirathne
14
52
3
0
26.92
| | |
| --- | --- |
| Extras | 22 (b 10 , lb 7 , nb 3, w 2, pen 0) |
| Total | 266/10 (88.5 Overs, RR: 2.99) |
| Bowling | O | M | R | W | Econ |
| --- | --- | --- | --- | --- | --- |
| Kavindu Pathirathne | 10.5 | 3 | 33 | 2 | 3.14 |
| Lahiru Madushanka | 12 | 2 | 44 | 0 | 3.67 |
| Kamil Mishara | 28 | 6 | 73 | 3 | 2.61 |
| Manula Perera | 21 | 7 | 50 | 3 | 2.38 |
| Kaushan Kulasooriya | 8 | 1 | 24 | 1 | 3.00 |
| Gishan Balasuriya | 9 | 1 | 32 | 0 | 3.56 |


Batsmen
R
B
4s
6s
SR
Isiwara Dissanayake
c M Kamil b N Jayathilaka
13
31
1
0
41.94
Kamil Mishara
b S Hirudika
4
2
0
0
200.00
Ahan Sanchitha
c T Gunasinghe b N Jayathilaka
116
148
11
0
78.38
Kavindu Madarasinghe
run out ()
0
10
0
0
0.00
Pasindu Sooriyabandara
c M Kamil b T Abeykoon
52
49
6
2
106.12
Bagya Dissanayake
c T Abeykoon b N Jayathilaka
91
153
11
0
59.48
Lahiru Madushanka
c K Senarathna b T Abeykoon
1
6
0
0
16.67
Kavindu Pathirathne
c K Senarathna b N Jayathilaka
10
28
2
0
35.71
Kaushan Kulasooriya
b N Jayathilaka
3
8
0
0
37.50
Manula Perera
c T Gunasinghe b C Wickramasinghe
5
64
0
0
7.81
Gishan Balasuriya
not out
4
10
1
0
40.00
| | |
| --- | --- |
| Extras | 15 (b 12 , lb 0 , nb 2, w 1, pen 0) |
| Total | 314/10 (84.3 Overs, RR: 3.72) |
| Bowling | O | M | R | W | Econ |
| --- | --- | --- | --- | --- | --- |
| S Hirudika | 5 | 0 | 33 | 1 | 6.60 |
| C Wickramasinghe | 6 | 2 | 17 | 1 | 2.83 |
| N Jayathilaka | 36.3 | 5 | 119 | 5 | 3.28 |
| K Senarathna | 19 | 2 | 57 | 0 | 3.00 |
| A Wanninayake | 7 | 1 | 29 | 0 | 4.14 |
| G Ebert | 3 | 0 | 28 | 0 | 9.33 |
| T Abeykoon | 8 | 1 | 20 | 2 | 2.50 |