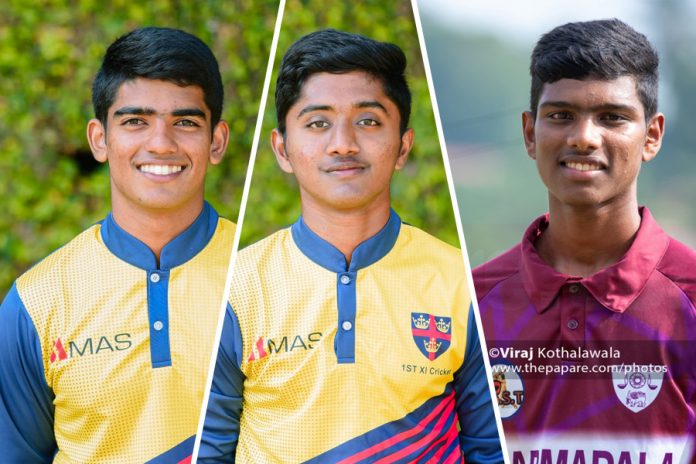 "Seven matches of the Singer Schools Under 19 Division 1 Cricket Tournament 2018/19  concluded today. Below are five of them "

Presidents College, Kotte vs Isipathana College, Colombo
A low scoring thriller between President's College vs Isipathana College concluded at Colts Cricket grounds today, President's College edging only by 20 runs. Day's play started with the commencement of President's College's 2nd innings. Right hand-left hand combination Akila Roshan and Vikum Kalhara made fifties but the team only made 148 due to Isipathana captain Madushika Sandaruwan's excellent spell of spin bowling. He ended up with 11 wickets for the match.
Photos: Isipathana College vs President's College Kotte – Singer U19 Division 1 Cricket Tournament 2018/19
Isipathana batters came to chase a small target of 137 but failed miserably against off spinning duo Dinith Nelumdeniya and Tashika Nirmal who picked up 4 wickets each handing the opposition a nail-biting win.
Brief Scores
President's College – 119 (28.2) Sashika Nirmal 38, Chiranga Heshan 34, Vikum Kalhara 26, Madushika Sandaruwan 7/30, Thevindu Dickwella 2/31 & 148 (47.2) Akila Roshan 60, Vikum Kalhara 50, Madushika Sandaruwan 4/59, Savindu Uthsara 2/36

Isipathana College – 130 (36.4) Ravindu Rathnayake 48, Thashika Nirmal 4/34, Suwen Sewmika 2/09, Eran Kesara 2/11 & 117 (40) Mandeepa Gunasekara 22, Dinuk Nelundeniya 4/51, Thashika Nirmal 4/49

Result – President's College won by 20 runs
Read More: Madushika's 7-fer highlighted the bowlers' day
---
Lumbini College, Colombo vs Nalanda College, Colombo
The game at Nalanda College grounds ended before lunch on day two with another miserable batting effort by Lumbini College. The main destroyer again, was ever reliable Chamindu Wijesinghe who picked up 4 wickets to restrict Lumbini to 96.
Nalanda College won by an innings & 45 runs to end the group B fixture.
Brief Scores
Lumbini College – 44 (19.1) Chamindu Wijesinghe 6/21, Dineth Samaraweera 3/21 & 96 (38.2) Chamindu Wijesinghe 4/26, Maheema Weerakon 2/02, Kaveesh Madurapperuma 2/27

Nalanda College – 185/9d (51) Avishka Perera 34, Moksha Sankalpa 30, Chamindu Wijesinghe 21, Maheema Weerakon 20, Ravishka Wijesiri 4/82, Ravindu Rashanka 2/26, Yasiru Jayasinghe 2/36

Result – Nalanda College won by an innings & 45 runs
---
Trinity College, Kandy vs Kingswood College, Kandy
Kingswood College won't be able to forget what happened today at Asgiriya grounds for a long time. They started the day 64/5 in the first innings but was bundled  out for 125 chasing Trinity's first inning score of 264. With a 139 runs head start, Trinity batsmen scored freely to rack up another 165 runs inside 30 overs. A hundred again by Abishek Anandakumar who scored a spectacular century vs St. Anthony's College was the declaration point for Trinity.
Then, Kingswood collapsed spectacularly to an embarrassing 33. Kavishka Senadeera who is known for picking 10 wickets hauls was the hero in both innings as he picked up 13 wickets in the match.  
Watch: Kavishka Senadeera's match-bag 11 wickets; Mahela-Sanga Trophy
Brief Scores
Trinity College – 264 (65.2) Pubudu Bandara 57, Chanuka Kumarasinghe 53, Dinitha Siriwardane 39, Jeff Weerasinghe 27, Umel Raizan 23, Devinda Damshika 3/42, Lakmal de Silva 3/102, Dumindu Damshika 2/30 & 165/6d (29.1) Abishek Anandakumar 100*, Shene Gunathilake 26, Dumindu Damshika 3/27, Deegayu Bandara 3/48

Kingswood College – 125 (49.4) Harshana Wickramasinghe 34, Kavishka Senadeera 7/46, Avishka Senadeera 2/24 & 33 (14.5) Kavishka Senadeera 6/14, Abishek Anandakumar 3/12

Result – Trinity College won by 271 runs
Read More: Lakshitha, Chamindu & Mahima outbat Mahinda
---
Wesley College, Colombo vs Dharmapala College, Pannipitiya
Dharmapala College started the day at 84/5 but right-handed bat Ashen Egodage's mammoth 162 made sure they reached 344 to earn the points for first innings. Shevon Nadeeja provided the much-needed role of second fiddle for the recovery act with an unbeaten 72.
Wesley lost 3 quick wickets at the evening before the end of the match in their second innings.
Brief Scores
Wesley College – 207 (67) Shenal Dangalle 68, Moveen Subasinghe 29, Rahul Gunaskera 23, Shahim Dias 21, Buddima Wijesundara 20, Dulaj Egodage 3/34, Vihanga Gunarathne 3/44, Shashika Dilshan 2/36 & 25/3 (12)

Dharmapala College – 344 (111) Ashen Egodage 162*, Shevon Nadeeja 72*, Sanchana Lanka 32, Sidath Dharmasiriwardane 3/37, Shenal Dangalle 2/38, Thenuka Perera 2/55

Result – Match drawn
Photos : Ananda College v St.Thoma's College, Matara
---
St. Mary's College, Kegalle vs Dharmaraja College, Kandy
Group C fixture at Dharmaraja College grounds was won by the home team by an innings and 10 runs after dismissing St. Mary's batting card to another sub-par 135. Left arm orthodox Upendra Warnakulasuriya had a dream match as he ended up with the figures of 12 for 101.
Earlier in the day Gihan Abeywardane made sure Dharmaraja innings finished at 295, but his 6-wicket haul wasn't enough to stop the inevitable.
Brief Scores
St. Mary's College – 150 (47.1) Pasan Walisinghe 53, Gajitha Kotuwegoda 31, Gihan Abeywardane 24, Upendra Warnakulasooriya 6/55, Mithila Gayashan 2/15 & 135 (53.5) Gajitha Kotuwegoda 43, Sineth Weerasooriya 30, Upendra Warnakulasooriya 6/46, Thushan Hearth 3/27

Dharmaraja College – 295 (71.4) Kasun Gunawardane 50, Isuru Dayananda 48, Yasith Samararathne 47, Sachintha Senanayake 41, Thushan Herath 26, Dulaj Bandara 24, Mithila Gayashan 21, Gihan Abeywardane 6/85, Akalanka Pethiyagoda 2/36
>>>Click here for more Schools Cricket News<<<