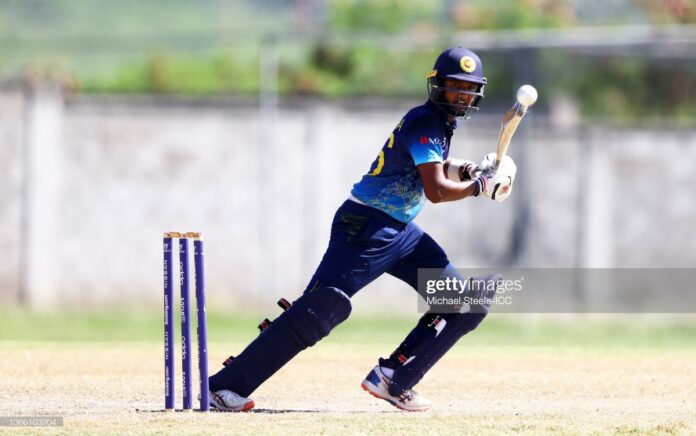 Sri Lanka U19s beat West Indies U19s by 3 wickets to register their third consecutive win and qualify for the quarter-finals of ICC U19 World Cup today (21st January).   
Having won the toss, Sri Lanka Skipper Dunith Wellalage chose to bowl first at Basseterre and came up with an unchanged playing XI against Windies. Sri Lanka got off to a good start with the ball, as spinners Traveen Mathew and Dunith Wellalage came to the act very early in the innings, dismissing both the West Indies opening batters inside the first 8 overs.
However, West Indies batters Teddy Bishop and Kevin Wickham did the repair work, building a 68-run partnership for the 3rd wicket before the Skipper Wellalage struck again to take Bishop's scalp in the 27th over.
Wickham built another crucial half-century stand with Jordan Johnson, as Windies posted 250 for 9 in the allotted 50 overs. Wellalage, who has been in great touch with the ball throughout the tournament, picked up another 3-wicket haul, while speedster Matheesha Pathirana also chipped in with 3 scalps for Sri Lanka.
Chasing 251 runs to win, Sri Lanka faced a huge blow as their opening batter Chamindu Wickramasinghe lost his wicket in the very first over of the innings. However, the other opening batter Sadisha Rajapaksa rescued the innings building vital partnerships of 52, 40 and 78 with Shevon Daniel, Sakuna Liyanage and Anjala Bandara respectively to guide the islanders over the line.
Rajapaksa top scored with 76 runs off 115 balls with 5 fours to his name while Bandara also chipped in with valuable 40 runs off 52 balls with 2 fours and a six. Sri LankaU19s will now take on Afghanistan in their next assignment in the quarter final of U19 World Cup.
Group D – Points Table
| | | | | | |
| --- | --- | --- | --- | --- | --- |
| Team | Matches | Won | Lost | NRR | Points |
| Sri Lanka | 3 | 3 | 0 | +0.753 | 6 |
| Australia | 3 | 2 | 1 | +0.096 | 4 |
| West Indies | 3 | 1 | 2 | +0.699 | 2 |
| Scotland | 3 | 0 | 3 | -1.666 | 0 |


Batsmen
R
B
4s
6s
SR
Shaqkere Parris
b Dulith Wellalage
16
29
2
0
55.17
Matthew Nandu
lbw b Matheesha Pathirana
7
12
0
0
58.33
Teddy Bishop
Treveen Mathews b Dulith Wellalage
45
62
7
0
72.58
Kevin Wickham
c Chamindu Wickramasinghe b Matheesha Pathirana
56
91
5
1
61.54
Jordan Johnson
c Sadisha Rajapaksa b Dunith Wellalage
47
56
4
1
83.93
Rivaldo Clarke †
run out (Anjala Bandara)
45
35
2
4
128.57
Giovonte Depeiza
run out (Anjala Bandara)
0
2
0
0
0.00
Nathan Edwards
run out (Matheesha Pathirana)
1
2
0
0
50.00
McKenny Clarke
b Matheesha Pathirana
21
12
1
2
175.00
| | |
| --- | --- |
| Extras | 12 (b 0 , lb 1 , nb 1, w 10, pen 0) |
| Total | 250/9 (50 Overs, RR: 5) |
| Fall of Wickets | 1-20 (5.2) Matthew Nandu, 2-34 (8.2) Shaqkere Parris, 3-102 (26.3) Teddy Bishop, 4-160 (37.4) Kevin Wickham, 5-194 (44.3) Jordan Johnson, 6-194 (44.5) Giovonte Depeiza, 7-202 (45.5) Nathan Edwards, 8-248 (49.5) Rivaldo Clarke †, 9-250 (49.6) McKenny Clarke, |
| Bowling | O | M | R | W | Econ |
| --- | --- | --- | --- | --- | --- |
| Yasiru Rodrigo | 3 | 0 | 19 | 0 | 6.33 |
| Treveen Mathews | 9 | 2 | 38 | 1 | 4.22 |
| Chamindu Wickramasinghe | 1 | 0 | 4 | 0 | 4.00 |
| Dunith Wellalage | 10 | 2 | 39 | 3 | 3.90 |
| Matheesha Pathirana | 10 | 0 | 67 | 2 | 6.70 |
| Shevon Daniel | 7 | 0 | 28 | 0 | 4.00 |
| Raveen De Silva | 6 | 0 | 36 | 0 | 6.00 |
| Sadisha Rajapaksa | 4 | 0 | 18 | 0 | 4.50 |


Batsmen
R
B
4s
6s
SR
Chamindu Wickramasinghe
c McKenny Clarke b Nathan Edwards
4
5
0
0
80.00
Sadisha Rajapaksa
lbw b Isai Thorne
76
115
5
0
66.09
Shevon Daniel
c Rivaldo Clarke † b McKenny Clarke
34
33
5
1
103.03
Sakuna Nidarshana Liyanage
c Rivaldo Clarke † b Giovonte Depeiza
9
22
1
0
40.91
Anjala Bandara
c Rivaldo Clarke † b Isai Thorne
40
52
2
1
76.92
Dunith Wellalage
c & b
15
15
0
0
100.00
Ranuda Somarathne
not out
28
27
0
0
103.70
Raveen De Silva
b
13
14
0
0
92.86
Yasiru Rodrigo
not out
6
9
0
0
66.67
| | |
| --- | --- |
| Extras | 26 (b 6 , lb 3 , nb 2, w 15, pen 0) |
| Total | 251/7 (48.2 Overs, RR: 5.19) |
| Fall of Wickets | 1-4 (0.5) Chamindu Wickramasinghe, 2-56 (11.4) Shevon Daniel, 3-96 (19.6) Sakuna Nidarshana Liyanage, 4-174 (35.2) Anjala Bandara, 5-199 (39.4) Sadisha Rajapaksa, |
| Bowling | O | M | R | W | Econ |
| --- | --- | --- | --- | --- | --- |
| Nathan Edwards | 10 | 1 | 50 | 1 | 5.00 |
| Shiva Sankar | 8 | 0 | 50 | 1 | 6.25 |
| McKenny Clarke | 9.2 | 2 | 38 | 1 | 4.13 |
| Matthew Nandu | 5 | 0 | 18 | 0 | 3.60 |
| Giovonte Depeiza | 5 | 0 | 32 | 1 | 6.40 |
| Isai Thorne | 10 | 0 | 41 | 2 | 4.10 |
| Kevin Wickham | 1 | 0 | 10 | 0 | 10.00 |