S. Thomas' College, Bandarawela 'A' team managed to reach the Final of the U17 Schools Division III Cricket Tournament 2023. They have won all eight matches which they played in the league, maintaining their unbeaten streak.
The performances of their batters and bowlers have stood out in the tournament so far. The batters performed very well in the first few matches, but as the tournament progressed, their performances retreated slightly, and at that time their bowlers managed to take their team to several thrilling wins with excellent performances.
In the first game, they secured a huge 225-run win over Saraswathi Tamil Central College, Badulla. During this match, Niksha Perera scored an impressive hundred with the bat, while Shimalka Kanchana showcased a brilliant bowling display, taking 5 wickets. In the second match of the preliminary round, Bandarawela S. Thomas' players defeated Uva College, Badulla team by another big margin of 208 runs, after bowling them out for 88. In the match which was reduced to 42 overs per side, Prathikshan Jayaseelan scored a brisk 82 runs facing only 45 balls and Misel Silva, who performed terrifically with the ball, picked up 5/15 for S. Thomas' College.
Read : Lyceum International School, Wattala crowned U17 Division 2 Champions
In the second round of the tournament, Bandarawela Thomians who batted first, posted a giant 468 runs after losing 9 wickets in 50 overs. The skipper Pravishka Nadeen led from the front, smashing a brutal century of 135 in 88 deliveries and Prathikshan Jayaseelan blasted another half-century. However, their opponents, Sevanapitiya Maha Vidyalaya, Polonnaruwa did not get anywhere close to the target, handing another massive win of 362 runs. On the bowling front, Rithma Bandara claimed the third 5-wicket haul for S. Thomas' College in this tournament.
In the third round, they had to compete against DS Senanayake College, Ampara. The S. Thomas' players were bowled out for 241 after batting first. However, due to some skillful bowling, they restricted their opposition side to 190 and registered a 51-run win. Mahanama College, Monaragala faced a strong threat from Thomian bowlers in the fourth round. As a result, the Mahanama side were unexpectedly bowled out for 68 runs. Accordingly, S. Thomas' top order batters managed to reach an easy target of 69 runs within only 4.2 overs. Prathikshan Jayaseelan, who delivered an extremely aggressive innings, scored an unbeaten 63 runs off just 17 balls.
In the pre-quarter final round of the tournament, S. Thomas' battled against Arafa College, Eravur. However, the S. Thomas' players who batted first, failed to showcase their usual performances where they were bundled out for 174 runs. But, due to some superb bowling, Thomians advanced to the Semi-finals with a 39-run win after restricting Arafa College to 135.
Even in the crucial Quarter-final match, the S. Thomas' batting department failed yet again as they were blown away for 152 against S. Joseph's College, Anuradhapura. Only Chiran Mahakumarage (29), Pravishka Nadeen (25) and Tharusha Dissanayake (24*) crossed the 20-run mark in that innings.
Chasing 153 runs to win, it did not look like a threatening task in the ODI format. But the Thomian bowlers did not allow the Josephian batters to break free. At the end, St. Joseph's side stumbled to 132 in front of an fiery bowling unit including Dineth Ratnayake (3/23) and Shimalka Kanchana (3/24). As a result, S. Thomas' College, Bandarawela which won by 20 runs, progressed to the Semi-final round.
Accordingly, they took on Namadagaswewa Maha Vidyalaya in the decisive Semi-final. Namadagaswewa Maha Vidyalaya decided to bat first after winning the toss. However, they were completely outplayed by Thomian bowlers, restricting them to 127. Shimalka Kanchana was the pick of the bowlers, scalping 3/26 while Osuka Bandara and Nikasha Perera each bagged a couple of wickets.
At 62/3, S. Thomas' run chase was interrupted by rain in the 17th over. Due to this consistent rain, the match wasn't able to resume again, ending with a no result. However, S. Thomas' College were able to go through to the final, based on the net run rate which they maintained from the previous matches.
S. Thomas' College, Bandarawela 'A' team is led by the 16-year-old and right-handed middle order batter Pravishka Nadeen. Mr. Hemaka Ariyaratne, who is an alumnus of the same college, is working as their head coach while Mr. S. Surendrakumar is working as the Master in Charge (MIC).
Squad

Pravishka Nadeen ©, Shimalka Kanchana, Niksha Perera, Chiran Mahakumarage, Samod Kethaka, Ponnambalam Harikaran, Jayathu Jayamanna, Dineth Rathnayake, Senul Lakshman, Arosha Dharmadasa, Prathikshan Jayaseelan, Rithma Bandara, Tharusha Dissanayake
Head Coach – Hemaka Ariyaratne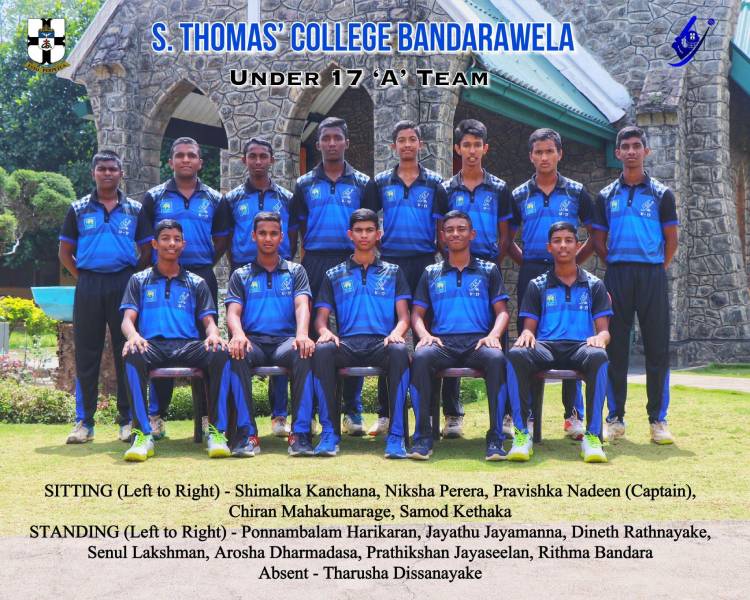 Head Coach – Hemaka Ariyaratne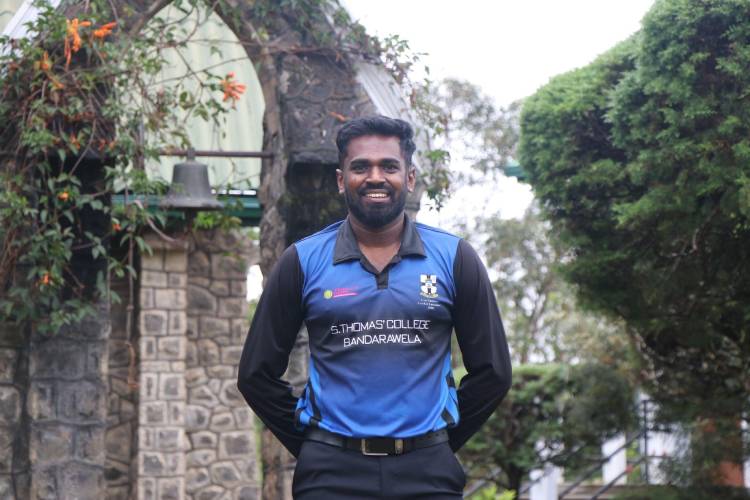 Master in Charge – S. Surendrakumar