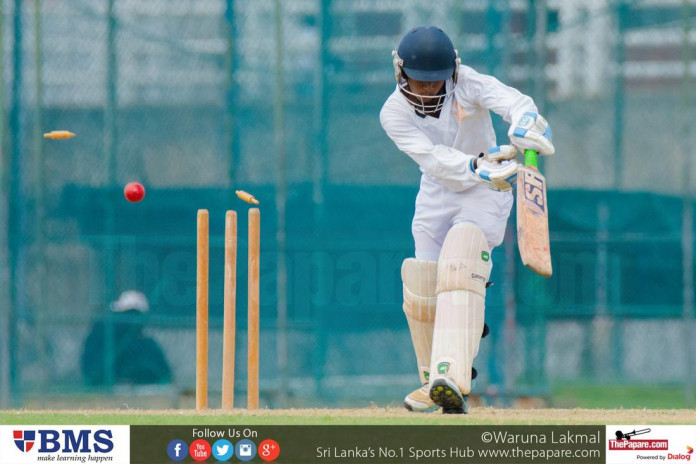 The 2nd round matches of the Singer U15 Div I cricket tournament is underway. Here's brief look into a few of the matches which concluded in the last two days.
St Sebastian's College vs Ananda College
St Sebastian's College put up a dominating performance against Ananda College to register an innings and 61 run victory in Moratuwa. After being put in to bat first, Ananda College was bowled out for just 55 runs thanks to a combined bowling effort by Nadeera Fernando and Dumith Wellalage who bagged four wickets each. In reply, the home side declared their innings at 193 for 4 which gave them ample time to go for an outright victory. Vihanga Mendis missed of St Sebastian's missed out on a century when he was dismissed for 99. Ananda just couldn't find a way to survive the pressure and they were bundled out for just 77 runs. Dumith Wellalage bagged 6 wickets in the 2nd innings to complete his ten wicket haul in the match.
Ananda College, Colombo 55 (31.1) Nadeera Fernando 4/20, Dumith Wellalage 4/06
& 77 (24.5) Dumith Wellalage 6/10, Nadeera Fernando 4/24
St. Sebastians College, Mortauwa 193/4d (37.3) Vihanga Mendis 99, Janishka Perera 51*, Shanel Fernando 28
Result – St Sebastian's won by an innings and 61 runs
---
Maliyadewa College vs De Mazenod College
A complete performance by the De Mazenod juniors saw them securing first innings points in this group W clash in Kurunagala. Maliyadewa College was bowled out for 155 after being put in to bat first and in reply De Mazenod posted 194 for 9 before they declared. At stumps Maliyadewa were 66 for 3 in their 2nd innings.
Maliyadewa College, Kurunegala 155 (38.2) Imesh Gayantha 45, Muditha Premadasa 36, Thimira Cahrdasena 28, Asitha Silva 2/32, Sihina Sithumina 2/45, Mark Mathayas 2/03
& 66/3 (12) Udara Rajapakshe 34*, Ishara Ranasinghe 14*, Asitha Silva 1/08
De Mazenod College 194/9d (41.3) Sihina Sithumina 52, Mass Mathayas 56, Chaluka Atapattu 3/41, Gayan Chandrasena 2/11, Ishara Munasinghe 2/33
Result – Match Drawn (De Mazenod claim 1st innings points)
---
Karandeniya Central College vs DS Senanayake College
Dumindu Udugama's five wicket haul helped DSS to register an easy first innings victory over Karandeniya Central College. Karandeniya Central was bowled out for 171 runs and in reply DSS were 201 for 7 at stumps with valuable half centuries from Teron Shanel and Missaka Nadun.
Karandeniya Central College 171 (53.2)
Dimuth Sandaruwan 40, Dewaka Shaminda 28, Vishan Sahas 28, Dumindu Udugama 5/30, Chamath Yatawara 3/24
DS Senanayake College 201/7 (46)
Teron Shanel 79, Missaka Nadun 52*, Samith Isuru 4/76, Danesh Madushanka 2/41
Result – Match Drawn (DS claim 1st innings points)
---
Royal College, Panadura vs Thurstan College
Royal College, Panadura registered an easy first innings victory against Thurstan College at the Thurstan Grounds. Thurstan was bowled out for 104 and in reply Royal scored 196 which secured them first innings points.
Thurstan College 104 (27.3) Thithira Weerasinghe 23, Bawantha Jayasinghe 20, Nethmina De Silva 2/15, Prashan Kalhara 3/21, Hirujith Rasanjana 2/13
& 30/2 (5)
Royal College, Panadura 196/9d (65) Sanuk Randunu 51, Dananjaya Prasath 50, Pubudu Chinthaka 34*, Thithira Weerasinghe 3/35, Gishal Gamlath 2/34, Sonal Paranavithana 2/44
Result – Match Drawn (Royal claim 1st innings points)