ThePapare Basketball Championship (TPBC), setting the stage for the next generation of stars, will take center-field in the Sri Lankan basketball fraternity for the second consecutive year allowing twenty-eight top notch schools to compete to become the elite stars of the school's basketball arena.
TPBC 2016 – A Recap
Presbyterian Girls School participated in Group A. Unfortunately, Presbyterian Girls School bowed out from the semi-final stage as St. Joseph's Girls School beat them 32-21. After losing the semi-final Presbyterian Girls School went on to play the third place play-off against Holy Family Convent – Colombo 04 which ended in favour of the  Familians 49-34.
Key Players
Dilakshi Fernando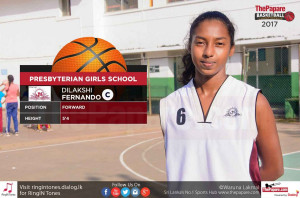 Skipper for the season, Dilkashi also captained the Sri Lanka Schools` Basketball Team earlier in the year. Among the players in the outfit Dilakshi holds the most amount of experience and the team will rally around her to make amends for last years` semi-final loss. The height disadvantage is a factor that the team will undergo as a whole, hence Dilakshi`s main focus should be on improving her defensive strategies.    
Photos : TPBC17 | Presbyterian School – Colombo| Girls' Basketball Team
The Team in a nutshell `
The team's primary focus is their defence while on the court. They believe that a good defence is the best offense and are heavily reliant on their defensive skills to win matches. Along with this since the average height of the team is low, they compensate for the size disadvantage with a strong defence to even things out on the court.
The Presbyterian team has made it to the semi-finals on numerous occasions and this year they plan to take it a step up and place themselves in the finals. They've focused on fixing their mistakes from last year such as their shooting accuracy.
The usual practice schedule of the Presbyterian Girls` School is three days a week. Yet, the governmental examinations have disrupted their normal routine since the team mainly comprises of U17 students who sits for the examinations.  During practices, the key focus has been developing the players shooting and developing offensive strategies while still giving a lot of prominence to their defensive drills.
Quotes
Skipper Dilakshi Fernando speaking to ThePapare.com, "I have confidence in my juniors that they can support me and the rest of the team to victory. We want to win the tournament and make our teachers, school and all those who helped us proud of what we can achieve."
Tharindu Fernando, Coach of the outfit speaking with ThePapare.com, "I have had a dream of getting this team to the finals for a while now, we've come very close to that in the recent past and hopefully this will be the year that we can achieve that goal."
Team Line Up

Dilakshi Fernando, Ishadi Watsala, Irushi Gimhan, Tharindya Keshari, Siyumi Thathsari, Vishmi Liyanage, Oshani Perera, Oshadhi Perera, Tharani Nadewni, Dilki Thakshila, Samaji Vinodya, Roshani Mihisari.