If the Sri Lankan selectors had been paying attention to the various social media feeds on Kaushal Silva, you would have thought his career would have been ended a long time ago.
Even on the day he scored a hundred, after 24 barren attempts since June of 2015, the frenzy had not abated. There was one tweet asking him to stay at home because it would be pointless to join the team as a some patriotic move. ESPNCricinfo's ball-by-ball commentary had one user write in, at the start of the fourth day, hoping the openers would get out as soon as possible because their scoring rate would be too slow.
The criticism levelled at Silva over last 12 months has come in many forms. And when put together they are all a bit contradictory. He's too slow. He doesn't rotate the strike. He's too boring. Of late, it's been that he's playing too many shots. He runs poorly. He's boring.
Everyone's enjoyed a laugh at Silva's expense. Anyone with access to the internet has expressed their opinion on who should replace him and Dimuth Karunratne as the opening pair, how Silva should bat and what a liability he had become for Sri Lanka.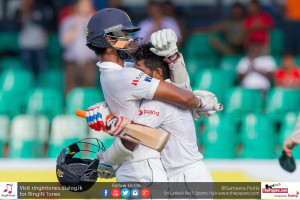 Silva was brought into the side, a middle order batsman for his domestic side, and asked to open. His task was to blunt the ball. To bat deep into the first 10 or 15 overs of a Test innings and give the likes of Kumar Sangakkara, Mahela Jayawardene and Angelo Mathews a platform. He was the stable, dependable partner to his a-bit-out-there partner Karunaratne.
At his best, Silva left the ball like it was the single biggest decision he ever made in his life. And got starts and tried to bat deep. But his real issue was that once he got those starts he would throw them away as if to say "Well, that will do for me. Done my job. Over to you flashy folk"
But it has invariably meant that at the loss of his wicket Sri Lanka had not progressed much in the game. The ball might have been a bit older, but his wicket still meant there was pressure on the incoming batsman. And the in the middle of all this Silva lost his form, his off stump and the concept of who he was as a batsman.
However, in an extraordinary leap of faith by the selectors, who are otherwise prone to fickleness with Sri Lankan selections, Silva kept getting picked. So Sri Lanka took the carcass that was Silva all over the world like some sort of strange travelling museum exhibit. People looked at it and turned away in horror.
The hope from the selectors was that the slump would be temporary. Unfortunately, it dragged on like a bad habit that is hard to break. Silva averages 25 over the last 24 months. He had scored only 3 half-centuries in 18 attempts until yesterday. And 13 out of those 18 innings had resulted in under 20.
When Sri Lanka went to England, he had only managed 139 runs in the 10 innings preceding that tour. So it wasn't even mildly surprising when his first three innings on that tour read 11, 14, and 13.
Silva had to do something. So he played shots, he ran harder and he tried to score at a higher rate. And he managed to turn his luck around at Chester-le-Street and Lords to some degree. It was certainly enough for him to earn the Tourists' Man of the Series award. And even then, that award ended up being punch line when Silva was brought up.
When the Australian tour came around, Silva tried to repeat what he had stumbled upon in England. He would be positive. He would play his shots. But the result was that he was caught in two minds when the ball was in the zone. He poked at balls he used to leave. He chased the angled balls of Mitchell Starc in both the first innings in Galle and Colombo. Net result; 4, 7, 5, 2, 0.
The second innings at the SSC was the last-chance-saloon moment for Silva. Already, the writing was on the wall for his opening partnership with Karunaratne. Sri Lanka sent in a nightwatchman ahead of him to open. And was promptly reduced to 8 for 1. This was it.
Silva went on to produce an innings of supreme batsmanship. Calling on all his reserves and leaning on the blood and sweat he had poured into the SSC pitches of old on his way to 15 first class centuries before he got the call-up for Sri Lanka.
While the other batsman decided to attack the demons out of the pitch in a percentages game, Silva instead, shackled himself to playing from the crease. This time, he would block than attempt what is not his natural instinct. He would build rather than manufacture. It was a patient, thought-out innings in conditions that were hard. When his team needed the runs to carve out a lead and press for a whitewash.
Here was a man who had taken a blow to his head off the bat of the man batting at the other end and had a concussion before the England tour.  A man who ripped open his webbing, had stitches put in, fielded for almost the entirety of his time when Australia batted under a helmet and still batted for 90 overs. And all that pent up ridicule, pressure and hardship had been endured blew wide open when he got those three figures that had eluded him. It was a real lions roar, a scream of freedom after breaking the shackles in his mind.
And it had taken Silva rediscovering himself to get there.  This was the original Silva. He'd gone on a walkabout and arrived back at base. This is what Sri Lanka had always wanted of him. The 30's and 40's converted to bigger scores. To battle out the Test in his own way and get the team to where they needed to be. Whether or not he will decide to stick to this method or revert to another is something only he will be able to answer. And it is also up to Mathews and Sri Lanka to clearly define what his role is, but, at least for now he can feel like he has earned his way to some length of time to figure it all out.