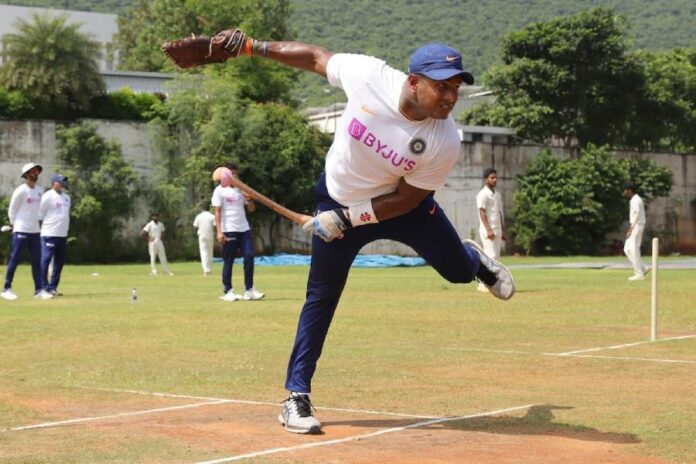 Indian cricketer Dinesh Karthik on commentary with Sky Sports during the Lord's Test between England and India was praising the contributions made by Nuwan Seneviratna, the team's throw down specialist. 
Better known as 'Bawwa', Nuwan is one of the two overseas nationals in India's extended coaching staff. So who is this Bawwa? Why is he rated so highly? We did a bit of research and came up with some interesting facts. 
From humble and simple beginnings, Bawwa has gone onto become one of the most highly sought after professionals in cricket. There was just one simple mantra for his success; work, work and more work. 
Bawwa's school career was nothing spectacular. After school he migrated to the Middle East and when he returned got a chance to play for CCC's second string side and eventually ended up playing two First Class games. But there was no real future for him in cricket.
He was not the hulk-like guy who he is today. He was quite skinny 15 years ago, driving an office van, bringing office workers to Colombo and driving them back home. He used to park near NCC and watch the Sri Lanka 'A' team train. 
Quietly he started helping out 'A' team fielding coach Manoj Abeywickrama with fielding drills. He's a pretty good hitter and useful in giving catching practice and soon the word went around and SLC hired him. Thus began his journey with the cricket board as a fielding coach with the 'A' team. He had worked his way up and ended up with the national team as Assistant Fielding coach during the tour of England in 2016.
During the tour, Head Coach Graham Ford observed that England were using the 'sidearm' to great effect during training. Sidearm is a piece of equipment that offers players batting practice with quick, accurate, swinging and seaming deliveries. Ford felt that Bawwa was best suited for the job as he had many advantages. 
Firstly, he is left-handed and then he had the physical endurance to use the sidearm for hours with many players wanting to get a hit. 
Bawwa could generate pace up to 150kmph and he could keep doing that for hours. Soon not many players wanted to face him in the nets. But Niroshan Dickwella did Dickwella things. There was this net session where Ford was stunned and sat on the floor after Dickwella scooped a 150kmph thunderbolt. Kusal Mendis was apparently another guy who was hardly troubled by Bawwa. Many other seniors avoided him like the plague. 
So suddenly from being fielding coach, he became a throw down specialist. There were a few murmurs about Bawwa's role in the team with people alleging that he was too close to seniors. These stories at one point even ended up at the doorstep of then Sports Minister Dayasiri Jayasekara. 
But Bawwa kept doing what he knows best, working harder. He apparently had an insane gym schedule. In order to cater to the demands of constant requests of throw downs during a three hour session, he had to be physically strong. Hence Bawwa did two gym sessions daily on non-match days. The first session would usually start at 5am. 
Things were going smoothly for Bawwa as he was making good progress with SLC. His salary however, was not moving up fast enough. Then, in 2018, India's Batting Coach Sanjay Bangar called. 
Remember the 2017 Champions Trophy final at The Oval? Pakistan quicks Junaid Khan and Mohammad Amir were causing problems. Amir dismissed India's top three Rohit Sharma, Shikhar Dhawan and Virat Kohli while Junaid hammered the final nail by dismissing Ravindra Jadeja as India lost by 180 runs. 
India's problems of facing left-arm quicks had been clearly exposed. They had had problems with others like Mitchell Starc, Trent Boult and Mustafizur Rahman too. The Indian think tank felt that Bawwa could help fix some of those problems. 
Hence, BCCI reportedly offered him a salary ten times more that what SLC was paying him. That was an offer that he could not say no to. He joined ranks with India just before the 2018 Asia Cup in UAE and has been highly rated.
In Perth last year, Virat Kohli was having a net session and Bawwa was doing throw downs. One ball hit Kohli's ribcage and feeling sorry for the captain, Bawwa took off the intensity for the next few deliveries. Soon Kohli summoned him and asked him what the heck was happening. When Bawwa informed him that he didn't want to see the captain getting hurt, he got an earful and Kohli asked him to go at his top speed. Lesson learnt. Bawwa never took the foot off the gas from that point. 
For a guy who is massively built, Bawwa can be childlike. His good nature of trying to please people has got him into trouble while he was with Sri Lanka. Apparently, he has learnt his lessons now. He is going places with India. It's indeed a story from rags to riches. The moral of the story is if you keep working hard at what you are good at, you will succeed one day.