Nuwan Kulasekara has always been a man who surprised you.  He was pondering the next step in his life after his O-level exams when a friend of his asked him to come and play cricket for the Nugegoda Sports Club.
For Kulasekara, it seemed like a good way to have a bit of fun. He ended up playing four years for them. From there Champaka Ramanayake recruited him for the Galle Cricket Club.  In his first season with them, tiny, unsuspecting, 'not built for fast bowling' Kulasekara was their best bowler.
This might make it sound a bit like he had an easy run at the start of his career. That is hardly the truth, though. He was a bowler who had never played with a leather ball before his under-23 days. Before his years at the Nugegoda Sports Club, the only competitive bowling he had done was with a soft-ball in his village with his friends.
When cricket became serious, he realised early on that he was not the bowler who was going to be bowling grenades at 145 kilometres per hour. And that he would not be the bowler who would be making the batsman duck and weave.
The ignorance of youth often propels us to aim for things we are not capable of. It's all a part of learning life lessons, making mistakes and a rite of passage for every person. The realist in Kulasekara cut through all that.
He understood his limitations intimately. But they did not weigh him down, instead, it gave him a deep sense of resolve to try and push those limits as far as he could. He set about honing his in-swinger, for which he would later become renowned. And he worked on hitting a nagging length with metronomic precision; another attribute that defined his bowling.
He excelled in these aspects enough to arrive at the top of the ODI rankings for bowlers in 2008.  This wasn't an Australian fast bowler, an English seamer, an Indian spinner or even a mystery spinner from Sri Lanka. This was Nuwan Kulasekera, the little engine that could, who had picked up cricket on a whim.
His new ball partnership with Lasith Malinga in limited overs cricket is unlikely to go down in the annals of cricket as one of the greatest. But much of what Lasith Malinga achieved would have been a harder task without Kulasekara's reliability at the other end.
While Malinga was manically shredding on the fret board with the spotlight on him, Kulasekara dutifully strummed the rhythm in a dark corner of the stage. There are many Sri Lankan captains over the last decade and a bit that owe a lot to the role Kulasekara played in keeping Sri Lanka a relevant side in the limited over formats.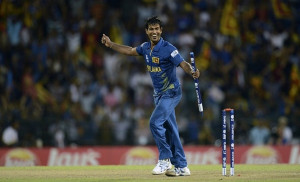 In an era where fast bowling is measured by a speed gun and how aggressive you are, Kulasekara was an alien. While most bowlers pump their fists, provide colourful send-offs to the batsman or scream like they've just won a decade long bloody war at the fall of a wicket, Kulasekara lit up the screen with his mile-wide smile instead.
It was his laid back attitude to life that allowed him to flash that smile every time he took a wicket. It was also this outlook on life that did not bring him down when he failed to convert his short format performances to the white kit variety.
In the end, the red ball and Test cricket were the extent Kulasekara's talent and hard work could take him. In a decade of Dale Steyns and Mitchell Johnsons and Jimmy Andersons, Kulasekara's 21 tests in his 13-year career reflect that he had hit his ceiling.
In Tests, he could intermittently reproduce his movement with the red ball when it was new, as evident by some of his performances against Pakistan in 2009 and 2010. But Kulasekara did not have the pace to worry batsmen after that initial period's trial of swing. And perhaps, more importantly, he did not have the weapons in his armoury to work over batsman with the old ball.
With the rise of a brigade of other fast bowling talents around the Island, Kulasekara has realised the inevitable. And the realist in him has understood that this is the time to cut his losses and focus on what he is still good at.
Of late, though, he's been struggling when he's donned the coloured clothing too. His average in 2014 and 2015 read as 58.88 and 40.25. It's not surprising that this has happened around the time when fielding restrictions changed in favour of the batsman so completely and when batting techniques are evolving to power-hitting and 360-degree shots. His limitations as a bowler have been exposed and Kulasekara's career is now truly at a cross road.
His retirement from Test cricket did not catch anyone off guard. It had seemed inevitable. There won't be billboards of his face at grounds or media events adoring his achievements. Sri Lanka won't miss him in the Test line-up. And his ODI career, while still alive, hangs in the balance. There are many things that Kulasekara wasn't physically able to do. But what he did do for Sri Lanka was important and tangible. Sri Lanka will miss that. And that smile.