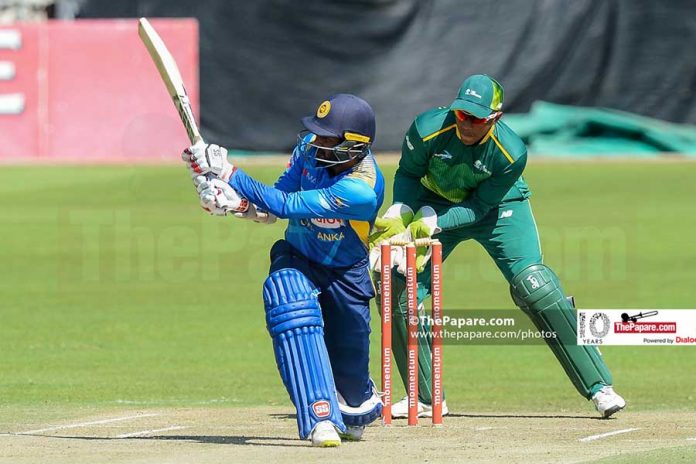 Veteran Upul Tharanga making a comeback to the side looked solid scoring 45 off 34 balls as Sri Lanka overcame Cricket South Africa XI by six wickets here in Benoni on Thursday. But the comprehensive win, Tharanga knows should not give his side a false sense of security as the Proteas on Sunday in the opening ODI at the Wanderers will be a different kettle of fish.
Reporting from Benoni, South Africa
"This is the last series before the World Cup and I know that a decent series here will earn me a spot for World Cup. I have the confidence. I have done well in South Africa over the years. But this is a new series and you are back to square one. Playing the Proteas at home is not easy," Tharanga told ThePapare exclusively.
Newbies steer Sri Lanka to comfortable win
"The Proteas' attack will be much more challenging than this. Today's attack wasn't international standard except for one or two. The ODI series will be totally different."
Along with Tharanga, there are several other openers fighting for World Cup slots. While vice-captain Niroshan Dickwella picks himself, Tharanga, Danushka Gunathilaka and Avishka Fernando will face competition.
"There are about four or five players competing for the openers slot for the World Cup. Luck plays a role. You have to score runs when it matters. This series is important. Actually you will fail if you think what's going to happen for me in the next tournament. No point of thinking of the World Cup. What is important is the next game. You have to live in the present moment."
"I have been playing for 14 years now. I don't think there's any player who has been dropped as much as me. I would have been dropped more than ten times. Every time I made a comeback, I scored runs heavily either in domestic cricket or in overseas competitions. The important thing for me is to go out and score runs."
Photos : Sri Lanka vs South Africa Invitation XI – Tour Match 2019
The last time Sri Lanka toured South Africa two years ago, Tharanga was one player to return home with his head held high having posted a hundred in Cape Town.
"The South African fast bowlers are very aggressive. The wickets here have lot of pace and bounce and they make their height to good advantage. If we play to survive, then we are going to get out at some point. How I succeeded last time was by being positive. I had a few chats with players who had done well here. So you got to be positive and trust your instincts. That helped me to score runs," he recalled.
With 15 hundreds and 37 fifties to his credit in ODI cricket, the 232 games veteran should have been an automatic choice but his form in recent times in international cricket waned. It didn't help that as captain he decided to bat in the middle order rather than his usual position.
>>Sri Lanka v South Africa 2019<<
"When I was skipper, both Angelo Mathews and DInesh Chandimal were out of the side and we were getting some young players like Niroshan Dickwella and Danushka Gunathilaka in. They were comfortable opening. Since I had done the role for the team in the middle order, the selectors asked me whether I would be happy to play in the middle order rather than sending a young player to the middle order. It made sense and I took up that challenge thinking of the team."
While such decisions can be beneficiary to the team, it can come back to haunt you. "Well it can affect you personally. If the new openers fire and when you go to the middle order and don't score runs and when some of the seniors who were out of the team return, then you lose your sport. It has happened to me. But I have no regrets as we had to make those sensible decisions. I didn't become selfish and think of my position."