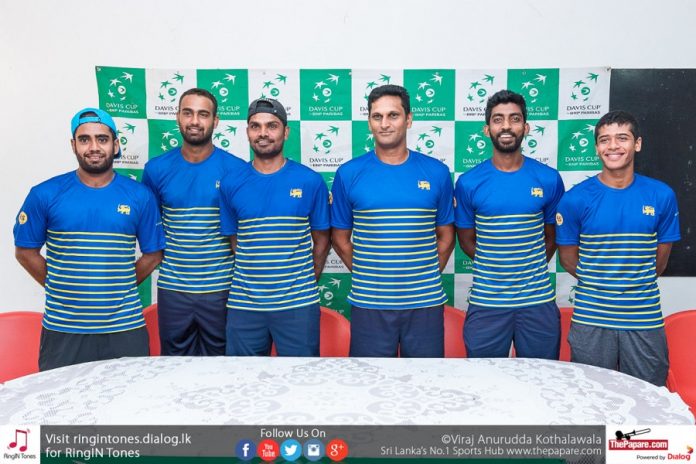 Five matches over two days is all it takes for a nation to crumble or retain their pride and glory. The Davis Cup Asia/Oceania Group II relegation tie between Sri Lanka and Indonesia will come alive on the 7th and 8th of April at the Sri Lanka Tennis Association with ThePapare.com bringing you Live coverage from both days of play.
ThePapare.com | Viraj Kothalawala | 04/04/2018 Editing..
The stakes are higher than ever for both teams as this tie will decide which team gets to keep their spot in group II and which team will be forced to step down to group III for 2019. Team Indonesia has touched down in Sri Lanka and are getting acquainted with the harsh weather conditions in Colombo and are going through intense training sessions ahead of the weekend.
National Davis Cup Team – Training Session.
Sri Lanka and Indonesia have crossed paths once before back in 2016 with Indonesia playing hosts in the Group II relegation tie. The hosts grabbed a classy 5-0 victory over the lions demoting them to Group III for 2017. Sri Lanka fought long and hard to remain unbeaten in the Group III play offs beating 4 nations to earn their spot back in Group II for 2018. With doomsday fast approaching, Sri Lanka find themselves motivated with Harshana Godammane back in the clan having missed the Thailand tie earlier this year.
Read: Godda returns with new hope
At a press conference held earlier today (4th April) Non-Playing Captain Rohan De Silva said they were confident ahead of the tie having a "solid team".
"Having Harshana back will surely be an added value. But that's not to say the team that played against Thailand isn't capable of making a difference because they are."
Long standing veteran of the game Harshana Godamanna had this to say regarding the upcoming tie:
"We have a very balanced team this year even if I wasn't there. The team is great; Like Rohan said I'm just a value addition"
Photo Album – Davis Cup National Men's Tennis Team
Team Sri Lanka
Harshana Godamanna, Sharmal Dissanayake, Yasitha De Silva, Alex Fairbanks, Avindra Perera.
Team Indonesia
Christopher Rungkat, David Susanto, Justin Barki, Anthony Susanto, Althaf Dhaifullah.
Be sure stay logged to ThePapare.com for LIVE action from the center court on the 7th and 8th of April from 9.15am onwards.