The 21st edition of the FIFA World Cup has come to an end with the 'Les Bleus' crowned champions of the World following a thrilling final against Croatia.
The biggest show on the planet often sees new stars born, rags to riches stories and players rising through adversities to shine on the world's biggest stage. Here are some of the stories from Russia 2018 that caught the eye.
The rise and rise of the Vikings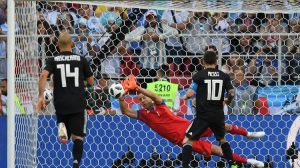 The referee points to the spot after Sergio Aguero is felled inside the box and up-steps Lionel Messi, arguably the best player on the planet, to take the penalty. Messi hits to his left, the goalkeeper guesses right and just like that Hannes Halldorsson has denied Messi, he has denied Argentina.
In 2016 Iceland became the smallest nation to qualify for the Euros but then, when they were drawn into a World Cup qualifying group with Croatia, Ukraine and Turkey, it appeared that a playoff spot was perhaps their best hope of qualifying.
But the Vikings showed that their run to the quarters of Euro 2016 was no flash in the pan, becoming the smallest nation to qualify for a World Cup.
The country with a population of just over 330,000, which had denied Cristiano Ronaldo and the Portuguese, the eventual champions, a win at the Euros and then dumped the English out of the same competition, had made it on the World stage.
Despite finishing bottom of their World Cup group, for a team that was ranked 131 in July 2012, you could say, the best is yet to come.
Like father, like son
On 24th June 1998, Denmark's Peter Schmeichel stood in goal as Frenchman Youri Djorkaeff looked to put France ahead from the penalty spot. Schmeichel stood tall, staring down his opponent.
He dove to his right but the powerful shot by Djorkaeff snuck under his outstretched arms as eventual World Cup Champions France went 1-0 up in their final group stage game (they went on to win 2-1).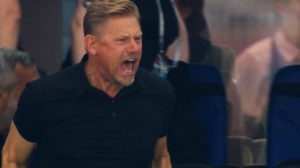 Fast forward to July 1st 2018, 20 years later, another mid-fielder steps up to the penalty spot. This time it is Luka Modric, in the 26th minute of extra time in Denmark's Round of 16 matchup against Croatia. This time Schmeichel is in the stands and can barely watch as his son Kasper takes his place in front of the goal. He dives to his left and all but swallows Modric's shot.
The crowd goes wild, none more so than Peter Schmeichel. Kasper went on to save 2 more penalties in the ensuing shoot-out but Croatia ultimately emerged victorious 3-2.
"Lost for words. Can't be more proud of my country, my son, his team-mates, all the staff and our fantastic national coach Age Hareide. When all the tears have dried out we will realize how well we did." – Peter Schmeichel
In honour of Hrvoje Ćustić
When Denmark and Croatia met in the Round of 16 of the World Cup, not many would have expected the game to be as dramatic as it was. 2 goals within the 1st 5 minutes of play, a penalty saved in the last 5 minutes of extra time and a nerve wracking penalty shootout.
Kasper Schmeichel was poised to save Denmark but his efforts were undone by the understated Danijel Subasic, who saved 3 penalties as Croatia won the shootout 3-2.
When the 33-year-old was finally able to escape being mobbed by his jubilant teammates, Subasic took his jersey off to reveal a t-shirt with an image of an unfamiliar footballer on it. The player was Hrvoje Ćustić, a former teammate of Subasic who died in tragic circumstances 10 years ago.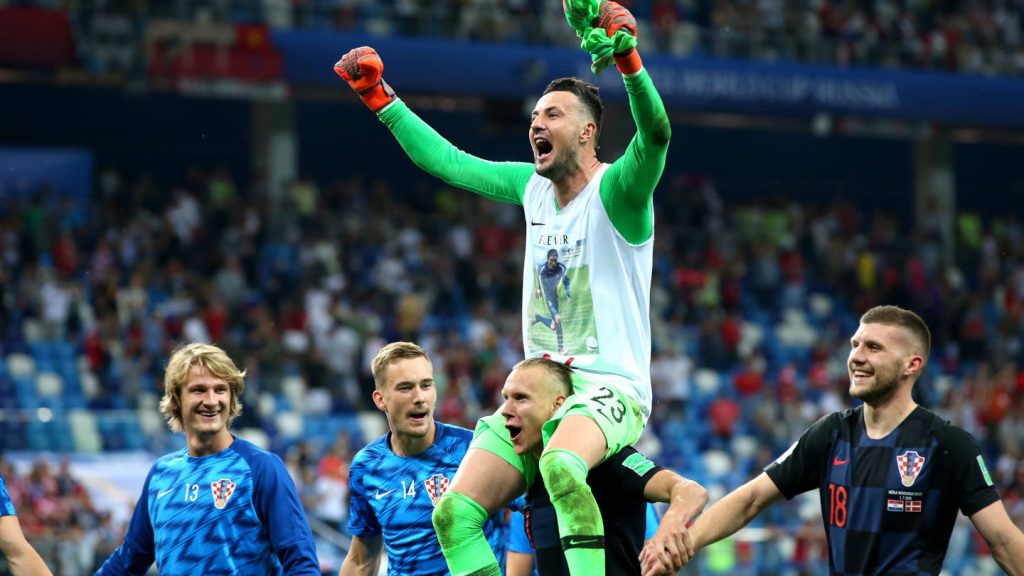 29th March, 2008, NK Zadar are playing a home fixture against HNK Cibalia. An aimless through ball is gathered by the Zadar keeper Subasic, who then sends a long pass out towards a teammate.
Hrvoje Ćustić rushes towards the ball as it bounces towards the touch-line and falls forward. His momentum carries him, head-first, into a concrete barrier which runs the length of the far side of the pitch. He died five days after the accident, a promising life cut short.
10 years later, his friend, the man whose kick he was trying to get to when he met with his demise, kept Ćustić's memory alive as Croatia rode on Subasic's penalty heroics to their 1st Final.
"After the match I had to get away. I went to America but struggled with sleep, tortured by jet lag. And every time I woke up, when it was still dark, I remembered what had happened, asked myself why I chose to play it to him, why I hadn't gone down the middle. If I'd done that, he probably wouldn't have been hurt. How could fate, destiny, have demanded that should happen? So, I decided that, from then on, I would always wear his picture under my shirt. Every game to the end of my career. I did it for Zadar, for Hajduk Split, now at Monaco in the Champions League and Europa League, and here in Russia." – Danijel Subasic
The goal-stopping nomad
Alireza Beiranvand was born in Sarabias, Lorestan, to a nomad family in 1993. His father was not sure football could be a job for his eldest child and preferred for him to be a worker. Under pressure from his family to give up football, Alireza decided to run away and went to Tehran in search of a better life.
Life wasn't easy in the capital as Alireza struggled to earn enough to provide for himself and was often left with no choice but to sleep in the streets or at his workplace. It is said that the young man worked in a dressmaking factory, a carwash and even as a street cleaner.
He rose through the ranks in Iranian football until finally, in 2015 he became Iran's first-choice goalkeeper and, with 12 clean sheets in qualifying, helped his team cruise into Russia 2018.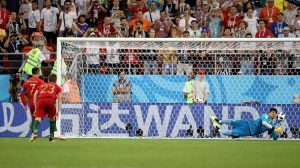 As if this story of triumphing over adversity wasn't inspiring enough, Alireza made sure his story would not be soon forgotten in Iran's group game against Portugal. Cristiano Ronaldo went down in the box and with the aid of VAR, the referee awarded the prolific striker a penalty.
Already a goal up, Ronaldo had the opportunity to put the game to bed but Alireza intercepted the shot, to keep his team alive.
John Obi Mikel's nerves of steel
Coming into their final Group Stage game at the World Cup, Nigeria knew they had a huge task on their hands. In order to qualify for the Round of 16, the Super Eagles needed a win, that too against a line-up featuring the likes of Lionel Messi and Sergio Aguero.
It goes without saying then that their skipper midfielder John Obi Mikel would have to play a key role if they were to succeed. Messi put the Argentines ahead before Victor Moses' penalty levelled things up but a late goal from Marcos Rojo sent the Super Eagles out.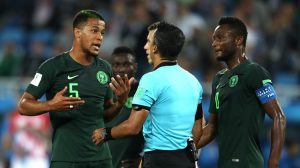 After the game, Mikel revealed that just hours before the kickoff of the game, he had found out that his father had been kidnapped. The kidnappers had demanded a ransom be paid and warned that Mikel's father would be shot dead if the news was made public.
Although the knowledge was no doubt traumatic, Mikel was forced to keep quiet as he did not want to add any further stress on his team before the must-win game. Nigeria lost 2-1 but more importantly, the Nigerian Police were able to rescue Mikel's father.
"I was emotionally distraught and I had to make the decision about whether I was mentally ready to play. I was confused. I did not know what to do but, in the end, I knew that I could not let 180 million Nigerians down. I had to shut it out of my head and go and represent my country first. I also did not want to discuss it with the coach [Gernot Rohr] because I did not want my issue to become a distraction to him or the rest of the team on the day of such an important game."- John Obi Mikel
From refugee hotels in Zardar to the Golden Ball
Luka Modric glided into winning the Golden Ball award at the World Cup in the same often unassuming way as he often cruises around the pitch. From Dinamo Zagreb to Tottenham to Real Madrid, from three Champions Leagues in a row to the World Cup final, his journey has taken him far far away from the crowded corridors of refugee hotels in Zardar, where it all began.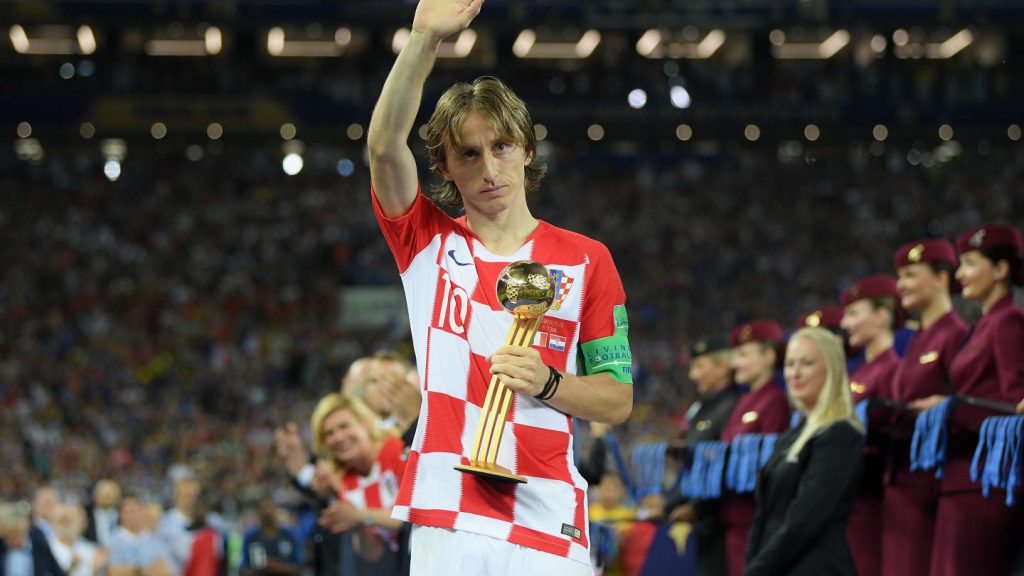 Many Croatian players including Ivan Rakitic, Mario Mandzukic and Dejan Lovren, were displaced by the outbreak of the Croatian War of Independence in the early 90s. Modric's family too found itself in the refugee hotels in Zardar where the threat of advancing Serbian forces were inescapable. Modric's grandfather was a casualty of the fighting, shot in cold blood by militia.
Winning the World Cup with Croatia would have perhaps put Modric on the path to dislodging Cristiano Ronaldo's and Lionel Messi's hold on the Ballon D'Or but despite the disappointment of losing the final, Modric will no doubt look back when the pain has faded with pride at how far he has come.
The charitable wonder kid
Kylian Mbappe turned many a head at the World Cup, becoming only the 2nd teenager in the history of the sport to score at the global event (the 1st being legend Pele). His speed and skill on the ball was truly a sight to behold as he powered his way past even the most elite defenders in the competition.
A goal in the big final against Croatia capped off what was a breakout tournament for the 19-year-old as the French claimed their 2nd World Cup trophy.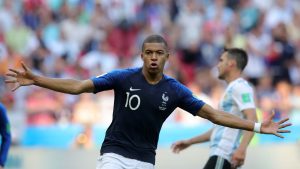 Despite the praise for his skill, Mbappe also drew a lot of criticism for his "gamesmanship" antics, which saw him go down as easily as his PSG teammate Neymar Jr, too easy for the liking of many.
Nevertheless, the teenager has brushed aside the criticism and pledged to donate all his earnings form the World Cup to Premiers de Cordee, a charity that gives free sports instruction to hospitalized and disabled children in sports which he has been involved with since June 2017.
It is reported that Mbappe will earn about $22,534 for each game in the tournament apart from bonuses. He also is set to receive $351,000 as a bonus for France's win.
Japan's example
When Japan met Colombia for their 1st game of the world cup, it was expected to be a tight game with the South Americans coming off as slight favourites. With little fanfare however, the Japanese got the job done, ultimately winning the encounter.
After the game, it was noticed, not for the 1st time, that many of the Japanese fans had stayed behind to clean the stadium. They continued to do so throughout the group stages and even after their heartbreaking loss to Belgium in the Round of 16.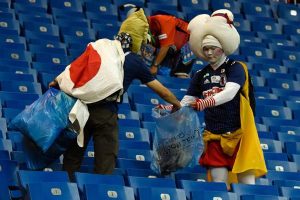 It was then that a photograph surfaced of the Japanese dressing room. The practice of cleaning after yourself had not been limited to the fans. The players, many of them superstars in their own right, had left their dressing room spotless while also taking the time to write a note thanking Russia for their time there.
No one would have blamed the Japanese if they had chosen to rush out after the loss, that would no doubt have left them distraught, but the players stayed on, many of them even stopping to talk to the media as well.
Griezmann the Uruguayan
Antoine Griezmann walked into the post World Cup Final press conference with a flag draped over his shoulders, just not the French one!
Griezmann's love for Uruguay is well documented. When France met Uruguay in the Quarterfinals, Griezmann scored the 2nd goal for the Frenchmen, to take them through to the semis. Despite scoring, the striker, who is known for his exuberant celebrations, did not display too much emotion.
Griezmann began his career with Real Sociedad's youth team in 2005 and moved up the ranks to play with the professional side in 2009 before joining Atletico in 2014. It is said that Uruguayan coach Martin Lasarte spotted his talent and put him straight into the first team alongside Carlos Bueno, both of whom had a huge impact on Griezmann's career at Sociedad.
At Athletico, Griezmann plays alongside Uruguayan defenders Diego Godin, who is the godfather of his daughter, and Jose Jimenez.
"I didn't celebrate because when I started as a professional I was supported by a Uruguayan who taught me the good and the bad in football and I have a lot of respect for Uruguay. I was also playing against friends, so I thought it was normal not to celebrate." – Antoine Griezmann
Booting out an adopted homeland
Denis Cheryshev was probably not a name most casual football fans were familiar with coming into the FIFA World Cup. Come July 15th, it is a name many, particularly those from Saudi Arabia and Egypt, would be hard-pressed to forget.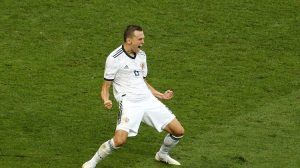 Cheryshev was born in Nizhny Novgorod in December 1990. The Russian midfielder moved to Spain at the age of 5, with his father being contracted to play at Sporting Gijón in 1996. Having lived there since then, Cheryshev came through the Real Madrid Football Academy and even considers himself 'half-spanish'.
Coming up against Spain then, in the Round of 16, would have brought forth a mass of contradictory emotions but as he walked up the penalty spot after 120 minutes of grueling football, Cheryshev only had one objective in mind – hit the back of net. He did so to put Russia 4-3 ahead in the shootout and when Igor Akinfeev saved Iago Aspas' spot kick right after, Russia were through to the quarters.
>>For more World Cup News Click Here <<