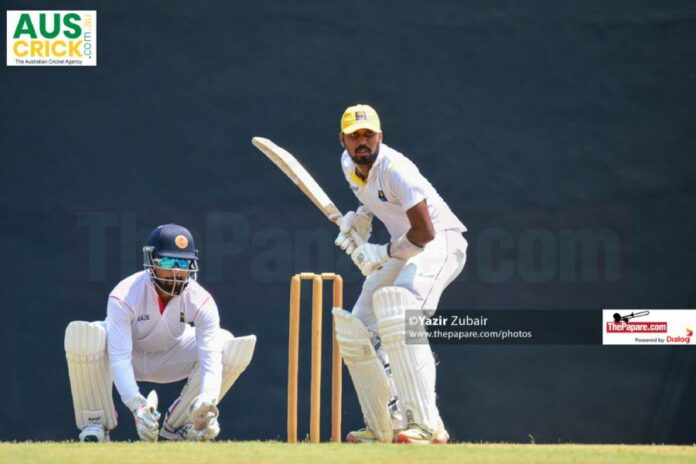 Who would you pick if you are told to choose a batsman to save your life? Pretty hard to look beyond Hashan Tillakaratne.
Someone who placed a high premium on his wicket, Hashan is the only Sri Lankan to have scored a hundred in Perth, a pitch considered the fastest in the world. He was also the first Sri Lankan to score a Test hundred in South Africa, not just on the docile tracks of Durban or Port Elizabeth. But at the lightning quick Centurion. That too past his prime at the age of 34.
Hashan is a gutsy cricketer. When there were a lot of changes happening after Sri Lanka put up a sorry campaign in their title defence of the World Cup in England in 1999, Roshan Mahanama retired prematurely, Aravinda went back to business while Arjuna was reduced to Test cricket. Hashan was left high and dry. He went back to NCC and topped the run charts in domestic cricket scoring double hundreds at will and made it impossible for the selectors to ignore him any longer.
Not only did he make a comeback, the selectors felt that the team needed an anchor for the 2003 World Cup in those hostile conditions of South Africa and Hashan was picked to play the tournament. Between the 1999 and 2003 World Cups, his engagement in white ball cricket was little. Sri Lanka did well to reach the semis and after the tournament Hashan retired from limited overs cricket and was appointed the Test captain.
Oshada Fernando was a surprise omission for Sri Lanka's recent tour of India especially as he was in good nick in domestic cricket in the lead up to the tour. After being axed, he has let his bat do the talking, having been prolific in the National Super League where he completed a fourth hundred on Friday, representing Kandy against Jaffna in Galle. His numbers have been quite stunning. In ten innings, Oshada has scored over 700 runs, averaging over 70. There are three half-centuries apart from his four tons. Like Hashan, Oshada has made it impossible for the selectors to ignore him any longer.
Oshada has been a unique case. For a player to join the ranks of the national cricket team, he has to come through the system. First there's the under-19 team and then the 'A' team. Oshada was part of neither of those. His rare talent was spotted by former wicketkeeper batsman Brendon Kuruppu, who was also instrumental in spotting Kumar Sangakkara, another player who neither played for the Under-19 team nor the 'A' team.
In Sanga, Brendon saw mental toughness. In Oshada he saw the ability to play quality fast bowling as he was so good on the back foot. The need of the hour was players capable of playing quicks and Oshada fitted the bill. He was fast tracked into the senior side after Ashantha de Mel the chief selector was equally impressed.
Oshada did not have a passport or a visa to South Africa but having worked round the clock to get both, he was soon sent to South Africa in 2019. What followed at St. George's Park was a fabulous effort as Oshada teamed up with Kusal Mendis putting up a match winning partnership to help Sri Lanka become the first Asian team to win a series in South Africa. Oshada made 75 not out in that innings against an attack that comprised Dale Steyn, Kagiso Rabada, Duanne Olivier, Wiaan Mulder and Keshav Maharaj.
Until last year, Oshada never played at home. All his Tests were overseas and he has done reasonably well with a Test average of 34 after 13 games. He had two bad games against the West Indies in Galle and was shown the door.
In recent times, the problem we have encountered with young players is that the moment they make an impact in one format of the game, the selectors rush them to other formats too. Ideally, Oshada should have played Tests alone but he was tried not only in ODI cricket but T20s as well. Such was our desperation for talent. Suddenly, when he cuts a sorry figure in T20 cricket, all the blame is placed on his doorstep and not the men who select him. Did you know that Oshada has played more white ball cricket than red ball cricket. That sums up the story.
Here's a player who is ideally suited for the longer format of the game. Someone who is capable of occupying the crease and playing long vigils and there are not too many solid number three bats around. Oshada should return to his slot in the Tests against Bangladesh and irrespective of how well he fares, he should be given the long rope to find his feet.
Certainly there's no dearth of talent but the players whom we unearth either go out of track or are badly utilized. Let Oshada not be another case in point.