St. Peter's College beat surprise finalist Vidayartha College 26-21 in the grand final to claim the Cup while Royal, Kingswood and Sri Sumangala secured the Plate, Bowl and Shield segments respectively as many favorites crashed out early, while the lesser known schools enjoyed success in the Under 18 Sevens Tournament played out at the Royal College Sports Complex.

>>Visit the Schools Rugby Hub<<
Following two gruesome days of Rugby, two unbeaten sides, St. Peter's College and surprise finalists, Vidyartha College took on each other in the grand final.
Favorites St. Peter's, playing in just their fourth game of the tournament, came out of the blocks the quickest, scoring a converted try through Dilshan Madushanka. The big man broke through the heart of the fragile Vidyratha defense to dot down under the post.
Vidyartha were not shaken after conceding, dotting down twice in stunning fashion through Sagara Dilshan and Chirantha Kaluarchchi as the lads from Kandy went into half-time with a lead of 7-points.
Half Time: St. Peter's College 07 trail Vidyartha College 14
Having comeback twice earlier on in the tournament – against Isipathana and Science -, the boys from Bambalapitiya were confident of making it back as they took to the field for the crucial second stanza following words of wisdom from their coaching staff.
The words proved its worth, as Shentike Fernando scored, however, the Peterites were trailing by two as the try went unconverted.
The two point margin was soon wiped out as the Petes scored their third in the game through Yashoda Mendis. The try went unconverted, however, with a lead to defend the game turned on its head with less than four minutes to go.
Vidyartha College had their fair share of chances to get a score of their own, however, ill-discipline and fatigue was their enemy and minutes late when Stelon Eardley crossed the white-wash for the Pete's, the game seemed to head out of the grasp of the lads from the Hill Capital.
With time and the game all but gone, Vidyartha went on one final attack and were rewarded with a converted try to make the game look that much closer on the score line, however, in reality, the Peterites were oh so dominant as they secured the game and the Under-18 Sevens title, rounding off the school season with their second title.
Full time: St. Peter's College 26 (4T 3C) beat Vidyartha College 21 (3T 3C)
Early on a much anticipated day two began with the four cup quarter finals as favorites Royal were dumped out by defending champions Trinity as their quest to retain the title remained alive.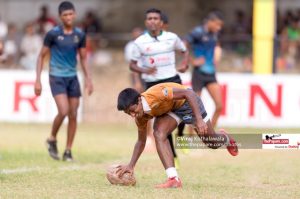 Vidyartha stunned Wesley by a single point as a tournament of surprises kept stunning the more favorite schools as the so called minnows proved too good for the big named schools.
St. Peter's came back from trailing 22-07 to startle a tired looking Isipathana outfit in astonishing fashion to win 24-22 booking their pass to the semi final as Science College continued their dominance beating St. Anthony's College 28 nil.
| | | | |
| --- | --- | --- | --- |
| Trinity College | 12 | 7 | Royal College |
| Vidyartha College | 15 | 14 | Wesley College |
| St. Peter's College | 24 | 22 | Isipathana College |
| St. Anthony's College | 0 | 28 | Science College |
Meanwhile, Kingswood, Zahira and DS Senanayake College, all proved too good for Maliyadewa, Mahanama and Lumbini, as the more fancied top flight schools won their bowl quarter finals in flying fashion. However, the Josephians were made to work by Ananda College, but it was the experienced Josephians who held their nerve to secure a fighting win.
| | | | |
| --- | --- | --- | --- |
| Kingswood College | 45 | 5 | Maliyadewa College |
| Zahira College | 28 | 0 | Mahanama College |
| DS Senanayake College | 47 | 0 | Lumbini College |
| St. Joseph's College | 19 | 15 | Ananda College |
Moratu Vidyalaya, Sri Sumangala and Piliyandala Central were all victorious in the shield segment as CWW Kanangara received a walk over as Royal College Panadura decided to forfeit day two.
Moratu Vidyalaya
24
5
Eheliyagoda Central
Sri Sumangala
49
7
St. Thomas' Matale
Royal College Panadura
W/O
CWW Kannangara
St. Aloysius College
0
22
Piliyandala Central
Having being relegated to the Plate segment following a defeats in the cup quarter finals, Royal faced of against Wesley as Isipathana took on St. Anthony's in the Plate semi finals.
Both Royal and Isipathana won in convincing fashion as Wesley and St. Anthony's were sent packing, as a enthralling Plate final was set to take place later during the evening.
| | | | |
| --- | --- | --- | --- |
| Royal College | 21 | 5 | Wesley College |
| Isipathana College | 24 | 7 | St. Anthony's College |
Sri Sumangala defeated Moratu Vidyalaya with ease as a much expected Sumangala outfit made their way into the final of the shield segment. CWW Kanangara were the next team to make it to a final as the Kanangara lads defeated Piliyandala Central in a close encounter, setting up a shield final against Sri Sumangala.
| | | | |
| --- | --- | --- | --- |
| Moratu Vidyalaya | 7 | 26 | Sri Sumangala |
| CWW Kannangara | 17 | 10 | Piliyandala Central |
After failing at the hands of Trinity on day one, Kingswood college continued their rise in the bowl segment defeating Zahira in the semi final, making their way into the final. Meanwhile, DS continued their rise, this time defeating St. Joseph's as an under par tournament came to an end, putting the Josephians out of their misery, sending them home empty handed.
| | | | |
| --- | --- | --- | --- |
| Kingswood College | 17 | 0 | Zahira College |
| DS Senanayake College | 10 | 7 | St. Joseph's College |
The much anticipated cup semi final saw yet another shock as the defending champions were dumped out of the tournament by a fellow Kandy school as Vidyartha continued to shock, making their way into the cup final.
A semi final, worthy of being called a final, saw the mercurial Science College lads take on St. Peter's. Science scored first, but St. Peter's came back from a deficit, yet again, this time handing defeat to rivals Science College.
| | | | |
| --- | --- | --- | --- |
| Trinity College | 14 | 19 | Vidyartha College |
| St. Peter's College | 12 | 7 | Science College |
Two demanding days of rugby drew to its money end, as the finals were lined up as all schools dreamt of taking away silverware.
Shield Final
Sri Sumangala College were pushed to the brink, but managed to hold on to defeat a high-flying CWW Kannaganara outfit to take the shield segment back to Kandy.
The boys from the Hill Capital scored three early tries as they looked all but home. The Kannagara lads bounced back scoring twice, however, it was a little too late as Sri Sumangala ended on the winning side.
| | | | |
| --- | --- | --- | --- |
| Sri Sumangala | 15 | 12 | CWW Kannangara |
Bowl Final
The much fancied Kingswood lads were given an early scare as Dinusha Hemasiri scored an early try giving DS a 7-point advantage early on. However, the boys from the Randle Hill scored twice in quick succession in the first half, and repeated the feat in the second half, ending the game in stunning fashion, taking home the bowl segment of the 2018 under-18 sevens tournament.
| | | | |
| --- | --- | --- | --- |
| Kingswood College | 22 | 5 | DS Senanayake College |
Plate Final
After having a below par tournament by their standards, both Royal and Isipathana met with one final chance to take something away from the tournament.
Royal made no mistake with their opportunities presented to them as they scored 5 tries, defending as one unit, conceding no points against a tired Isipathana outfit to take the plate segment back to Reid Avenue.
| | | | |
| --- | --- | --- | --- |
| Royal College | 29 | 0 | Isipathana College |