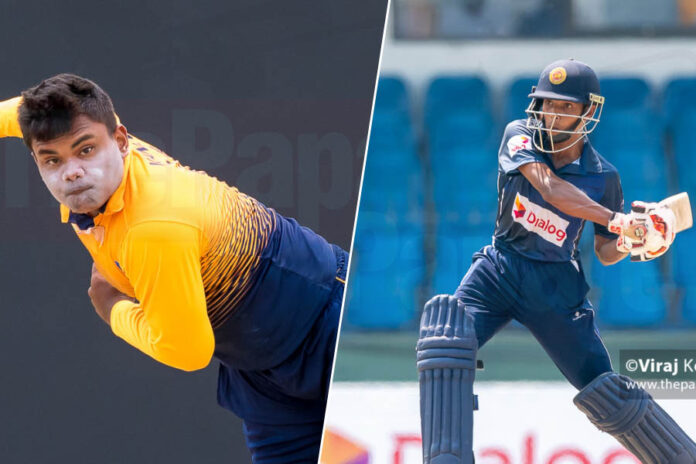 Three games of Tier A and Five games of Tier B were played today (08) in the Schools U19 Division 1 Cricket tournament 2021.
Schools U19 Cricket Tournament 2021 – Tier A
The Josepians recorded a massive 143-run victory over the Benedictines at their own backyard. Half-centuries from Sheran Fonseka (56), Shevon Daniel (53) and the skipper, Dunith Wellalage (58), catapulted St. Joseph's to a formidable 275 runs. 
Benedictine Malinda Perera showed resistance with the ball as the left-arm spinner bagged a fifer.
The chase by the Kotahena school was not so pretty as they went down as little as 132 runs on their home turf.
Josepian quicks, Mithira Thenura and Deshan Senavirathne picked up 3 wickets a piece.
This win came in like a CPR for the Joes as they have now qualified to the knockouts by a whisker. 
Mahanama College also emerged victorious today as they wrecked St. Thomas' College, Matara to remain untouched at the top of the table.
Both Mahanama openers, Pulshan Rohana (57) and Sadishan Chamodya (58) scored fifties to grab the spotlight in the game.
Schools U19 Cricket Tournament 2021 – Tier B
Sahan Sankalpa of Dharmasoka College and Hansaja Hiruna of Maris Stella College were the men in the limelight in tier B games today. Both of them contributed with match-saving performances to their respective schools. 
Sankalpa came to the rescue of Dharmasoka College after they were shot out for 119 runs and the opposing Lumbini College were steady on the chase at 94 for 5. He picked 5 of the last wickets of Lumbini College inside 20 runs from there. 
Dharmasoka College recorded a 4 wicket win to get past the qualifying line marginally.
Hiruna too played a crucial knock even though the match wasn't a decider in the tournament. Coming in at 18 for 4, Hiruna played a gem of a knock for his alma mater scoring 96 runs to put them a inch ahead of the opponent, Zahira College. 
Brief Scores
Schools U19 Cricket Tournament 2021 – Tier A
St. Thomas' College, Matara vs Mahanama College, Colombo

At Bloomfield Ground (Toss: St. Thomas' College won & bat)

St. Thomas' College 188/10 (49.3)

Harindu Jayasekara 48, Nipun Samarasinghe 36, Woshitha Amarasinghe 33, Devindu Kekirideniya 3/31, Sampath Nishshanka 3/37, Sadishan Chamodya 2/36

Mahanama College 192/6 (39)

Sadishan Chamodya 58, Pulshan Rohana 57, Pavan Rathnayake 38, Navija De Seram 2/22, Harindu Jayasekara 2/50

MAHANAMA WON BY 4 WICKETS
St. Joseph's College, Colombo vs St. Benedict's College, Colombo

At St. Benedict's College Ground (Toss: St. Joseph's College won & bat)

St. Joseph's College 275/8 (50)

Dunith Wellalage 58, Sheran Fonseka 56, Shevon Daniel 53, Dinal Anuradha 28, Malinda Perera 5/29

St. Benedict's College 132 (41)

Sharujan Shanmuganathan 38*, Malinda Perera 31, Lahiru Amarasekara 2/20, Deshan Senaviratne 2/23, W Y Dewthusa 2/27

ST JOSEPH'S WON BY 143 RUNS
---
Schools U19 Cricket Tournament 2021 – Tier B
St. Joseph Vaz College, Wennappuwa vs Dharmapala College, Pannipitiya

At Dharmapala College Ground (Toss: Dharmapala College won & field)

St. Joseph Vaz College 258/9 (50)

Tharusha Fernando 70, Kaushan Wijerathna 42, Pasindu Dasanayake 36, Achintha Deshan 35, Sachintha Chamika 3/30, Kavinda Nishan 2/37

Dharmapala College 159 (42)

Pasindu Theekshana 34, Oral Perera 29, Praveen Kumarapperuma 22, Thisara Sishara 20, Dinith Fernando 4/17, Achintha Deshan 2/17, Dhanuka Nirmal 2/21, Menusha Perera 2/32

JOSEPH VAZ WON BY 99 RUNS
Moratu Maha Vidyalaya, Moratuwa vs Dharmaraja College, Kandy

At Dharmaraja College Ground (Toss: Moratu Maha Vidyalaya won & bat)

Moratu Maha Vidyalaya 170 (39.2)

Niraj Kavishka 60, Thushan Nimantha 20, Shan Siriwardana 3/24, Thisaru Wanninayake 2/46

Dharmaraja College 162 (32.5)

Dinuka Pathiraja 40, Pulidu Perera 36, Shan Siriwardana 28, Santhuka Amod 3/22, Vishwa Didulana 3/27

MORATU MAHA VIDYALAYA WON BY 8 RUNS
Maris Stella College, Negombo vs Zahira College, Colombo

At Zahira College Ground (Toss: Zahira College won & field)

Maris Stella College 220/8 (50)

Hansaja Hiruna 96, Chemindu Weerawansa 60, Sachiru Hansala 30*, Adhil Ismarly 3/14, Ishan Ruhaim 2/28

Zahira College 217/9 (50)

Chamod Lakshan 64, Raaed Rizwan 61, Adhil Ismarly 27, Umar 20, Ashen Fernando 2/11, Hansaja Hiruna 2/41, Kawitha Dinalya 2/45

MARIS STELLA WON BY 3 RUNS
St. Sebastian's College, Moratuwa vs St. Anne's College, Kurunegala

At St. Sebastian's College Ground (Toss: St. Sebastian's College won & bat)

St. Sebastian's College 210/9 (50)

Savindu Rodrigo 56, Bihanga Mendis 26, Sukitha Prasanna 27, Kushan Herath 21, Pasindu Thenkoon 3/46, Thrimalsha Silva 2/11, Kalindu Wijesinhe 2/36

St. Anne's College 100 (32.3)

Pasindu Thenkoon 27, Bimsara Kalhara 26, Chrishane Perera 6/27, Bihanga Mendis 2/07

ST SEBASTIAN'S WON BY 110 RUNS
St. Servatius' College, Matara vs Devapathiraja College, Rathgama

At Uyanwatta Stadium (Toss: Devapathiraja College won & field)

St. Servatius' College 118 (41.1)

Hasitha Amarasinghe 52, Diniru Abeywickramasinghe 24, Sasanka Nirmal 5/27

Devapathiraja College 122/2 (15.1)

Pawan Sandesh 51, Jeewaka Shasheen 37, Thaush Damimdu Sankalpa 2/32

DEVAPATHIRAJA WON BY 8 WICKETS