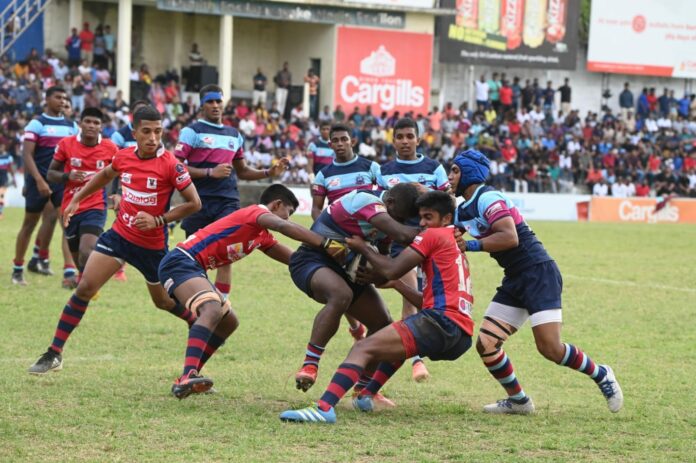 Winger Tiron Mariyadas scored a hat-trick of tries as St. Anthony's College collected nine tries to thrash Kingswood College 57-07 in their Dialog Schools Rugby League 2022 encounter played in Nittawela on Sunday.
The Antonians had scored five tries before Kingswood scored their first in their match to continue their disastrous season.
Kingswood now remain winless – the loss their third in succession – in an alarming slump of form.
The try-fest started with a nice cut-out pass from the Antonian number 10 Sahan Keerthisiri who sent his winger Mariyadas into space. (SACK 05-00 KCK)
Things continued to fall apart for Kingswood as three more similar basic tries were scored before the half-time whistle.
Next it was Akesha Jayawansha, who went over the whitewash after a clean break from the center T.A Sellapperuma. Keerthisiri added the extras. (SACK 12-00 KCK)
Mariyadas scored his second try whilst Vimasala Athukorala bumped his way over the line for the Antonians to give them an unassailable 24-0 lead at half-time. Maliksha Perera added the extra points.
Half Time – St. Anthony's 24 (4T 2C) – 00 Kingswood
In the second half, St. Anthony's scored five more tries whilst Kingswood scored their first try of the season, in their third game.
Athukorala bumped his way over the line right after the restart to register his second try. He had to fend off a couple of defenders along his way to the try line. Keerthisiri made no mistake with the boot. (SACK 31-00 KCK)
Kingswood's only try came in the 45th minute of the game with the help of continuous advantage as Lankesh Dharmasena muscled his way through. Imanka Ishara added the extras. (SACK 31-07 KCK)
From that point onwards it was all about St. Anthony's running riot over their home-town rivals. Keerthisiri first found a massive hole in the defense to burst through for his first try of the game. He followed it up with another try. Maliksha Perera converted both Keerthisiri's tries (SACK 45-07 KCK)
Maliksha Perera, fresh from his kicking duties, managed to go over the whitewash as St. Anthony's registered another 50+ score against Kingswood in the season. (SACK 52-07 KCK)
The Antonians scored their best try of the season in the 69th minute, with flat-footed center Randeer Perera sparking the attack before winger Tiron Mariyadas found the try line to complete his hat-trick on the brink of the full-time whistle.
Full Time – St.Anthony's 57(9T 6C) – 07(1T 1C) Kingswood
NDB Player of the Match – Jude Realano (SACK Hooker)
Points Breakdown for St. Anthony's
Tiron Mariyadas 3T, Sahan Keerthisiri 2T, Vimasala Athukorala 2T, Akesha Jayawansha 1T, Maliksha Perera 1T
Sahan Keerthisiri 3C, Maliksha Perera 3C
Points Breakdown for Kingswood
Lankesh Dharmasena 1T
Imanka Ishara 1C