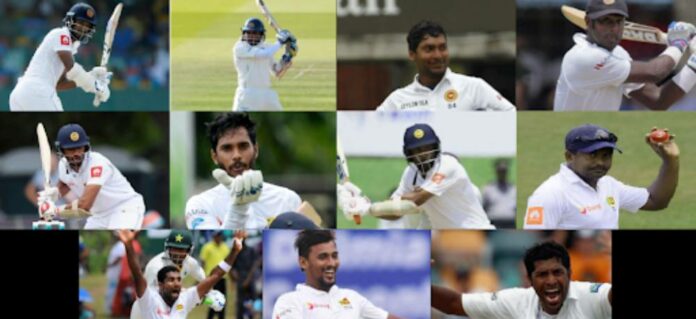 The ICC has published its teams of the decade a few days prior to this piece. It reflected the performances of the best Cricketers across the decade. 
Free hit contributor – Thushan Perera
However, the selections were debated at times for various reasons. Still we have to respect them for their effort as selecting a world XI is a difficult task. This is where we have to agree with economists. Resources are finite, therefore, we have to use those in the most efficient and effective way. In team selections, it is always a case of missing out despite brilliant performances and some players always will find it difficult to fit into the XI because of another equally good player.
In this article, I am trying to recognize the best of Sri Lanka's performers in Test Cricket, statistically.
Read – Sanga and Malinga in ICC teams of the Decade for 2010-2020
Many would argue that despite occasional spark, the decade of 2010 was a dismal show for Sri Lanka. Especially, the second half of the decade. I have considered the decade as 01 January 2011 – 31 December 2020.
During this period, the Sri Lanka Team has played 92 Test matches – 9.2 Tests per year. Considering the previous decade (2001-2010), the number of Tests for the decade has no variation.
| | | | | | |
| --- | --- | --- | --- | --- | --- |
| | Matches | Wins | Lost | Drawn | W/L |
| 2001-2010 | 92 | 42 | 28 | 22 | 1.5 |
| 2011-2020 | 92 | 31 | 40 | 21 | 0.775 |
Considering results, the Sri Lanka Team had an underwhelmed decade. The win/loss ratio is almost down by 50% in 2010s compare to the previous decade. 
In the last decade, Sri Lanka team employed 55 Test Cricketers including 37 debutants. The following Team was picked based on their respective performances in a relative basis. The performances on particular batting and bowling positions were also considered.
Openers – Dimuth Karunaratne (C)/TM Dilshan
Sri Lanka openers have scored 11,189 runs at 31.97. Adding to that they have accumulated 5,547 partnership runs for the opening wicket at 31.34.

Considering the 10 innings at Opening position in the decade, only TM Dilshan and Dimuth Karunarathne recorded a positive index value as both of them performed better than their respective peers. Thus, we can conclude that the best Sri Lankan Openers of the decade are Dilshan and Karunaratne.
The worrying sign for Sri Lanka's future is Karunaratne did not have the support of Dilshan after his retirement in 2013. Still, his performances in 18 matches outperformed all of the openers during the decade.
Watch – Sri Lanka Team of the decade 2010-2019
The 1st Drop – Kumar Sangakkara
The easiest decision of this team is selecting the first drop in Sri Lanka's Test XI of 2010s. It is without a doubt, Kumar Sangakkara. He has scored 4,068 runs at 61.63 runs per innings. 
Sri Lanka's 1st drop players have scored 6,995 runs at 41.63 in the decade. However, 58.20% of those runs have been contributed by Kumar Sangakkara. Sangakkara's contribution was further special because without him, Sri Lanka's 1st drop scored only 28.69 runs per innings.

Sangakkara's effort in 39 matches is more than other Sri Lankan players with 10 innings at no. 3 during the decade without a doubt. 
No. 4 – Angelo Mathews
A tough decision at no. 4 as all-time great Mahela Jayawardene was a pillar of strength for Sri Lanka for ages at the position. He also scored the most runs during this decade too at no. 4, however, with a below par average, which resulted in a negative index value of -0.004307829. Mahela scored 1,820 runs at 34.33 runs per innings. 
However, relative basis and considering the spread of the sample base, Angelo Mathews at no. 4 did relatively better. Mathews scored 755 runs at no. 4 in 20 innings at 47.18 runs per innings with positive index value of 0.3683879. 
The second on the index is Dinesh Chandimal with 911 runs at 39.6 in 24 innings with positive index value of 0.148540925
During the last decade, Sri Lanka's 2nd drop has scored 5,620 runs at 34.47 runs per innings.

No. 5 – Dinesh Chandimal (WK)
No. 5 is a crucial position in any team. It tests a player's adaptability to the conditions and resilience. A tough place to bat too as a no. 5 most of the time bats with the lower middle order and lower order. Sri Lanka had fabulous no. 5 players in the likes of Arjuna Ranatunga and Thilan Samaraweera in the past.
In the last decade, Dinesh Chandimal was able to show that he is belonged to no. 5. He has scored 1,158 runs at 50.34 at no. 5 with four tons in 27 innings with positive index value of 0.280255984.
The 3rd drop has scored 6,016 runs in 173 innings in the decade at 39.3 runs per innings.
Adding to that Dinesh Chandimal can keep wickets in this XI too. Among wicket keepers, Dinesh Chandimal's batting average of 41.07 was the highest in 43 innings including 5 Test tons. The all other 3 options (MDKJ Perera, HAPW Jayawardene, and N Dickwella) have batting average below 37.

The Batting All Rounder – Dhananjaya de Silva
A batting all-rounder is vital for every team nowadays to balance the team. In the last decade, we saw the emergence of Dhananjaya de Silva to fit into the no. 6 position. He has scored 653 runs at no. 6 at 46.64 runs per innings with an index value of 0.252692992.
Even though Angelo Mathews has performed better at no. 6 than Dhananjaya de Silva, his bowling ability as a third or fourth spinner is vital. Dhananjaya also stole 21 Test Wickets from the opposition in the last decade.
During the decade, Angelo Mathews has scored the most runs at no. 6. Mathews' 1,735 runs were accumulated at 51.02 runs per innings with 4 tons.
This is the only position where three Sri Lankan players show positive index value as Dinesh Chandimal also was able to cross 1,000 runs at no. 6 with an index value of 0.164596229.
Overall, Sri Lanka's no. 6 batsmen scored 5,622 runs at 37.2 runs per innings.

The Bowling All Rounder – Dilruwan Perera
Only 3 players were able to score 500 runs and take 50 Test wickets for Sri Lanka in the last decade. 

Dilruwan Perera as an all-rounder and the 2nd spinner to Rangana Herath did a fabulous job during the decade. Therefore, another easy decision to pick Dilruwan Perera at no. 7. 
His performances as a batsman at 7 is commendable. He has scored 396 runs in 9 innings including 3 half-centuries at an average of 49.50. He also grabbed 156 wickets at an average of 35.33 runs per wicket.
When he plays at home, his bowling numbers improve dramatically. He grabbed 103 wickets in home conditions at 28.75 including 6 five-wicket hauls.
Watch – Top 10 MOMENTS of Sri Lanka Cricket – 2010-2019
Bowlers Pick – 1 – Rangana Herath
Another easy choice at no. 8 and surely 1st pick for most of us among bowlers in the last decade. Rangana Herath also contributed with valuable 20s, 30s with the bat too. His scored 1,388 runs at 14.92 during the decade.
His bowling figures are the most impressive. His 355 wickets came at 26.3 runs apiece. He is one of the only 3 bowlers to record a positive index during the decade with Dilruwan Perera and Dhammika Prasad.
When compare to the overall performances of the Sri Lanka's bowlers who took a wicket at 35.77 runs. The average difference of 9.47 is a simply brilliant effort.
Bowlers Pick 2 – Dhammika Prasad
Dhammika Prasad spearheaded Sri Lanka's bowling unit in the early 2010s and if not for injury, he would still be spearheading our attack. His 62 wickets at 30.87 runs per wicket is the best amongst the fast bowlers in the last decade. Dhammika is the only fast bowler to record a positive index value. 
Among all the bowlers who played for Sri Lanka in the last decade, Dhammika's strike rate of 52.9 balls per wicket is the best.
Considering all these, Dhammika Prasad walks into the best XI of the decade for Sri Lanka without any shadow of a doubt.
Bowlers Pick 3 – Suranga Lakmal
If anyone asks you, who is the most improved Sri Lanka's Cricketer in the last decade? it is indeed an easy answer – Suranga Lakmal. 
His decade bowling average stands at 37.29 a wicket with a strike rate of 73.5. However, his numbers dramatically improved after 2016. He grabbed 78 Test wickets at 29.88 runs per wicket since 01 January 2017 with a Strike Rate of 64.8.
His batting also seen an uptick during the latter part of the decade. He is one of the only 3 players to score over 500 Test runs and take 100 Test Wickets for Sri Lanka in the decade.
Bowlers Pick 4 – Chanaka Welegedara
A forgotten name. However, Chanaka Welegedara was excellent performer for Sri Lanka in the early part of the decade. His efforts in South Africa, set the tone for a famous win in the rainbow nation. His left arm seam deliveries yielded 43 wickets in the decade at 36.41 runs per wicket. Even though his index value is negative, his impact as a bowler cannot be underestimated as he faced the most difficult conditions for a fast bowler in dry, slow pitches in Sri Lanka without much help. 

*Disclaimer: The views and opinions expressed in this article are those of the author's and do not necessarily reflect the official policy or position of ThePapare.com.
If you have an opinion on Cricket – you get a Free Hit here. Write to [email protected] to be featured!