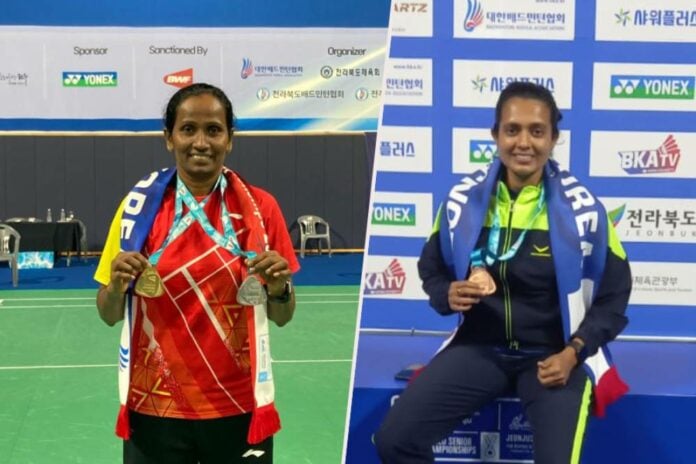 Sri Lanka's former national champion Renu Chandrika de Silva etched her name in gold and silver at the Badminton World Federation (BWF) World Senior Championships which concluded in Jeonju, South Korea, on Sunday (17th September).
Chandrika dominated the 45-year-old age group, securing a gold medal in the women's doubles finals alongside her German partner, Claudia Wogelgsang, a former national singles bronze winner in her country.
The formidable duo overpowered Japan's Maki Jin and Mikiko Shimada with a commanding score of 21-7, 21-7 to clinch the world title.
>>Siraj bowls India to Asia Cup glory; Sri Lanka's heaviest defeat in ODIs
Chandrika's incredible journey continued as she also clinched a spot in the women's singles final in the same age group. Although she gave it her all, she had to settle for the silver medal, with a gallant effort which resultedin a 21-14, 21-13 loss to the Dutch top seed Georgy Trouerbach.
Meanwhile, Chandrika's compatriot, Nadeesha Gayanthi, made her nation proud by securing a coveted bronze medal after going down to Japan's Mana Yatabe in the women's singles quarter-final of the 35-year-old age group.
>>SLC presents Rs. 5 million to Percy towards his health and wellbeing
She displayed her prowess and determination, despite losing with a scoreline of 21-10, 21-14. Nadeesha's path to glory included a hard-fought quarter-final victory against India's ParulRawat, where she emerged victorious with a scoreline of 21-19, 21-16.
Sri Lanka's badminton champions have undoubtedly left an impressive mark on the global stage, showcasing their exceptional talents and sportsmanship at the prestigious Championships.