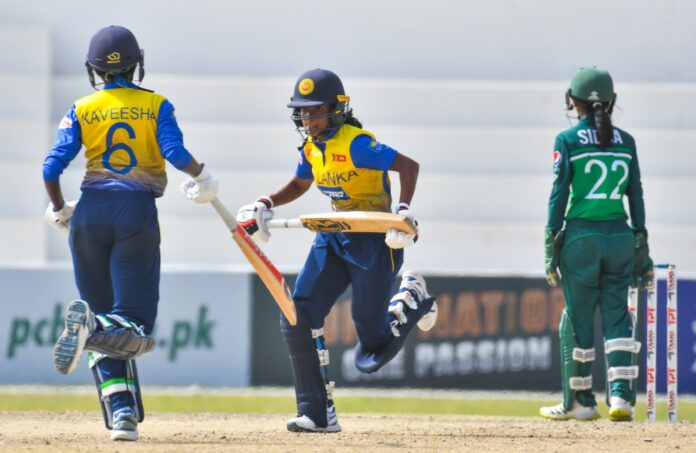 Sri Lanka went 2-0 down their 3-match ODI series against Pakistan after losing the 2nd ODI by 73 runs in Karachi earlier today.
Sri Lanka went onto the back foot straightaway after losing the toss as a simple chance went abegging in the 2nd over of the game, with the score on two. Sidra Ameen, who was on 0 at the time, was put down by Hasini Perera at slip off Oshadi Ranasinghe's bowling and she certainly made Sri Lanka pay, scoring 123. Ameen became just the 2nd Pakistani women's batter to score 2 ODI centuries, behind Javeria Khan.
Her partner Muneeba Ali was also reprieved on 24, when Sri Lankan skipper Chamari Athapaththu put down a simple chance at mid-on. The Sri Lankan shoulders dropped further with these missed opportunities and the extras and misfields flowed freely from then on. Ameen and Ali put on 158 for the 1st wicket, the highest opening partnership for Pakistan in ODIs.
The hosts would have liked to have kicked on to a score in excess of 270 after the start they got, but Captain Bismah Maroof and Nida Dar, kept it conservative and ended up with 253 – still a good enough score, considering how Sri Lanka had batted all series.
With the bat, Sri Lanka never really looked like they had a plan to get to the target. Hasini Perera and Athapaththu went hard at the start, but couldn't keep the scoreboard ticking. Athapaththu looked completely off colour, like she was more concerned with staying unbeaten to launch late in the chase than getting things going and No. 3 batter Hansima Karunaratne did the same.
Athapaththu, Karunaratne and No. 4 Prasadini Weerakkody collectively faced 135 deliveries for just 63 runs, leaving far too much to do for the lower middle-order bats.
Despite this, Harshitha Samarawickrama and Kavisha Dilhari gave a good account of themselves, putting on 61 in 11.3 overs to bring Sri Lanka within 100 runs of the target. However, with no firepower to come, Sri Lanka's fightback fizzled out with the dismissals of the pair, and they ended up falling short by 73 runs.
The 3rd and final ODI of the series will be held on Sunday, 5th June.


Batsmen
R
B
4s
6s
SR
Muneeba Ali
c Harshitha Madavi b Oshadi Ranasinghe
56
100
3
0
56.00
Sidra Ameen
c Harshitha Madavi b Kavisha Dilhari
123
150
11
0
82.00
Bismah Maroof
not out
36
43
0
0
83.72
Nida Dar
not out
10
7
1
0
142.86
| | |
| --- | --- |
| Extras | 28 (b 0 , lb 5 , nb 0, w 23, pen 0) |
| Total | 253/2 (50 Overs, RR: 5.06) |
| Bowling | O | M | R | W | Econ |
| --- | --- | --- | --- | --- | --- |
| Achini Kulasuriya | 9 | 0 | 48 | 0 | 5.33 |
| Oshadi Ranasinghe | 10 | 0 | 44 | 1 | 4.40 |
| Kavisha Dilhari | 10 | 2 | 43 | 1 | 4.30 |
| Inoka Ranaweera | 10 | 0 | 52 | 0 | 5.20 |
| Sachini Nisansala | 4 | 0 | 24 | 0 | 6.00 |
| Nilakshi de Silva | 7 | 0 | 37 | 0 | 5.29 |


Batsmen
R
B
4s
6s
SR
Hasini Perera
c Nida Dar b Fatima Sana
14
19
2
0
73.68
Chamari Athapaththu
c Sidra Ameen b Nida Dar
16
34
2
0
47.06
Hansima Karunarathne
c Fatima Sana b Omaima Sohail
27
59
4
0
45.76
Prasadani Weerakkody
run out (Omaima Sohail)
20
42
1
0
47.62
Harshitha Madavi
run out (Sidra Nawaz)
41
48
1
0
85.42
Kavisha Dilhari
st Sidra Nawaz b Omaima Sohail
32
35
3
0
91.43
Nilakshi de Silva
c Aliya Riaz b Fatima Sana
17
18
1
0
94.44
Oshadi Ranasinghe
c Diana Baig b Fatima Sana
1
7
0
0
14.29
Sachini Nisansala
b Fatima Sana
0
1
0
0
0.00
Inoka Ranaweera
not out
2
28
0
0
7.14
Achini Kulasuriya
not out
3
10
0
0
30.00
| | |
| --- | --- |
| Extras | 7 (b 0 , lb 1 , nb 1, w 5, pen 0) |
| Total | 180/9 (50 Overs, RR: 3.6) |
| Bowling | O | M | R | W | Econ |
| --- | --- | --- | --- | --- | --- |
| Diana Baig | 7 | 2 | 24 | 0 | 3.43 |
| Fatima Sana | 10 | 3 | 26 | 4 | 2.60 |
| Nida Dar | 7 | 1 | 29 | 1 | 4.14 |
| Sadia Iqbal | 8 | 3 | 30 | 0 | 3.75 |
| Ghulam Fatima | 10 | 1 | 35 | 0 | 3.50 |
| Omaima Sohail | 8 | 0 | 35 | 2 | 4.38 |