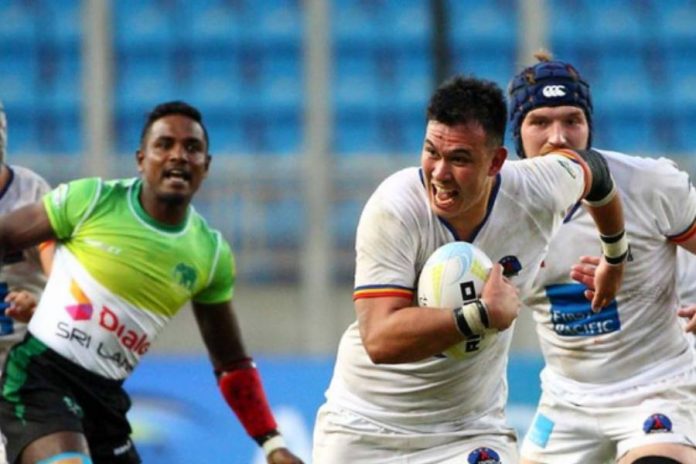 Sri Lanka faced the Philippines in their first match of the 2019 Asia Rugby Division 1 Championship held in Chinese Taipei, encountering a 39 – 22 loss as the Philippines dominated the second half after marginally leading 15 points to 10 at half-time.
The defending Champions, Philippines, struck the Tuskers in the very 1st minute through Rob Fogerty who broke through the defense line and ended over the whitewash. Sri Lanka hit back with a penalty from Samuel Maduwantha narrowing the gap, but Daniel Matthews added 3 more points for the Philippines, putting his side back on a 5-point lead.
It was end – to – end rugby for the next 20 minutes, as both teams exchanged attacks, especially the Sri Lankans who sometimes ran the ball from their own '22. Sri Lanka's first try came about when after having worked their way inside the Philippines half, hooker Prasath Madhusanka used his own power and that of the forward pack to force his way over the try line. Thilina Wijesinghe's conversion put the Tusker's in the lead for the first time.
But some quick thinking from the Philippines scrum-half Tim Berry saw him dart over the line on the stroke of half-time as Matthews' conversion put his side back on top with a 15 -10 point lead.
HT Score: PHL led 15 – 10 SL
The Philippines started the second-half as they did in the first, working several phases before Fogerty burst through to add his second try of the match. Matthews added the extras and thereon, the side ranked 53rd in the world ran into a 39 – 10 lead against Sri Lanka, who sits in the 43rd position in the world rankings. Ned Stephenson and Justin Coveney added two further tries which helped Philippines reach that total.
There was still time for another two tries for the Tuskers. Umesha Madhushan bulldozed his way over the whitewash which was followed by a splendid try by Skipper, Omalka Gunaratne, who scored the last try of the match as the referee blew the final whistle confirming the win for the Philippines.
FT Score: PHL won 39 (6T 2C 1P) – 22 SL (3T 1P 2C)
Score breakdown – SL
Tries: Omalka Gunarathne, Umesha Madhushan, Prasath Madhushanka
Conversions: Samuel Maduwantha 2C, 1P
Bookings: Samuel Maduwantha