Virat Kohli and the Indian team are already in the paradise island to face the Lions in 3 Tests, 5 ODIs and a solitary T20. The Test series will kick off in Galle on 26th July, followed by two other games at SSC and Pallekele. Let's take a closer look at the Test numbers between these two sides.
Since 1982
Few months after Sri Lanka played their inaugural Test against England, the team traveled to Chennai to play against India for the first time. In the only Test played at Chidambaram, the minnows nearly edged through to a close win against the strong Indian side. Batting first, the visitors made 346 which was spearheaded by Duleep Mendis' 105. India's reply saw them amassing 566/6 with skipper Sunil Gavaskar and Sandeep Patil scoring centuries before declaration. In the second innings, Duleep Mendis again scored another 105, taking Sri Lanka to 394. It remains the highest identical score made in both innings of a Test match. The pursuit of a modest 175 looked seemingly difficult as the spirited Lankan bowlers strived to turn the tables. However, India managed to escape humiliation by surviving with 135/7 at close. speedster Ashantha de Mel took 5 for 68.
The first win for Sri Lanka against India came in 1985 at the P. Sara Oval, incidentally the first ever victory for the newly inducted Test nation. The massive 149-run win over India at P.Sara was a lifelong dream of a zealous team that strived for success after immense effort and hard work in 13 previous endeavors since gaining Test status.
Read: 30 Years on: A Nation Erupts on a Historic Day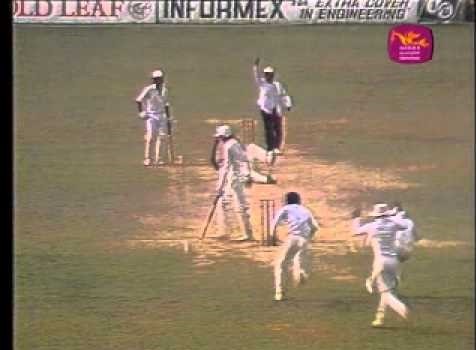 The first win for India against Sri Lanka came at Nagpur in 1986 where they recorded a substantial win of an innings and 106 runs.
Sri Lanka vs India Head to Head Test record –
Played – 38

Sri Lanka – 7

India – 16

Drawn – 15
Recap of the last few years
India's tour to Sri Lanka in 2010 and the first Test played at Galle was best remembered for being Muttiah Muralitharan's swansong. As the spin wizard claimed 800 wickets, Sri Lanka won the Test by 10 wickets taking 1-0 lead in the series. The second Test at SSC ended in a draw while India squared the series by winning the final game at P. Sara by 5 wickets.
After 5 years, in 2015 India toured the island yet again. This time, the first Test at Galle was etched in hearts for a stunning comeback by the hosts. Having been bowled out for 183, the Sri Lanka were at the receiving end when tons by Shikar Dhawan (134) and Virat Kohli (103) carried India to 375. Nearly 200 runs behind, the home team was reeling on 95/5 when Dinesh Chandimal and Lahiru Thirimanne annexed a 125 run stand for the 6th wicket. After Thirimanne's departure for 44, Chandimal put on another 82 run partnership with Jehan Mubarak, who made 49. When Sri Lankan innings was ceased at 367, Chandimal was unbeaten on 162 that saved the hosts from humiliation.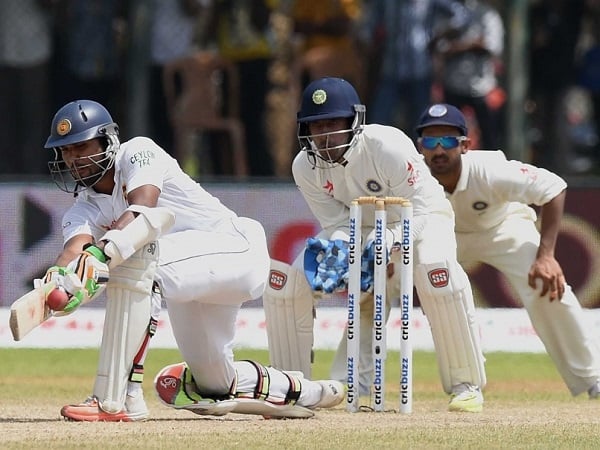 No one imagined the next chapter of this thrilling encounter. Chasing a modest 176, the visitors were crushed by Rangana Herath's 7 for 48, leaving them all out for a paltry 112, securing one of the most incredible comebacks in Test history.
However India revived to win the remaining two Tests at P. Sara Oval and SSC to record their first ever series win in Sri Lanka since 1993. The second Test marked the farewell of Kumar Sangakkara's dazzling Test career.
In the Lion's Den
Sri Lanka has hosted India in Tests since 1985. The first win for India on Sri Lankan soil came in 1993 when they beat Sri Lanka by 235 runs at the SSC. They went on to win the series 1-0 which was their only Test series win in Sri Lanka until 2015.
The contest between Sri Lanka and India at Asgiriya in 1993, not only stands third on the list of shortest Test matches, but has also gained distinction of becoming the shortest non-abandoned Test match of all time. Although only 12 overs were played in a subsequent washout, Kapil Dev equaled Sunil Gavaskar's record for most number of Tests for India (125).
Mahela Jayawardene's 242 against India at SSC in 1999 sealed his name as the youngest double centurion for Sri Lanka. He was 21 years and 273 days old.
Sri Lanka vs India Test record in Sri Lanka –
Played – 21

Sri Lanka – 7

India – 6

Drawn – 8
Galle International Stadium  
With the lovely Indian Ocean on two sides, bordering the famous Dutch Fort and town, Galle is one of the most picturesque venues in international cricket. But hidden behind the panoramic views, Galle has been a fortress for the Lions ever since it hosted its first Test in 1998. Out of the 29 matches played at the venue, Sri Lanka has won 17 while losing and drawing 6 games each.
The first time the two sides played in Galle was in 2001 that ended in a 10 wicket win for the Lions. The two have met in Galle in 4 Tests with Sri Lanka winning 3 to India's solitary success in 2008. Sri Lanka's second win at Galle against India (in 2010) was also Murali's farewell game and the third win being the stirring finale in 2015. Interestingly Galle has yielded a result every time these two sides have met in a Test match at the venue.  
SSC since 1984
The Sinhalese Sports Club ground at Maitland Place has been a venue for Test cricket since 1984. Sri Lanka's record at the SSC stands at 19 wins to 7 losses and 14 draws in 40 overall games. Both sides have met each other 8 times at the venue with Sri Lanka winning 2 (2001, 2008) to India's 2 (1993, 2015). 4 have been drawn.
Pallekele
Sri Lanka and India are yet to play a Test match at the venue.
Sri Lanka's Test record at Pallekele –
Played – 5

Won – 1

Lost – 1

Drawn – 3
Team Records
Highest team total – 952/6 dec.* (Sri Lanka at RPS, 1997) (*

denotes a world record

)

Highest team total for India – 726/9 dec. (at Mumbai, 2009)

Lowest team total – 82 all out (Sri Lanka at Chandigarh, 1990)

Lowest team total for India – 112 all out (at Galle, 2015)
Batting Records
Most runs – Sachin Tendulkar (1995 runs in 36 innings) (Avg. 60.45)

Most runs for Sri Lanka – Mahela Jayawardene (1822 runs in 28 innings) (Avg. 67.48)

Most runs in Sri Lanka – Mahela Jayawardene (1194 runs in 18 innings) (Avg. 70.23)

Most runs in Sri Lanka (for Ind) – Sachin Tendulkar (1155 runs in 19 innings) (Avg. 67.94)

Highest individual score – Sanath Jayasuriya (340 at RPS, 1997)

Highest individual score for India – Virender Sehwag (293 at Mumbai, 2009)

Highest individual score for India (in SL) – Sachin Tendulkar (203 at SSC, 2010)
Bowling Records
Most wickets – Muttiah Muralitharan (105 wickets in 32 innings) (Avg. 32.61)

Most wickets for India – Anil Kumble (74 wickets in 28 innings) (Avg. 31.20)

Most wickets in Sri Lanka – Muttiah Muralitharan (65 wickets in 18 innings) (Avg. 24.72)

Most wickets for India (in SL) – Anil Kumble (30 wickets in 13 innings) (Avg. 44.63)

Best bowling – Muttiah Muralitharan (8 for 87 at SSC, 2001)

Best bowling for India – Maninder Singh (7 for 51 at Nagpur, 1986)