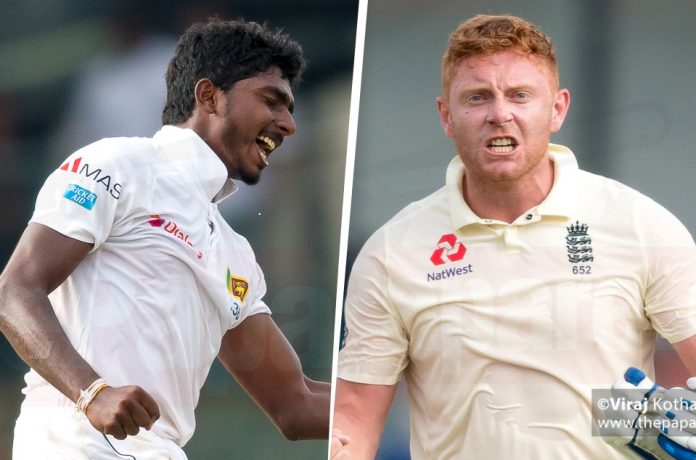 The 3rd and final Test between England and Sri Lanka kicked-off at the SSC grounds in Colombo earlier today.
ThePapare.com | Viraj Kothalawala | 23/11/2018 Editing and re-using images without permission of ThePapare.com…
Joe Root once again won the toss, for an astonishing 8th consecutive time, and decided to bat first on a dry pitch. Taking full advantage of the conditions, the English top-order reasserted their dominance over the Sri Lankan bowlers as they ended day 01 with 312 runs for the loss of 7 wickets.
Both Sri Lanka and England made 2 changes apiece to their line-ups as Danushka Gunathilaka and Lakshan Sandakan replaced Kaushal Silva and Akila Dananjaya for the hosts while Jonny Bairstow and Stuart Broad were picked ahead of Sam Curran and James Anderson for England.
Read:  Danushka Gunathilaka added to Sri Lanka Test squad
The English opening pair of Rory Burns and Keaton Jennings were separated early in the 8th over by Dilruwan Perera as Burns missed a straight one, which went on to kiss the top of off-stump. Malinda Pushpakumara then struck in his very first over, dismissing Jennings who flicked one straight to Roshen Silva at leg-slip.
Joe Root and Jonny Bairstow came together and hit the inconsistent Sri Lankan spinners to all parts of the ground, taking England from 36 to 102 by lunch.
Not for the first time this series, Sri Lanka wasted both their reviews early on in England's innings, trying to break the threatening stand and challenging the umpire quite blindly. Root also was given a chance when wicket-keeper Niroshan Dickwella missed a tough stumping opportunity off a delivery from Lakshan Sandakan which spun sharply.
Read: Nishan Peiris added to Sri Lanka squad for SSC Test
Having taken the advantage by lunch England continued to compile runs quite effortlessly in the post-lunch session. Sri Lanka's only success during the period was the dismissal of Joe Root for 46. Root trying to reach to his half-century with a glory shot, top-edged a Lakshan Sandakan delivery which ended safely in Danushka Gunathilaka's hands at mid-wicket.
Ben Stokes coming in at his usual position, number 5, looked rusty in the beginning and was trapped in front trying to play Dilruwan Perera on the back-foot. Umpire Chris Gaffaney turned Sri Lanka's appeal down only for replays to show that the ball was heading towards the stumps.
Stokes gets away with one…

Sri Lanka have used all of their reviews and so can't do anything as Ben Stokes is given not out LBW on 0 😳

Watch #SLvENG live on Sky Sports Cricket now or follow our live blog here: https://t.co/15oeC8cjl0 pic.twitter.com/q1Vue3ybnp

— Sky Sports Cricket (@SkyCricket) November 23, 2018
Taking maximum use of the given chance Ben Stokes went on to score his 16th Test half-century. Jonny Bairstow on the other end had no problems facing the Sri Lankan bowlers as he cruised to a comfortable 165-ball century. Having missed out on both the concluded tests due to an injury, he announced his comeback in style with a hundred.
Following the century stand between Bairstow and Root, Bairstow and Stokes almost repeated the feat only to be denied by a beauty produced by Sandakan after a long run of inconsistent bowling. Stokes was the victim as he edged it to Dhananjaya de Silva at slips for 57 runs.
Soon after Stokes' dismissal Bairstow missed a Sandakan delivery completely, bringing to an end his wonderful knock of 110 runs. He was saved due to an error by umpire S. Ravi later after he missed a straight Sandakan delivery trying to sweep. Sri Lanka once again suffered due to the loss of reviews early in the day.
Read: The 'Foreigner' in Pallekelle
Lakshan Sandakan struck with Jos Buttler's wicket as he held on to a sharp return catch. Shortly after Niroshan Dickwella put down a low catch of Moeen Ali who nicked a sharp delivery by Lakshan Sandakan.
Moeen Ali was given his second chance in the 3rd over after the 2nd new ball was taken as Dimuth Karunaratne dropped a sitter off a beautifully delivery by Dilruwan Perera. In the same over Ali challenged umpire S. Ravi's decision against him successfully. S. Ravi once again had to overturn a given decision against Moeen Ali suggesting that the day dominated by Bairstow was also a day full of poor umpiring decisions.
Strengthening Sri Lanka's late comeback in the day Malinda Pushpkumara dismissed England's number 08, Ben Foakes.
Moeen Ali having survived through two catches and two reviews walked away unbeaten on 23 along with Adil Rashid on 13 at stumps. England ended the day on a high with 312 runs for 7 wickets in 88.1 overs.
Sri Lanka will be desperate to remove the remaining 3 wickets early on day 3 and put up a decent batting display to salvage pride.
Full Scorecard
336/10 & 230/10
(69.5 overs)
240/10 & 284/10
(86.4 overs)
England won by 42 runs
England 's 1st Innings
Batting
R
B
Rory Burns
b D Perera
14
34
Keaton Jennings
c R Silva b M Pushpakumara
13
24
Jonny Bairstow
b L Sandakan
110
186
Joe Root
c D Gunathilaka b L Sandakan
46
79
Ben Stokes
c D De Silva b L Sandakan
57
88
Jos Butler
c & b L Sandakan
16
26
Moeen Ali
c A Mathews b D Perera
33
55
Ben Foakes
c N Dickwella b M Pushpakumara
13
26
Adil Rashid
not out
21
31
Stuart Broad
b L Sandakan
0
2
Jack Leach
c A Mathews b D Perera
2
7
Extras
11 (b 7, lb 3, nb 1)
Total
336/10 (92.5 overs)
Fall of Wickets:
1-22 (R Burns, 7.5 ov), 2-36 (K Jennings, 10.5 ov), 3-136 (J Root, 38.1 ov), 4-235 (B Stokes, 64.5 ov), 5-254 (J Bairstow, 70.4 ov), 6-265 (J Butler, 74.4 ov), 7-294 (B Foakes, 83.1 ov), 8-328 (M Ali, 90.5 ov), 9-329 (S Broad, 91.2 ov), 10-336 (J Leach, 92.5 ov)
| Bowling | O | M | R | W | E |
| --- | --- | --- | --- | --- | --- |
| Suranga Lakmal | 11 | 2 | 33 | 0 | 3.00 |
| Dilruwan Perera | 32.5 | 1 | 113 | 3 | 3.48 |
| Malinda Pushpakumara | 20 | 3 | 64 | 2 | 3.20 |
| Lakshan Sandakan | 22 | 0 | 95 | 5 | 4.32 |
| Dhananjaya de Silva | 5 | 0 | 16 | 0 | 3.20 |
| Danushka Gunathilaka | 2 | 0 | 5 | 0 | 2.50 |
Sri Lanka's 1st Innings
Batting
R
B
Danushka Gunathilaka
c K Jennings b J Leach
18
41
Dimuth Karunarathne
c K Jennings b A Rashid
83
125
Dhananjaya de Silva
c K Jennings b A Rashid
73
129
Kusal Mendis
c B Stokes b A Rashid
27
36
Angelo Mathews
c B Foakes b B Stokes
5
7
Roshen Silva
c K Jennings b A Rashid
3
9
Niroshan Dickwella
c B Foakes b B Stokes
5
16
Dilruwan Perera
c B Foakes b B Stokes
0
5
Suranga Lakmal
not out
3
9
Lakshan Sandakan
(runout)
2
4
Malinda Pushpakumara
lbw by A Rashid
13
14
Total
240/10 (65.5 overs)
Fall of Wickets:
1-31 (D Gunathilaka, 11.4 ov), 2-173 (De Silva, 47.3 ov), 3-187 (D Karunarathne, 51.6 ov), 4-200 (A Mathews, 54.1 ov), 5-205 (R Silva, 55.6 ov), 6-222 (N Dickwella, 60.2 ov), 7-222 (K Mendis, 61.1 ov), 8-222 (D Perera, 62.1 ov), 9-224 (L Sandakan, 62.5 ov), 10-240 (M Pushpakumara, 65.5 ov)
| Bowling | O | M | R | W | E |
| --- | --- | --- | --- | --- | --- |
| Stuart Broad | 9 | 2 | 36 | 0 | 4.00 |
| Jack Leach | 18 | 2 | 59 | 1 | 3.28 |
| Moeen Ali | 13 | 2 | 55 | 0 | 4.23 |
| Adil Rashid | 13.5 | 2 | 49 | 5 | 3.63 |
| Joe Root | 2 | 0 | 4 | 0 | 2.00 |
| Ben Stokes | 10 | 1 | 30 | 3 | 3.00 |
England 's 2nd Innings
Batting
R
B
Rory Burns
lbw by D Perera
7
27
Keaton Jennings
lbw by D Perera
1
12
Jonny Bairstow
c K Silva b D Perera
15
31
Joe Root
c & b M Pushpakumara
7
9
Ben Stokes
c M Pushpakumara b D Perera
42
63
Jos Butler
st. N Dickwella b L Sandakan
64
79
Moeen Ali
c D De Silva b L Sandakan
22
53
Ben Foakes
not out
36
82
Adil Rashid
c N Dickwella b M Pushpakumara
24
48
Stuart Broad
c K Mendis b M Pushpakumara
1
5
Jack Leach
c N Dickwella b D Perera
0
13
Extras
11 (b 3, lb 4, w 1, nb 3)
Total
230/10 (69.5 overs)
Fall of Wickets:
1-3 (K Jennings, 4.1 ov), 2-20 (R Burns, 10.1 ov), 3-35 (J Bairstow, 12.3 ov), 4-39 (J Root, 13.6 ov), 5-128 (B Stokes, 31.5 ov), 6-168 (J Butler, 44.1 ov), 7-171 (M Ali, 46.2 ov), 8-215 (A Rashid, 60.6 ov), 9-217 (S Broad, 62.4 ov), 10-230 (J Leach, 69.5 ov)
| Bowling | O | M | R | W | E |
| --- | --- | --- | --- | --- | --- |
| Dilruwan Perera | 29.5 | 3 | 88 | 5 | 2.98 |
| Malinda Pushpakumara | 12 | 2 | 28 | 3 | 2.33 |
| Dhananjaya de Silva | 9 | 1 | 24 | 0 | 2.67 |
| Suranga Lakmal | 3 | 1 | 7 | 0 | 2.33 |
| Lakshan Sandakan | 16 | 1 | 76 | 2 | 4.75 |
Sri Lanka's 2nd Innings
Batting
R
B
Danushka Gunathilaka
c B Stokes b M Ali
6
20
Dimuth Karunarathne
b M Ali
23
36
Dhananjaya de Silva
lbw by J Leach
0
7
Kusal Mendis
(runout) J Leach
86
129
Angelo Mathews
c S Broad b B Stokes
5
9
Lakshan Sandakan
c B Stokes b J Leach
7
41
Roshen Silva
lbw by M Ali
65
161
Niroshan Dickwella
c K Jennings b J Leach
19
19
Dilruwan Perera
c K Jennings b M Ali
5
22
Suranga Lakmal
lbw by J Leach
11
38
Malinda Pushpakumara
not out
42
40
Extras
15 (b 8, w 5, nb 2)
Total
284/10 (86.4 overs)
Fall of Wickets:
1-15 (D Gunathilaka, 5.5 ov), 2-24 (De Silva, 8.3 ov), 3-34 (D Karunarathne, 11.6 ov), 4-52 (A Mathews, 16.1 ov), 5-82 (L Sandakan, 26.6 ov), 6-184 (K Mendis, 57.4 ov), 7-214 (N Dickwella, 65.2 ov), 8-225 (D Perera, 72.3 ov), 9-226 (R Silva, 74.1 ov), 10-284 (S Lakmal, 86.4 ov)
| Bowling | O | M | R | W | E |
| --- | --- | --- | --- | --- | --- |
| Stuart Broad | 5 | 0 | 14 | 0 | 2.80 |
| Moeen Ali | 26 | 3 | 92 | 4 | 3.54 |
| Jack Leach | 28.4 | 4 | 72 | 4 | 2.54 |
| Ben Stokes | 8 | 1 | 25 | 1 | 3.13 |
| Adil Rashid | 19 | 1 | 73 | 0 | 3.84 |