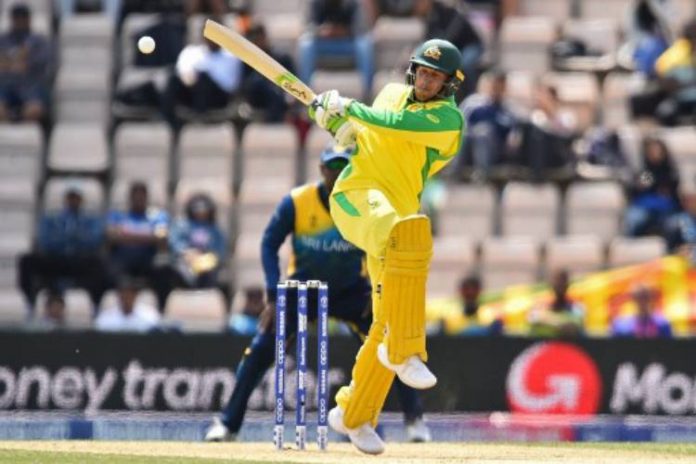 Sri Lanka lost their 2nd warm-up game in a row at the Rose Bowl, Southampton as Australia chased down Sri Lanka's 239 inside 45 overs for the loss of 5 wickets on the back of a brilliant half century by Usman Khawaja.
Chasing a moderate target of 240 to win at the Rose Bowl surface, Australia lost their skipper Aaron Finch early in just the 4th over, when Nuwan Pradeep trapped him plumb on the pads.
Dimuth, Angelo find much needed form in losing cause
Suranga Lakmal and Pradeep managed to channel great lengths and lines to keep the run-rate under control in the first ten overs. But after Finch's wicket, Australia was unscathed till the 20th over, continuing a healthy 4.8+ runs per over with Usman Khawaja and Shaun Marsh in the middle.
Australia's regular no. 03 batsman, Steve Smith didn't come to bat but his replacement in the batting order, Marsh, did a good job, accumulating 34 runs before getting caught out trying to hit Dhananjaya de Silva out of the park.
Jeewan Mendis and De Silva did a commendable job handling the middle overs for Sri Lanka, but the Australian batting unit didn't have much pressure as the target was so small.
Glenn Maxwell had a scrappy day with the bat as he couldn't middle the ball as he would have liked before finding Lahiru Thirimanne in deep square leg, failing to time a short delivery from Milinda Siriwardene.
Continuing his good form, Khawaja orchestrated a fine 89 holding the innings together, almost guiding his team to the winning line.
Australia managed to reach the target in 44.5 overs for the loss of 5 wickets making it 2 out of 2 in their warm-up matches.
Read: 'Handling pressure will be key for Sri Lanka' – Angelo Mathews
Earlier in the day, after deciding to bat first, Karunaratne and Lahiru Thirimanne opened the innings for Sri Lanka, making their 3rd opening wicket combination in 3 One-Day games. While skipper remained as the constant, Avishka Fernando, Kusal Perera and Thirimanne made their appearances at the top in those three games.
Lasith Malinga, despite joining the squad after missing out on the Scotland series and the first warm-up match due to personal commitments, did not play this warm-up game as well. All-rounder Isuru Udana has been rested with the skipper opting to play only 13 players. The Australians did not field David Warner, Jason Behendroff and Nathan Coulter-Nile for this warm-up match.
Pat Cummins and Mitchell Starc landed on the right areas from the beginning as the Sri Lankan pair found it difficult to accumulate runs but both of them made sure not to throw their wickets away, batting sensibly.
Aussies had to wait till the 10th over to enjoy a wicket break as Karunaratne edged to wicket keeper Alex Carey while trying to pull off Kane Richardson's bowling when he was on 16.
Two Kusals, Mendis and Perera's, stays at the middle didn't last too long as they had to walk back to the hut with 24 and 12 runs behind their names while experienced Angelo Mathews granted a very soft dismissal to Steve Smith on his own bowling.
Also Read: Lasith Malinga set to break new ground in World Cup cricket
Only one who batted with assurance was Lahiru Thirimanne who racked up a well-measured half century with 7 boundaries. The opener played some outstanding cover drives off the Aussie pacers before getting dismissed on 56 to Nathon Lyon's straight delivery.
After Thirimanne's dismissal, till the end of the 44th over, Sri Lanka innings never really got going. The batsmen found it hard to rotate the strike while the wicket column was filled one by one. Dhananjaya Silva and Thisara Perera provided the much-needed impetus for the innings at the death, combining for a partnership of 64 runs, scoring 43 and 27 Respectively.
The innings was given a tame end by pace duo, Cummins and Starc, restricting the opposition for 239 runs in the completed 50 overs.
Sri Lanka will compete in their first match in the 2019 ICC World Cup on 1st of June against New Zealand at Cardiff.
>>ICC Cricket World Cup 2019<<


Batsmen
R
B
4s
6s
SR
Lahiru Thirimanne
b Nathan Lyon
56
69
7
0
81.16
Dimuth Karunaratne
c  Alex Carey b Jhye Richardson
16
36
1
0
44.44
Kusal Perera
lbw b Glenn Maxwell
12
19
1
0
63.16
Kusal Mendis
c Nathan Lyon b Adam Zampa
24
33
2
0
72.73
Angelo Mathews
c & b Steve Smith
17
21
2
0
80.95
Jeevan Mendis
lbw b Adam Zampa
21
36
1
0
58.33
Dhananjaya de Silva
b Mitchell Starc
43
41
4
0
104.88
Thisara Perera
c Glenn Maxwell b Pat Cummins
27
33
1
0
81.82
Suranga Lakmal
not out
7
9
1
0
77.78
Milinda Siriwardana
not out
4
3
0
0
133.33
| | |
| --- | --- |
| Extras | 12 (b 0 , lb 5 , nb 0, w 7, pen 0) |
| Total | 239/8 (50 Overs, RR: 4.78) |
| Fall of Wickets | 1-44 (9.5) Dimuth Karunaratne, 2-72 (16.2) Kusal Perera, 3-110 (24.6) Lahiru Thirimanne, 4-117 (27.1) Kusal Mendis, 5-147 (33.4) Angelo Mathews, 6-161 (37.5) Jeevan Mendis, 7-225 (47.1) Thisara Perera, 8-230 (48.4) Dhananjaya de Silva, |
| Bowling | O | M | R | W | Econ |
| --- | --- | --- | --- | --- | --- |
| Mitchell Starc | 9 | 0 | 38 | 2 | 4.22 |
| Pat Cummins | 8 | 0 | 23 | 1 | 2.88 |
| Jhye Richardson | 6 | 0 | 52 | 1 | 8.67 |
| Glenn Maxwell | 5 | 0 | 14 | 0 | 2.80 |
| Marcus Stoinis | 3 | 0 | 11 | 0 | 3.67 |
| Adam Zampa | 9 | 0 | 39 | 2 | 4.33 |
| Nathan Lyon | 8 | 0 | 48 | 1 | 6.00 |
| Steve Smith | 2 | 0 | 9 | 1 | 4.50 |


Batsmen
R
B
4s
6s
SR
Aaron Finch
lbw b Nuwan Pradeep
11
16
2
0
68.75
Usman Khawaja
st Kusal Perera b Jeffery Vandersay
89
105
3
0
84.76
Shaun Marsh
c Milinda Siriwardana b Dhananjaya de Silva
34
46
3
0
73.91
Glenn Maxwell
c Dhananjaya de Silva b Milinda Siriwardana
36
36
4
0
100.00
Marcus Stoinis
c Angelo Perera b Jeffery Vandersay
32
30
1
1
106.67
 Alex Carey
not out
18
26
2
0
69.23
Pat Cummins
not out
9
11
0
0
81.82
| | |
| --- | --- |
| Extras | 12 (b 0 , lb 2 , nb 1, w 9, pen 0) |
| Total | 241/5 (44.5 Overs, RR: 5.38) |
| Fall of Wickets | 1-16 (3.6) Aaron Finch, 2-96 (19.3) Shaun Marsh, 3-161 (29.6) Glenn Maxwell, 4-203 (36.4) Marcus Stoinis, 5-218 (40.2) Usman Khawaja, |
| Bowling | O | M | R | W | Econ |
| --- | --- | --- | --- | --- | --- |
| Suranga Lakmal | 6 | 0 | 26 | 0 | 4.33 |
| Nuwan Pradeep | 6 | 1 | 28 | 1 | 4.67 |
| Jeevan Mendis | 10 | 0 | 54 | 0 | 5.40 |
| Thisara Perera | 5 | 0 | 35 | 0 | 7.00 |
| Dhananjaya de Silva | 5 | 0 | 17 | 1 | 3.40 |
| Jeffery Vandersay | 7.5 | 0 | 51 | 2 | 6.80 |
| Milinda Siriwardana | 5 | 0 | 28 | 1 | 5.60 |