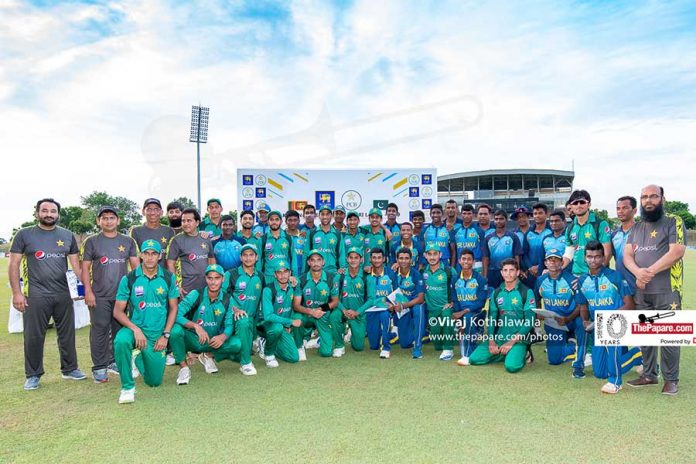 Sri Lanka U19s won the last Youth ODI of the Pakistan U19 team's tour of Sri Lanka by 5 wickets at Mahinda Rajapaksa International Cricket Stadium, Sooriyawewa, Hambantota.
>>ICC Cricket World Cup 2019<<
This game was already a dead rubber as Pakistan U19s dominated the tournament, winning 3 straight games after the initial loss to Sri Lanka youngsters. Sri Lanka U19s managed to close the series with a comfortable win, chasing a 264 target in 46.5 overs with 6 wickets in hand.
Sri Lanka U19 skipper for last two YODIs in the series, Kamil Mishara won the toss and asked the visitors to bat first and he got what he wished for, early wickets.
ThePapare.com | Viraj Kothalawala | 06/06/2019 Editing….
A headache for Sri Lanka U19 bowlers throughout the tournament, opener Haider Ali could only make 5 runs today as he was trapped in front of his pad by Kavindu Wickramasinghe. Before that, Ali's scores for this series read as 51, 56, 09 and 93*.
Pakistan U19 skipper Rohail Nazir joined Mohammad Basit Ali to compose a partnership of 81 runs before getting dismissed for 41. Sri Lanka spinners pulled thing back from 1-87 to 4-129 to rattle the visitors scoring rate.
Sri Lanka U19s suffer series defeat to Pakistan U19s
On the back of 3 half centuries from Mohammad Basit Ali (56), Haris Khan (54) and Qasim Akram (51), Pakistan youngsters reached 264 for 7 which is a formidable target for any opposition in U19 Cricket.
The pick of the bowlers for Sri Lanka was Dilshan Madushanka from Hungama Vijayabahu Central who created 3 breakthroughs with his left arm pace.
Sri Lanka got off to a rapid start, stealing 43 runs from 8 overs, but lost their two openers – Thaveesha Kahaduwaarachchi (18) & Kavindu Wickramasinghe (14) in the process.
The skipper Kamil Mishara joined Ravindu de Silva for a brilliant 132 runs partnership for the 3rd wicket taking Sri Lanka to 175 in just 29.3 overs. Most aggressive partner from the Roy-Tho combination was the Thomian, Ravindu de Silva who maintained an impressive 126.86 strike rate through his 85 runs knock.
Silva laid the foundation for this heavy run chase while Mishara played the anchor role, taking the responsibility as the captain to guide Sri Lanka U19s to safety. His 87-run vigil took 118 balls and ended when the total was 258.
The finishing touches for the masterful run chase was given by the all-rounder Avishka Tharindu's bat. He too mustered a valuable run-a-ball 40.
Sri Lanka U19 won the 5th YODI by 5 wickets, chasing the target inside 46.5 overs as the series concluded 3-2 in favour of Pakistan U19.
>>For More Cricket Click Here<<


Batsmen
R
B
4s
6s
SR
Haider Ali
lbw b Chamindu Wickramasinghe
5
5
1
0
100.00
Basit Ali
c Pawan Rathnayake  b Dilshan Madusanka
56
82
7
0
68.29
Rohail Nazir
c Sandun Mendis b Kavindu Nadeeshan
41
59
4
0
69.49
Mohammad Taha
b Kamil Mishara
2
15
0
0
13.33
Mohammad Haris
lbw b Sandun Mendis
54
47
5
0
114.89
Qasim Akram
c Ravindu De Silva b Dilshan Madusanka
51
54
2
1
94.44
Mohammad Junaid
c Sandun Mendis b Dilshan Madusanka
22
22
2
0
100.00
Abbas Afridi
not out
8
7
0
0
114.29
Niaz Khan
not out
11
9
0
0
122.22
| | |
| --- | --- |
| Extras | 14 (b 0 , lb 2 , nb 0, w 12, pen 0) |
| Total | 264/7 (50 Overs, RR: 5.28) |
| Fall of Wickets | 1-6 (1.1) Haider Ali, 2-87 (19.4) Rohail Nazir, 3-98 (24.2) Mohammad Taha, 4-129 (29.3) Basit Ali, 5-197 (39.2) Mohammad Haris, 6-244 (47.1) Mohammad Junaid, 7-245 (47.3) Qasim Akram, |
| Bowling | O | M | R | W | Econ |
| --- | --- | --- | --- | --- | --- |
| Dilshan Madusanka | 10 | 1 | 45 | 3 | 4.50 |
| Chamindu Wickramasinghe | 5 | 0 | 21 | 1 | 4.20 |
| Dunith Wellalage | 7 | 0 | 33 | 0 | 4.71 |
| Sandun Mendis | 10 | 0 | 49 | 1 | 4.90 |
| Kavindu Nadeeshan | 9 | 1 | 52 | 1 | 5.78 |
| Kamil Mishara | 3 | 0 | 15 | 1 | 5.00 |
| Raveen De Silva | 6 | 0 | 47 | 0 | 7.83 |


Batsmen
R
B
4s
6s
SR
Chamindu Wickramasinghe
c Haider Ali b Shiraz Khan
14
19
3
0
73.68
Thaveesha Abhishek
b Niaz Khan
18
23
3
0
78.26
Ravindu De Silva
c Mohammad Haris b Shiraz Khan
85
67
13
0
126.87
Kamil Mishara
c Mohammad Taha b Mohammad Wasim
87
118
5
0
73.73
Pawan Rathnayake 
b Mohammad Wasim
7
12
1
0
58.33
Avishka Tharindu 
not out
40
39
5
0
102.56
Dunith Wellalage
not out
3
3
0
0
100.00
| | |
| --- | --- |
| Extras | 13 (b 0 , lb 1 , nb 1, w 11, pen 0) |
| Total | 267/5 (46.4 Overs, RR: 5.72) |
| Fall of Wickets | 1-36 (5.4) Chamindu Wickramasinghe, 2-43 (8.1) Thaveesha Abhishek, 3-175 (19.1) Ravindu De Silva, 4-190 (32.4) Pawan Rathnayake , 5-258 (45.3) Kamil Mishara, |
| Bowling | O | M | R | W | Econ |
| --- | --- | --- | --- | --- | --- |
| Niaz Khan | 9 | 1 | 41 | 1 | 4.56 |
| Abbas Afridi | 4 | 0 | 26 | 0 | 6.50 |
| Shiraz Khan | 10 | 1 | 47 | 2 | 4.70 |
| Mohammad Wasim | 8 | 0 | 39 | 2 | 4.88 |
| Mohammad Junaid | 8 | 0 | 66 | 0 | 8.25 |
| Mohammad Taha | 3.4 | 0 | 23 | 0 | 6.76 |
| Qasim Akram | 4 | 0 | 24 | 0 | 6.00 |