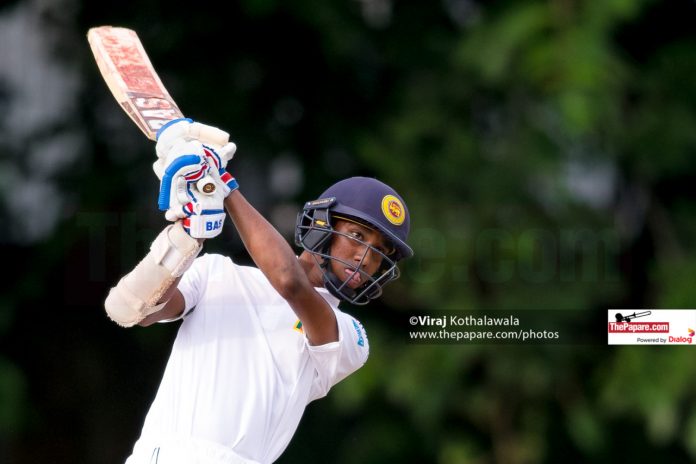 The Sri Lanka U19 team put up a formidable performance against the Australia U19 team going past the 1st innings score compiled by the Aussies today. The 2nd day of the 3-day Youth Test was played at the SSC Grounds in Colombo.
The home openers resumed Sri Lanka's 1st innings from 20 for no loss today in reply to Australia's 269/9d. Left-hander Kamil Mishara and debutant Thaveesha Abhishek went on to bat for 21.2 more overs in the morning session putting up 93 runs for the opening wicket.
Right-hander Abhishek was the wicket to fall in the day as leg-spinner Tanveer Sangha got rid of him for 36 runs. Kamil Mishara, who scored a century in the 1st Youth ODI was then joined by Mohamed Shamaaz who also had a good series with the white ball.
The in-form duo added 84 steady runs for the 2nd wicket. The partnership was brought to an end unfortunately with Jarrod Freeman dismissing Zahirian Shamaaz for a well-made 43 runs. Shamaaz hit the only six of Sri Lanka's innings during his 92-ball knock.
Read: Rohan Sanjaya shines for Sri Lanka U19 on opening day
Kamil Mishara on the other end just kept on compiling runs as he reached the 2nd century of the tour. His innings came to an end after facing 235 deliveries. The Royalist who hails from Panadura stroked 17 boundaries for his 105. He was caught off Sangha just after Zak Evans dismissed Sri Lankan skipper Nipun Dananjaya for 20.
Sri Lanka's most successful batsman in the Bangladesh series, Sonal Dinusha scored just 2 runs as he was caught behind to an Iain Carlisle delivery. He in fact made his first class debut for CCC recently and scored a gritty half century.
All-rounders Chamindu Wijesinghe and Sandun Mendis then helped Sri Lanka gain the lead as they together raised the home team from 223/5 to 279. Aussie skipper Baxter Holt took his third catch of the innings keeping wickets with the catch of Chamindu Wijesinghe off a Freeman delivery. Wijesinghe scored 39 runs in 55 deliveries.
Photo Album : Australia U19 Team Tour to Sri Lanka 2019 | 3 Day Match | Day 2
Sri Lanka national cap Kamindu Mendis' brother Sandun Mendis remained unbeaten on 22 as Sri Lanka finished the day on 287/7. Freeman was the pick of the bowlers for the tourists as he ended with figures of 3/82 including the wicket of debutant wicket keeper batsman Chihan Kalindu for 4.
The third and last day of the match will begin tomorrow morning with Mendis and Rohan Sanjaya resuming Sri Lanka's innings with a lead of 18.
Full Scorecard
269/9 & 151/10
(65.4 overs)
309/8 & 114/7
(19.4 overs)
SL U19 won by 3 wickets
Australia U19's 1st Innings
Batting
R
B
Sam Fanning
c C Kalindu b R Peiris
7
22
Corey Hunter
b R Sanjaya
71
134
Keegan Oates
st C Kalindu b R Sanjaya
27
81
Oliver Davies
c K Mishara b R Sanjaya
13
16
Lachlan Hearne
c S Dinusha b V Viyaskanth
13
39
Baxter Holt
lbw by S Mendis
60
104
JA Freeman
st C Kalindu b R Sanjaya
36
69
Josh Kann
not out
13
18
Tanveer Sangha
c Kahaduwaarachchi b R Peiris
13
13
Zak Evans
c K Mishara b R Sanjaya
4
2
Extras
12 (b 5, lb 6, nb 1)
Fall of Wickets:
1-22 (S Fanning, 8.1 ov), 2-103 (K Oates, 37.2 ov), 3-120 (CB Hunter, 41.3 ov), 4-125 (O Davies, 43.4 ov), 5-151 (L Hearne, 54.4 ov), 6-235 (BJ Holt, 76.3 ov), 7-245 (JA Freeman, 79.2 ov), 8-264 (T Sangha, 82.5 ov), 9-269 (Z Evans, 83.2 ov)
| Bowling | O | M | R | W | E |
| --- | --- | --- | --- | --- | --- |
| Ruvin Peiris | 10 | 1 | 40 | 2 | 4.00 |
| Chamindu Wijesinghe | 13 | 3 | 30 | 0 | 2.31 |
| Rohan Sanjaya | 32.2 | 3 | 94 | 5 | 2.92 |
| Sandun Mendis | 22 | 5 | 57 | 1 | 2.59 |
| Vijayakanth Viyaskanth | 6 | 0 | 37 | 1 | 6.17 |
Sri Lanka U19's 1st Innings
Batting
R
B
TA Kahaduwaarachchi
c Freeman b Sangha
36
68
Kamil Mishara
c Oates b Sangha
105
235
Mohamed Samaaz
c & b Freeman
43
92
Nipun Dananjaya
c Holt b Evans
20
51
Sonal Dinusha
c Holt b Carlisle
2
17
Chamindu Wijesinghe
c Holt b Freeman
39
55
Sandun Mendis
c Holt b Evans
22
46
Chihan Kalindu
b Freeman
4
11
Rohan Sanjaya
not out
19
14
V. Viyaskanth
not out
3
1
Extras
16 (b 8, lb 5, nb 2, w 1)
Fall of Wickets:
1-93 (TA Kahaduwaarachchi, 26.2 ov), 2-177 (Mohamed Samaaz, 53.3 ov), 3-215 (ND Perera, 73.2 ov), 4-215 (K Mishara, 74.4 ov), 5-223 (GS Dinusha, 79.4 ov), 6-279 (C Wijesinghe, 91.1 ov), 7-283 (C Kalindu, 93.6 ov), 8-297 (ST Mendis, 96.6 ov)
| Bowling | O | M | R | W | E |
| --- | --- | --- | --- | --- | --- |
| Zak Evans | 18 | 5 | 57 | 2 | 3.17 |
| Jarrod Freeman | 32 | 9 | 82 | 3 | 2.56 |
| Tanveer Sangha | 16 | 3 | 61 | 2 | 3.81 |
| Iain Carlisle | 17 | 3 | 47 | 1 | 2.76 |
| Josh Kann | 4 | 1 | 16 | 0 | 4.00 |
| Keegan Oates | 6 | 1 | 15 | 0 | 2.50 |
| Oliver Davies | 5 | 0 | 18 | 0 | 3.60 |
Australia U19's 2nd Innings
Batting
R
B
Sam Fanning
c S Dinusha b R Sanjaya
14
33
Corey Hunter
c Kalindu b C Wijesinghe
0
11
Keegan Oates
st. Kalindu b S Mendis
5
9
Oliver Davies
lbw by S Mendis
0
8
Lachlan Hearne
c N Dananjaya b S Mendis
23
66
Baxter Holt
c N Dananjaya b R Sanjaya
5
73
JA Freeman
not out
52
95
Josh Kann
b R Sanjaya
13
13
Tanveer Sangha
lbw by S Dinusha
25
60
Zak Evans
c K Mishara b R Sanjaya
4
18
Iain Carlisle
b S Mendis
1
11
Extras
9 (lb 5, nb 3, w 1)
Total
151/10 (65.4 overs)
Fall of Wickets:
1-9 (CB Hunter, 4.4 ov), 2-18 (K Oates, 6.5 ov), 3-20 (S Fanning, 9.3 ov), 4-20 (O Davies, 10.3 ov), 5-50 (BJ Holt, 31.6 ov), 6-56 (L Hearne, 34.1 ov), 7-69 (J Kann, 37.5 ov), 8-143 (T Sangha, 57.1 ov), 9-148 (Z Evans, 62.5 ov), 10-151 (I Carlisle, 65.4 ov)
| Bowling | O | M | R | W | E |
| --- | --- | --- | --- | --- | --- |
| Chamindu Wijesinghe | 7 | 1 | 19 | 1 | 2.71 |
| Rohan Sanjaya | 31 | 16 | 37 | 4 | 1.19 |
| Sandun Mendis | 18.4 | 4 | 56 | 4 | 3.04 |
| Vijayakanth Viyaskanth | 3 | 0 | 18 | 0 | 6.00 |
| Sonal Dinusha | 6 | 0 | 16 | 1 | 2.67 |
Sri Lanka U19's 2nd Innings
Batting
R
B
TA Kahaduwaarachchi
b Evans
0
2
Kamil Mishara
c Freeman b Evans
8
12
Mohamed Samaaz
c Fanning b Evans
22
26
Nipun Dananjaya
(runout) Hunter
35
32
Sonal Dinusha
c Fanning b Evans
6
12
Chamindu Wijesinghe
c Freeman b Evans
29
23
Sandun Mendis
not out
6
5
Chihan Kalindu
c Kann b Evans
0
4
Rohan Sanjaya
not out
1
2
Fall of Wickets:
1-0 (TA Kahaduwaarachchi, 0.2 ov), 2-19 (K Mishara, 4.4 ov), 3-38 (Mohamed Samaaz, 8.1 ov), 4-48 (GS Dinusha, 10.5 ov), 5-94 (ND Perera, 16.4 ov), 6-103 (C Wijesinghe, 18.1 ov), 7-108 (C Kalindu, 18.6 ov)
| Bowling | O | M | R | W | E |
| --- | --- | --- | --- | --- | --- |
| Zak Evans | 10 | 1 | 44 | 6 | 4.40 |
| Jarrod Freeman | 8 | 0 | 51 | 0 | 6.38 |
| Josh Kann | 1.4 | 0 | 14 | 0 | 10.00 |