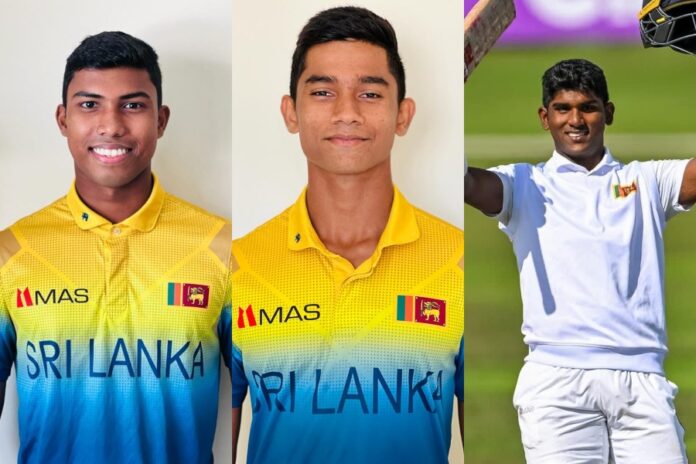 The third day of 2nd Youth Test between Sri Lanka U19s and England U19s was completed yesterday (31st August) at Derby.
Sri Lanka U19s resumed their first innings on day three at 203/2 with the left-handed duo Shevon Daniel (92*) and Pawan Pathiraja (37*) at the crease. 18-year-old Daniel got to his century in the 5th over of the day.
Daniel and Pathiraja continued to frustrate the England bowlers, adding 83 runs more to the total in the morning session and extending their partnership to 160 runs before the latter was dismissed for 55 runs.
Just after the dismissal of Pathiraja, the centurion Daniel also lost his wicket after scoring a brilliant 155 runs off 237 balls with 25 fours and a six. Ranuda Somaratne, Sri Lanka's hero in the last game and skipper Raveen de Silva then got together at the crease and managed to survive the short passage of play before Lunch as Sri Lanka went into the break having scored 104 runs for 2 wickets in the morning session.
The experienced duo De Silva and Somaratne built a crucial 65-run stand for the 5th wicket as the visitors crossed the 350-run mark in the post-lunch session. Sri Lanka lost 2 quick wickets in Somaratne and wicket-keeper batter Lahiru Dawatage but de Silva and Vinuja Ranpul steadied the innings building a 110-run partnership for the 7th wicket as Sri Lanka ended the third's play in a strong position at 480/8 with a 99-run lead over the hosts.
De Silva remained unbeaten on 65 runs while Ranpul also contributed with 65 runs giving Sri Lanka a considerable lead going into 4th and final day of the second Youth Test.
381/10 (122.2) & 249/5 (59.4)


Batsmen
R
B
4s
6s
SR
Harry Singh
b sahan mihira
104
304
6
0
34.21
Ben McKinney
c Asitha Wanninayake b Wanuja Sahan
22
34
3
0
64.71
Ross Whitfield
c & b Wanuja Sahan
2
8
0
0
25.00
James Rew
c Lahiru Dewatage b Duvindu Ranatunga
9
22
2
0
40.91
Matthew Hurst
c Lahiru Dewatage b sahan mihira
116
189
11
0
61.38
Bertie Foreman
c Raveen de Silva b Duvindu Ranatunga
10
29
1
0
34.48
James Sales
b Vinuja Ranpul
52
66
6
0
78.79
Tom Lawes
run out (Duvindu Ranatunga)
10
22
1
0
45.45
Stanley McAlindon
c & b Raveen de Silva
20
41
2
0
48.78
Benjamin Cliff
c Lahiru Dewatage b Raveen de Silva
2
11
0
0
18.18
Yousef Majid
not out
11
12
2
0
91.67
| | |
| --- | --- |
| Extras | 23 (b 11 , lb 6 , nb 4, w 2, pen 0) |
| Total | 381/10 (122.2 Overs, RR: 3.11) |
| Bowling | O | M | R | W | Econ |
| --- | --- | --- | --- | --- | --- |
| Vinuja Ranpul | 18 | 1 | 81 | 1 | 4.50 |
| Duvindu Ranatunga | 23 | 4 | 58 | 2 | 2.52 |
| sahan mihira | 19 | 4 | 75 | 2 | 3.95 |
| Wanuja Sahan | 31 | 8 | 67 | 2 | 2.16 |
| Raveen de Silva | 23.2 | 4 | 56 | 2 | 2.41 |
| Shevon Daniel | 1 | 0 | 2 | 0 | 2.00 |
| Asitha Wanninayake | 7 | 1 | 25 | 0 | 3.57 |


Batsmen
R
B
4s
6s
SR
Asitha Wanninayake
b Tom Lawes
4
14
1
0
28.57
Abisheak Liyanaarachchi
run out (Bertie Foreman)
49
91
8
0
53.85
Shevon Daniel
c Harry Singh b Benjamin Cliff
155
237
25
1
65.40
Pawan Pathiraja
c James Rew b Benjamin Cliff
55
155
9
0
35.48
Ranuda Somarathne
c Benjamin Cliff b Bertie Foreman
37
67
7
0
55.22
Raveen de Silva
lbw b Yousef Majid
74
197
7
1
37.56
Lahiru Dewatage
b James Sales
0
6
0
0
0.00
Vinuja Ranpul
c Ben McKinney b Yousef Majid
65
108
7
2
60.19
Wanuja Sahan
c James Sales b Bertie Foreman
2
10
0
0
20.00
Duvindu Ranatunga
c James Sales b Yousef Majid
54
58
8
2
93.10
sahan mihira
not out
0
1
0
0
0.00
| | |
| --- | --- |
| Extras | 47 (b 10 , lb 22 , nb 3, w 12, pen 0) |
| Total | 542/10 (157.1 Overs, RR: 3.45) |
| Bowling | O | M | R | W | Econ |
| --- | --- | --- | --- | --- | --- |
| Benjamin Cliff | 28 | 3 | 94 | 2 | 3.36 |
| Tom Lawes | 18 | 3 | 50 | 1 | 2.78 |
| Stanley McAlindon | 12 | 1 | 62 | 0 | 5.17 |
| James Sales | 20 | 4 | 53 | 1 | 2.65 |
| Yousef Majid | 36.1 | 10 | 104 | 3 | 2.88 |
| Bertie Foreman | 41 | 8 | 139 | 2 | 3.39 |
| Ben McKinney | 2 | 0 | 8 | 0 | 4.00 |


Batsmen
R
B
4s
6s
SR
Harry Singh
c Asitha Wanninayake b Raveen De Silva
25
57
2
0
43.86
Ben McKinney
lbw b Raveen de Silva
74
104
9
0
71.15
Ross Whitfield
st Lahiru Dewatage b Shevon Daniel
63
46
5
4
136.96
James Rew
not out
34
77
4
0
44.16
Matthew Hurst
lbw b Wanuja Sahan
6
14
0
0
42.86
James Sales
b Raveen de Silva
1
6
0
0
16.67
Tom Lawes
not out
33
55
3
0
60.00
| | |
| --- | --- |
| Extras | 13 (b 0 , lb 8 , nb 1, w 4, pen 0) |
| Total | 249/5 (59.4 Overs, RR: 4.17) |
| Bowling | O | M | R | W | Econ |
| --- | --- | --- | --- | --- | --- |
| Duvindu Ranatunga | 4 | 0 | 26 | 0 | 6.50 |
| Wanuja Sahan | 17 | 4 | 52 | 1 | 3.06 |
| sahan mihira | 10 | 0 | 48 | 0 | 4.80 |
| Raveen de Silva | 22 | 2 | 83 | 3 | 3.77 |
| Shevon Daniel | 6 | 0 | 31 | 1 | 5.17 |
| Ranuda Somarathne | 0.4 | 0 | 1 | 0 | 2.50 |