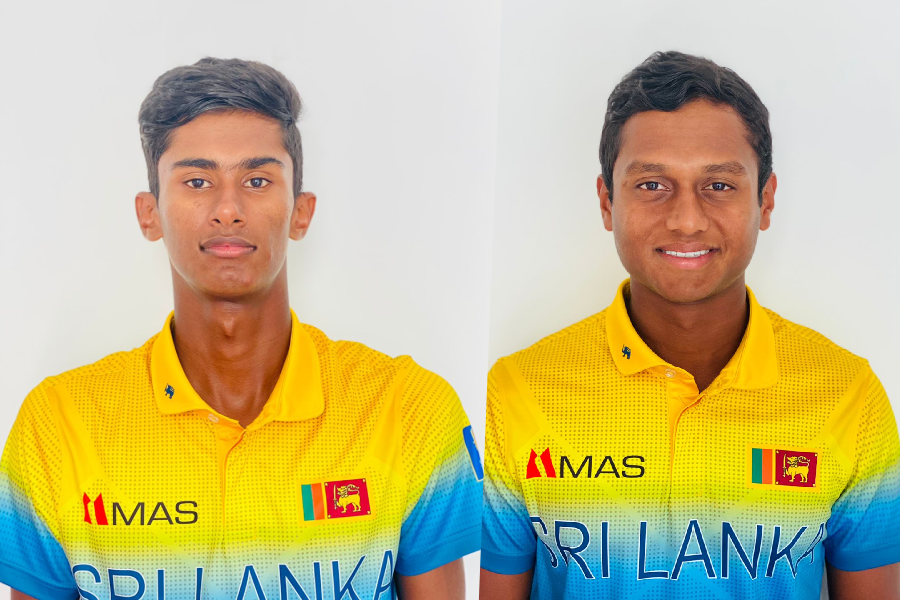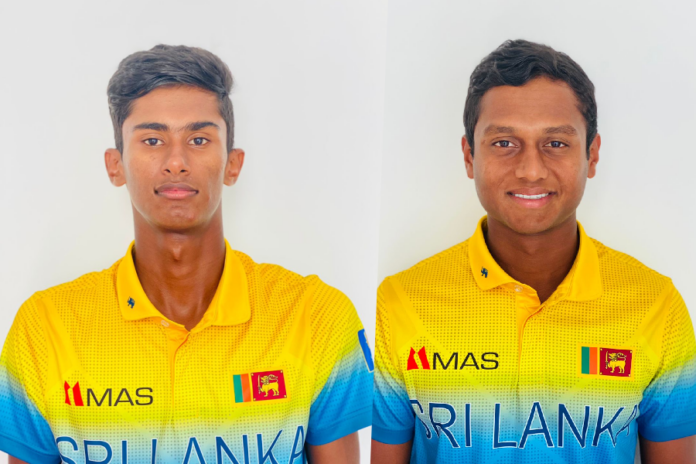 Asitha Wanninayake stroked a brilliant century to give the Sri Lanka U19s honors on day two of the first Youth Test against England U19s at County Ground, Chelmsford.
Sri Lanka resumed their innings on day two at 25/1, with overnight batters Asitha Wanninayake (13*) and Shevon Daniel (1*) remaining unbeaten at the crease. The duo added another 50 runs to the scoreboard before the left-hander was Daniel trapped in front by Benjamin Cliff for 22 runs in the 9th over of the day.
The opening batter Wanninayake and No. 4 batter Pawan Pathiraja then rebuilt Sri Lanka's innings, putting on 83 runs for the 3rd wicket. Pathiraja chipped in with 32 runs off 95 balls with 5 fours, before being adjudged LBW off the bowling of Bertie Foreman.
At 133/3, Wanninayake was joined by right-hand batter Ranuda Somarathne at the middle and the duo put on a match-defining partnership of 137 runs off 246 balls for the 4th wicket, bringing the visitors back into the contest.
Somarathne, who was dismissed as the 4th wicket of Sri Lankan innings, made a vital 65 runs off 114 balls with 8 fours. Wanninayake, who made a century in the 3-day warm-up game a few days ago, came up with another fabulous century as Sri Lanka ended second day's play on top putting 301 runs for 4 wickets.
Wanninayake remained unbeaten at the crease after making 132 runs off 307 balls with 19 fours. For the hosts, the opening fast bowler Benjamin Cliff was the pick of the bowlers as he grabbed 2 wickets for 57 runs.
387/10 (78.3) & 292/10 (75.5)
407/10 (141.1) & 276/7 (57.1)


Batsmen
R
B
4s
6s
SR
Harry Singh
c Lahiru Dewatage b Duvindu Ranatunga
27
46
2
0
58.70
Ben McKinney
c Vinuja Ranpul b Dulaj Samuditha
33
34
6
0
97.06
Ross Whitfield
c Wanuja Sahan b Vinuja Ranpul
86
106
8
1
81.13
George Bell
c Dulaj Samuditha b Vinuja Ranpul
107
96
16
0
111.46
Matthew Hurst
c Duvindu Ranatunga b Vinuja Ranpul
8
18
1
0
44.44
Alex Horton
c & b Wanuja Sahan
0
5
0
0
0.00
Dominic Kelly
st Lahiru Dewatage b Raveen de Silva
14
42
1
0
33.33
George Thomas
c Vinuja Ranpul b Dulaj Samuditha
19
24
2
0
79.17
Bertie Foreman
not out
58
56
4
2
103.57
Eddie Jack
c Lahiru Dewatage b Shevon Daniel
8
23
1
0
34.78
Benjamin Cliff
c Pawan Pathiraja b Wanuja Sahan
18
21
3
0
85.71
| | |
| --- | --- |
| Extras | 9 (b 4 , lb 4 , nb 0, w 1, pen 0) |
| Total | 387/10 (78.3 Overs, RR: 4.93) |
| Bowling | O | M | R | W | Econ |
| --- | --- | --- | --- | --- | --- |
| Dulaj Samuditha | 17 | 1 | 105 | 2 | 6.18 |
| Vinuja Ranpul | 10 | 0 | 62 | 0 | 6.20 |
| Wanuja Sahan | 18.3 | 5 | 56 | 2 | 3.06 |
| Duvindu Ranatunga | 17 | 1 | 100 | 4 | 5.88 |
| Raveen De Silva | 9 | 1 | 31 | 1 | 3.44 |
| Sadisha Rajapaksa | 1 | 0 | 6 | 0 | 6.00 |
| Shevon Daniel | 6 | 0 | 19 | 1 | 3.17 |


Batsmen
R
B
4s
6s
SR
Sadisha Rajapaksa
c Alex Horton b Benjamin Cliff
11
24
2
0
45.83
Asitha Wanninayake
b Thomas Aspinwall
132
315
19
0
41.90
Shevon Daniel
lbw b Benjamin Cliff
22
33
3
0
66.67
Pawan Pathiraja
lbw b Bertie Foreman
32
95
5
0
33.68
Ranuda Somarathne
c Bertie Foreman b Eddie Jack
65
114
6
0
57.02
Raveen de Silva
b Eddie Jack
62
135
7
0
45.93
Lahiru Dewatage
lbw b Thomas Aspinwall
0
1
0
0
0.00
Vinuja Ranpul
c Thomas Aspinwall b Bertie Foreman
42
85
4
2
49.41
Wanuja Sahan
b Bertie Foreman
13
29
2
0
44.83
Duvindu Ranatunga
lbw b Bertie Foreman
1
13
0
0
7.69
Dulaj Samuditha
not out
0
4
0
0
0.00
| | |
| --- | --- |
| Extras | 27 (b 11 , lb 9 , nb 1, w 6, pen 0) |
| Total | 407/10 (141.1 Overs, RR: 2.88) |
| Bowling | O | M | R | W | Econ |
| --- | --- | --- | --- | --- | --- |
| Benjamin Cliff | 28 | 5 | 68 | 2 | 2.43 |
| Thomas Aspinwall | 31 | 8 | 98 | 2 | 3.16 |
| Dominic Kelly | 23 | 6 | 65 | 0 | 2.83 |
| Eddie Jack | 23 | 6 | 62 | 2 | 2.70 |
| Bertie Foreman | 36.1 | 11 | 94 | 4 | 2.60 |


Batsmen
R
B
4s
6s
SR
Harry Singh
lbw b Wanuja Sahan
2
8
0
0
25.00
Ben McKinney
c Lahiru Dewatage b Wanuja Sahan
56
99
3
0
56.57
Ross Whitfield
b Vinuja Ranpul
110
134
12
1
82.09
George Bell
c Duvindu Ranatunga b Wanuja Sahan
29
27
3
1
107.41
Matthew Hurst
b Duvindu Ranatunga
39
105
0
1
37.14
Alex Horton
c Wanuja Sahan b Raveen De Silva
14
18
2
0
77.78
Dominic Kelly
b Wanuja Sahan
3
11
0
0
27.27
Thomas Aspinwall
c Shevon Daniel b Raveen De Silva
13
22
2
0
59.09
Bertie Foreman
c Vinuja Ranpul b Duvindu Ranatunga
12
14
2
0
85.71
Eddie Jack
c Vinuja Ranpul b Duvindu Ranatunga
7
16
1
0
43.75
Benjamin Cliff
not out
1
1
0
0
100.00
| | |
| --- | --- |
| Extras | 6 (b 0 , lb 5 , nb 0, w 1, pen 0) |
| Total | 292/10 (75.5 Overs, RR: 3.85) |
| Bowling | O | M | R | W | Econ |
| --- | --- | --- | --- | --- | --- |
| Dulaj Samuditha | 3 | 0 | 16 | 0 | 5.33 |
| Wanuja Sahan | 27 | 2 | 89 | 4 | 3.30 |
| Sadisha Rajapaksa | 6 | 1 | 15 | 0 | 2.50 |
| Vinuja Ranpul | 11 | 1 | 45 | 1 | 4.09 |
| Duvindu Ranatunga | 7.5 | 0 | 34 | 3 | 4.53 |
| Asitha Wanninayake | 4 | 0 | 13 | 0 | 3.25 |
| Raveen De Silva | 16 | 0 | 70 | 2 | 4.38 |
| Shevon Daniel | 1 | 0 | 5 | 0 | 5.00 |


Batsmen
R
B
4s
6s
SR
Sadisha Rajapaksa
b Thomas Aspinwall
4
9
1
0
44.44
Asitha Wanninayake
c Ben McKinney b Dominic Kelly
22
51
3
0
43.14
Shevon Daniel
b Thomas Aspinwall
6
13
1
0
46.15
Pawan Pathiraja
lbw b Thomas Aspinwall
4
14
0
0
28.57
Ranuda Somarathne
not out
120
115
12
1
104.35
Raveen De Silva
lbw b Ben McKinney
22
38
3
0
57.89
Lahiru Dewatage
lbw b Dominic Kelly
49
49
8
0
100.00
Vinuja Ranpul
c Harry Singh b Thomas Aspinwall
18
31
1
0
58.06
Wanuja Sahan
not out
23
23
1
0
100.00
| | |
| --- | --- |
| Extras | 8 (b 0 , lb 6 , nb 0, w 2, pen 0) |
| Total | 276/7 (57.1 Overs, RR: 4.83) |
| Bowling | O | M | R | W | Econ |
| --- | --- | --- | --- | --- | --- |
| Benjamin Cliff | 10.1 | 0 | 43 | 0 | 4.26 |
| Thomas Aspinwall | 16 | 3 | 67 | 4 | 4.19 |
| Dominic Kelly | 11 | 1 | 52 | 2 | 4.73 |
| Eddie Jack | 4 | 0 | 13 | 0 | 3.25 |
| Bertie Foreman | 13 | 0 | 74 | 0 | 5.69 |
| Ben McKinney | 3 | 0 | 21 | 1 | 7.00 |