Dimuth Karunaratne made a fighting century, his 14th in Test cricket, but India wrapped things up ahead of dinner on day 3, to wrap up the 2nd Test and take the series 2-0.
Karunaratne had that steely determination about him right off the bat today and together with Kusal Mendis ensured that Sri Lanka didn't crumble in the 1st session as many would have expected, given how things have panned out in the series so far.
The pair put on 97 for the 2nd wicket, with Mendis in particular looking like he was back to his Test best. Unfortunately for him, Ravichandran Ashwin got one to sneak passed him just after he got to a fifty, breaking Sri Lanka's resistance.
Karunaratne continued using his feet deftly, ensuring he had the spin covered, putting on a clinic on how to play the turning ball. Unfortunately, he got little support at the other end, Angelo Mathews and Dhananjaya de Silva fell before Tea and while Niroshan Dickwella looked like he was settling in, played another rash shot after the break, giving Axar Patel his 1st wicket of the innings.
The Indians were made to work for the wickets, for the 1st time in the series and looked to be running ragged during the day. As the lights came on though, Bumrah was back to his best and once he got one through Karunaratne it was just a matter of time before things were wrapped up.
With the ton, Karunaratne became the 1st player to make a century in the 4th innings of a day-night Test. Another milestone came for Ashwin, the off spinner moving past Dale Steyn on the all-time top Test wicket-takers list into 8th place, with 442 wickets.
Sri Lanka also slipped to 5th place in the ICC Test Championship table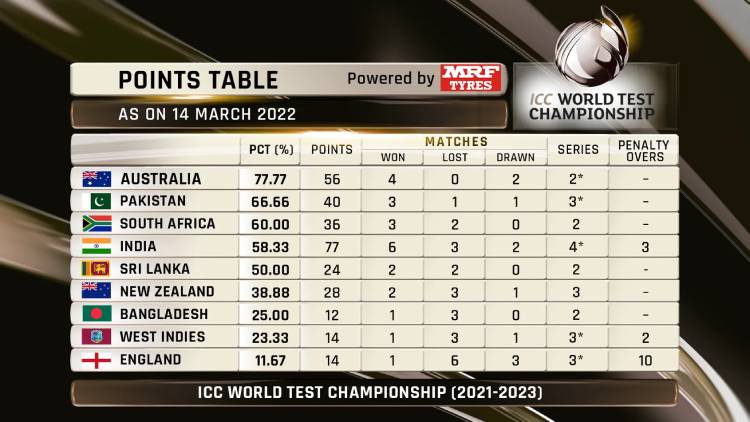 109/10 (35.5) & 208/10 (59.3)
252/10 (59.1) & 303/9 (68.5)


Batsmen
R
B
4s
6s
SR
Rohit Sharma
c Dhananjaya Lakshan b Lasith Embuldeniya
15
25
1
1
60.00
Mayank Agarwal
run out (Niroshan Dickwella)
4
7
1
0
57.14
Hanuma Vihari
c Niroshan Dickwella b Praveen Jayawickrama
31
81
4
0
38.27
Virat Kohli
lbw b Dhananjaya de Silva
23
48
2
0
47.92
Rishab Pant
b Lasith Embuldeniya
39
26
7
0
150.00
Shreyas Iyer
st Niroshan Dickwella b Praveen Jayawickrama
92
98
10
4
93.88
Ravindra Jadeja
c Lahiru Thirimanne b Lasith Embuldeniya
4
14
1
0
28.57
Ravichandran Ashwin
c Niroshan Dickwella b Dhananjaya de Silva
13
33
1
0
39.39
Axar Patel
b Suranga Lakmal
9
7
0
1
128.57
Mohammed Shami
c Dhananjaya de Silva b Praveen Jayawickrama
5
8
1
0
62.50
Jasprit Bumrah
b
0
10
0
0
0.00
| | |
| --- | --- |
| Extras | 17 (b 7 , lb 8 , nb 2, w 0, pen 0) |
| Total | 252/10 (59.1 Overs, RR: 4.26) |
| Fall of Wickets | 1-10 (1.3) Mayank Agarwal, 2-29 (9.3) Rohit Sharma, 3-76 (26.2) Hanuma Vihari, 4-86 (27.3) Virat Kohli, 5-126 (32.4) Rishab Pant, 6-148 (36.4) Ravindra Jadeja, 7-183 (47.1) Ravichandran Ashwin, 8-215 (49.6) Axar Patel, 9-229 (53.5) Mohammed Shami, 10-252 (59.1) Shreyas Iyer, |
| Bowling | O | M | R | W | Econ |
| --- | --- | --- | --- | --- | --- |
| Vishwa Fernando | 3 | 0 | 18 | 0 | 6.00 |
| Suranga Lakmal | 8 | 3 | 12 | 1 | 1.50 |
| Lasith Embuldeniya | 24 | 2 | 94 | 3 | 3.92 |
| Praveen Jayawickrama | 17.1 | 3 | 81 | 3 | 4.74 |
| Dhananjaya de Silva | 7 | 1 | 32 | 2 | 4.57 |


Batsmen
R
B
4s
6s
SR
Kusal Mendis
c Shreyas Iyer b Jasprit Bumrah
2
7
0
0
28.57
Dimuth Karunaratne
b Mohammed Shami
4
13
1
0
30.77
Lahiru Thirimanne
c Shreyas Iyer b Jasprit Bumrah
8
6
2
0
133.33
Angelo Mathews
c Rohit Sharma b Jasprit Bumrah
43
85
3
2
50.59
Dhananjaya de Silva
lbw b Mohammed Shami
10
24
1
0
41.67
Charith Asalanka
c Ravichandran Ashwin b Axar Patel
5
8
1
0
62.50
Niroshan Dickwella
c Rishab Pant b Jasprit Bumrah
21
38
1
0
55.26
Lasith Embuldeniya
c Rishab Pant b Jasprit Bumrah
1
16
0
0
6.25
Suranga Lakmal
b Ravichandran Ashwin
5
9
0
0
55.56
Praveen Jayawickrama
not out
1
1
0
0
100.00
Vishwa Fernando
st b
8
8
0
0
100.00
| | |
| --- | --- |
| Extras | 1 (b 1 , lb 0 , nb 0, w 0, pen 0) |
| Total | 109/10 (35.5 Overs, RR: 3.04) |
| Fall of Wickets | 1-2 (2.1) Kusal Mendis, 2-14 (4.2) Lahiru Thirimanne, 3-14 (5.1) Dimuth Karunaratne, 4-28 (11.5) Dhananjaya de Silva, 5-50 (17.3) Charith Asalanka, 6-85 (28.1) Angelo Mathews, |
| Bowling | O | M | R | W | Econ |
| --- | --- | --- | --- | --- | --- |
| Jasprit Bumrah | 10 | 4 | 24 | 5 | 2.40 |
| Ravichandran Ashwin | 8.5 | 1 | 30 | 2 | 3.53 |
| Mohammed Shami | 6 | 1 | 18 | 2 | 3.00 |
| Ravindra Jadeja | 6 | 1 | 15 | 0 | 2.50 |
| Axar Patel | 5 | 1 | 21 | 1 | 4.20 |


Batsmen
R
B
4s
6s
SR
Mayank Agarwal
c Dhananjaya de Silva b Lasith Embuldeniya
22
34
0
0
64.71
Rohit Sharma
c Angelo Mathews b Dhananjaya de Silva
46
79
0
0
58.23
Hanuma Vihari
b Praveen Jayawickrama
35
79
0
0
44.30
Virat Kohli
lbw b Praveen Jayawickrama
13
16
0
0
81.25
Rishab Pant
c & b Praveen Jayawickrama
50
31
0
0
161.29
Shreyas Iyer
lbw b Lasith Embuldeniya
67
87
0
0
77.01
Ravindra Jadedja
b Avishka Fernando
22
45
0
0
48.89
Ravichandran Ashwin
c Niroshan Dickwella b Praveen Jayawickrama
13
25
0
0
52.00
Axar Patel
b
9
10
0
0
90.00
Mohammed Shami
not out
16
8
0
0
200.00
| | |
| --- | --- |
| Extras | 10 (b 8 , lb 1 , nb 1, w 0, pen 0) |
| Total | 303/9 (68.5 Overs, RR: 4.4) |
| Bowling | O | M | R | W | Econ |
| --- | --- | --- | --- | --- | --- |
| Suranga Lakmal | 10 | 2 | 34 | 0 | 3.40 |
| Lasith Embuldeniya | 20.5 | 1 | 87 | 3 | 4.24 |
| Vishwa Fernando | 10 | 2 | 48 | 1 | 4.80 |
| Dhananjaya de Silva | 9 | 0 | 47 | 1 | 5.22 |
| Praveen Jayawickrama | 19 | 2 | 78 | 4 | 4.11 |


Batsmen
R
B
4s
6s
SR
Lahiru Thirimanne
lbw b Jasprit Bumrah
0
3
0
0
0.00
Dimuth Karunaratne
b
107
174
0
0
61.49
Kusal Mendis
st b
54
30
0
0
180.00
Angelo Mathews
b
1
5
0
0
20.00
Dhananjaya de Silva
c & b
4
21
0
0
19.05
Niroshan Dickwella
st b
12
39
0
0
30.77
Charith Asalanka
c & b
5
20
0
0
25.00
Lasith Embuldeniya
lbw b
2
22
0
0
9.09
Suranga Lakmal
b
1
4
0
0
25.00
Vishwa Fernando
c & b
2
6
0
0
33.33
Praveen Jayawickrama
not out
0
4
0
0
0.00
| | |
| --- | --- |
| Extras | 20 (b 16 , lb 3 , nb 1, w 0, pen 0) |
| Total | 208/10 (59.3 Overs, RR: 3.5) |
| Bowling | O | M | R | W | Econ |
| --- | --- | --- | --- | --- | --- |
| Jasprit Bumrah | 9 | 4 | 23 | 3 | 2.56 |
| Mohammed Shami | 6 | 0 | 26 | 0 | 4.33 |
| Ravichandran Ashwin | 19.3 | 3 | 55 | 4 | 2.85 |
| Ravindra Jadedja | 14 | 2 | 48 | 1 | 3.43 |
| Axar Patel | 11 | 1 | 37 | 2 | 3.36 |