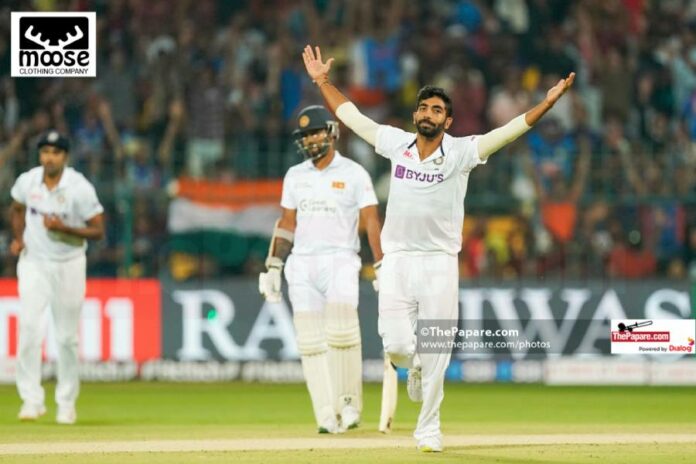 Sri Lanka lost opener Lahiru Thirimanne in the 1st over of their 2nd innings, but skipper Dimuth Karunaratne and Kusal Mendis managed to see off the Indian attack for day 2. Sri Lanka went to stumps at 28/1, still 419 adrift of the target of 447 set by the hosts.
India declared their 2nd innings at the fall of the 9th wicket, leaving Sri Lanka a target of 447 and just over a half an hour to negotiate at the end of day 2.
Earlier in the day, Sri Lanka crumbled in the first session, after coming into the day 6 wickets down. Niroshan Dickwella looked to start off well, getting two boundaries off the 1st over of the day, before leaving Lasith Embuldeniya to face up to R Ashwin on the other end. Embuldeniya did well in defense but inexplicably took a single off the last delivery of the over to take strike in the next over and was duly gotten rid of by Jasprit Bumrah.
It was the kind of decision-making characteristic of Sri Lanka during this series, where they are yet to cross 200 in three innings.
They ended up losing their last 4 wickets for 23 runs, giving India a lead of 143 going into their 2nd innings.
With plenty of time left in the Test, India just batted and batted and batted. The track which had looked like a minefield with Sri Lankan batters at the crease, suddenly turned into a typical day 2 pitch with the Indians batting.
There was some variable bounce and turn, but the Indian batters negotiated it with ease, with more of less every batter managing a start. Rishabh Pant went about his business as usual, clobbering a 28-ball half century – the fastest by an Indian in Tests.
During Pant's stay at the crease, India were cruising at 7 runs an over, incredible considering this is the same pitch that produced 16 wickets on day 1.
Shreyas Iyer continued his form, getting another half-century to push India's lead towards 450.
Praveen Jayawickrama and Lasith Embuldeniya picked up 7 wickets between them but were far too inconsistent in their lines and lengths to put the batters under any sustained pressure.
It was another day of demoralizing cricket by the visitors against a ruthless Indian side looking to move up the ICC Test Championship table.
109/10 (35.5) & 208/10 (59.3)
252/10 (59.1) & 303/9 (68.5)


Batsmen
R
B
4s
6s
SR
Rohit Sharma
c Dhananjaya Lakshan b Lasith Embuldeniya
15
25
1
1
60.00
Mayank Agarwal
run out (Niroshan Dickwella)
4
7
1
0
57.14
Hanuma Vihari
c Niroshan Dickwella b Praveen Jayawickrama
31
81
4
0
38.27
Virat Kohli
lbw b Dhananjaya de Silva
23
48
2
0
47.92
Rishab Pant
b Lasith Embuldeniya
39
26
7
0
150.00
Shreyas Iyer
st Niroshan Dickwella b Praveen Jayawickrama
92
98
10
4
93.88
Ravindra Jadeja
c Lahiru Thirimanne b Lasith Embuldeniya
4
14
1
0
28.57
Ravichandran Ashwin
c Niroshan Dickwella b Dhananjaya de Silva
13
33
1
0
39.39
Axar Patel
b Suranga Lakmal
9
7
0
1
128.57
Mohammed Shami
c Dhananjaya de Silva b Praveen Jayawickrama
5
8
1
0
62.50
Jasprit Bumrah
b
0
10
0
0
0.00
| | |
| --- | --- |
| Extras | 17 (b 7 , lb 8 , nb 2, w 0, pen 0) |
| Total | 252/10 (59.1 Overs, RR: 4.26) |
| Fall of Wickets | 1-10 (1.3) Mayank Agarwal, 2-29 (9.3) Rohit Sharma, 3-76 (26.2) Hanuma Vihari, 4-86 (27.3) Virat Kohli, 5-126 (32.4) Rishab Pant, 6-148 (36.4) Ravindra Jadeja, 7-183 (47.1) Ravichandran Ashwin, 8-215 (49.6) Axar Patel, 9-229 (53.5) Mohammed Shami, 10-252 (59.1) Shreyas Iyer, |
| Bowling | O | M | R | W | Econ |
| --- | --- | --- | --- | --- | --- |
| Vishwa Fernando | 3 | 0 | 18 | 0 | 6.00 |
| Suranga Lakmal | 8 | 3 | 12 | 1 | 1.50 |
| Lasith Embuldeniya | 24 | 2 | 94 | 3 | 3.92 |
| Praveen Jayawickrama | 17.1 | 3 | 81 | 3 | 4.74 |
| Dhananjaya de Silva | 7 | 1 | 32 | 2 | 4.57 |


Batsmen
R
B
4s
6s
SR
Kusal Mendis
c Shreyas Iyer b Jasprit Bumrah
2
7
0
0
28.57
Dimuth Karunaratne
b Mohammed Shami
4
13
1
0
30.77
Lahiru Thirimanne
c Shreyas Iyer b Jasprit Bumrah
8
6
2
0
133.33
Angelo Mathews
c Rohit Sharma b Jasprit Bumrah
43
85
3
2
50.59
Dhananjaya de Silva
lbw b Mohammed Shami
10
24
1
0
41.67
Charith Asalanka
c Ravichandran Ashwin b Axar Patel
5
8
1
0
62.50
Niroshan Dickwella
c Rishab Pant b Jasprit Bumrah
21
38
1
0
55.26
Lasith Embuldeniya
c Rishab Pant b Jasprit Bumrah
1
16
0
0
6.25
Suranga Lakmal
b Ravichandran Ashwin
5
9
0
0
55.56
Praveen Jayawickrama
not out
1
1
0
0
100.00
Vishwa Fernando
st b
8
8
0
0
100.00
| | |
| --- | --- |
| Extras | 1 (b 1 , lb 0 , nb 0, w 0, pen 0) |
| Total | 109/10 (35.5 Overs, RR: 3.04) |
| Fall of Wickets | 1-2 (2.1) Kusal Mendis, 2-14 (4.2) Lahiru Thirimanne, 3-14 (5.1) Dimuth Karunaratne, 4-28 (11.5) Dhananjaya de Silva, 5-50 (17.3) Charith Asalanka, 6-85 (28.1) Angelo Mathews, |
| Bowling | O | M | R | W | Econ |
| --- | --- | --- | --- | --- | --- |
| Jasprit Bumrah | 10 | 4 | 24 | 5 | 2.40 |
| Ravichandran Ashwin | 8.5 | 1 | 30 | 2 | 3.53 |
| Mohammed Shami | 6 | 1 | 18 | 2 | 3.00 |
| Ravindra Jadeja | 6 | 1 | 15 | 0 | 2.50 |
| Axar Patel | 5 | 1 | 21 | 1 | 4.20 |


Batsmen
R
B
4s
6s
SR
Mayank Agarwal
c Dhananjaya de Silva b Lasith Embuldeniya
22
34
0
0
64.71
Rohit Sharma
c Angelo Mathews b Dhananjaya de Silva
46
79
0
0
58.23
Hanuma Vihari
b Praveen Jayawickrama
35
79
0
0
44.30
Virat Kohli
lbw b Praveen Jayawickrama
13
16
0
0
81.25
Rishab Pant
c & b Praveen Jayawickrama
50
31
0
0
161.29
Shreyas Iyer
lbw b Lasith Embuldeniya
67
87
0
0
77.01
Ravindra Jadedja
b Avishka Fernando
22
45
0
0
48.89
Ravichandran Ashwin
c Niroshan Dickwella b Praveen Jayawickrama
13
25
0
0
52.00
Axar Patel
b
9
10
0
0
90.00
Mohammed Shami
not out
16
8
0
0
200.00
| | |
| --- | --- |
| Extras | 10 (b 8 , lb 1 , nb 1, w 0, pen 0) |
| Total | 303/9 (68.5 Overs, RR: 4.4) |
| Bowling | O | M | R | W | Econ |
| --- | --- | --- | --- | --- | --- |
| Suranga Lakmal | 10 | 2 | 34 | 0 | 3.40 |
| Lasith Embuldeniya | 20.5 | 1 | 87 | 3 | 4.24 |
| Vishwa Fernando | 10 | 2 | 48 | 1 | 4.80 |
| Dhananjaya de Silva | 9 | 0 | 47 | 1 | 5.22 |
| Praveen Jayawickrama | 19 | 2 | 78 | 4 | 4.11 |


Batsmen
R
B
4s
6s
SR
Lahiru Thirimanne
lbw b Jasprit Bumrah
0
3
0
0
0.00
Dimuth Karunaratne
b
107
174
0
0
61.49
Kusal Mendis
st b
54
30
0
0
180.00
Angelo Mathews
b
1
5
0
0
20.00
Dhananjaya de Silva
c & b
4
21
0
0
19.05
Niroshan Dickwella
st b
12
39
0
0
30.77
Charith Asalanka
c & b
5
20
0
0
25.00
Lasith Embuldeniya
lbw b
2
22
0
0
9.09
Suranga Lakmal
b
1
4
0
0
25.00
Vishwa Fernando
c & b
2
6
0
0
33.33
Praveen Jayawickrama
not out
0
4
0
0
0.00
| | |
| --- | --- |
| Extras | 20 (b 16 , lb 3 , nb 1, w 0, pen 0) |
| Total | 208/10 (59.3 Overs, RR: 3.5) |
| Bowling | O | M | R | W | Econ |
| --- | --- | --- | --- | --- | --- |
| Jasprit Bumrah | 9 | 4 | 23 | 3 | 2.56 |
| Mohammed Shami | 6 | 0 | 26 | 0 | 4.33 |
| Ravichandran Ashwin | 19.3 | 3 | 55 | 4 | 2.85 |
| Ravindra Jadedja | 14 | 2 | 48 | 1 | 3.43 |
| Axar Patel | 11 | 1 | 37 | 2 | 3.36 |