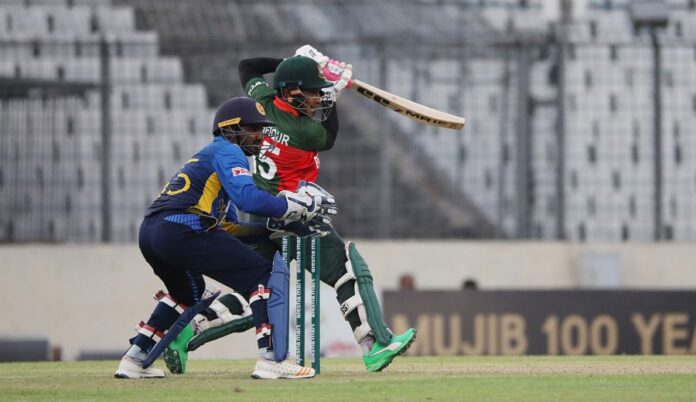 Bangladesh clinched the series 2-0 as they recorded a 103-run victory over the visiting Sri Lankans in the 2nd ODI. 

To the frustrated Sri Lankan fan who stuck by the team despite their recent fiasco, a fresh team was definitely a hope for turnarounds. However, what Sri Lanka has proved is that no number of changes to the personnel will bring about a change unless the skill set is polished and raised to meet international standards. 
The Lankans have been evidently struggling against spin as well as in accumulating singles in the middle overs for quite a while now. When they made wholesale changes in dropping the seniors and bringing youngsters in, the reason behind it was to play 'fearless Cricket.' However, one thing that we should remember is that no one can walk into an international game and play at will – they need the skill set to do so. 
Now, it would be hypocrisy if one criticizes the selectors for this issue. But, having a deeper look into it, were the selections they made going to fix the problematic areas of the team? Was there any strategic aspect to these? Or was it just the matter of bringing in the ones who had done well in domestic Cricket?
Read: Lack of support leaves 'fearless' Hasaranga stranded
For the past 3 years, close to 60 percent of the deliveries Sri Lankan batsmen faced in ODIs have returned to be dot-balls, but Sri Lanka did manage to put up decent totals in most of the games. This could mean that Lankan batsmen are not working the singles and are relying heavily on boundaries for runs. 
They struggle on surfaces where hitting a boundary is tough like the one at Dhaka. Out of the 1118 deliveries bowled by both teams so far in the series, only 67 were sent out of the ropes. This is a mere 5.9 percent of total deliveries. 
The other aspect that Sri Lanka struggled against was spin. None of our batsmen were able to tackle the Bangladeshi spinners, Mehidy Hasan Miraz and Shakib Al Hassan, with the duo now having bagged 10 out of the 19 wickets that Bangladesh has taken so far in the series. Thanks to the couple of showers that interrupted the play and greased up the surface prior to Sri Lanka's innings, both Miraz and Shakib had the assistance of the surface too. Poor backfoot play by Sri Lankan batsmen meant that both these spinners were happily bowling at over 90 kmph and struck the pads easily. Both Dhananjaya de Silva and Kusal Mendis fell prey to this ploy. 
Miraz kept his excellent run going as he bagged 3 scalps for just 28 runs in his 10 overs. Rahaman was even better with 3 for 16, and those two figures alone meant it was curtains for Sri Lanka. Mustafizur Rahaman has also picked up 6 wickets so far in the series, and he is also essentially a fast-spinner.
Chasing a modest total, both Sri Lankan openers got positive starts but failed to capitalize on it. It was followed by a streak of wicketfall which ended at 141 for 9 in a rain-shortened innings of 40 overs.
In contrast to all those mistakes made by the visiting batsmen, the former Bangladeshi Captain Mushfiqur Rahaman showed with example how to play risk-free Cricket when your team is in trouble with early wickets.
Rahim walked in at 2 for 15 in just the second over as Bangladesh were once again setting up a total after winning the toss. The little dynamite scored 125 runs in 127 deliveries. He hit 10 fours in his workman-like innings while sneaking singles at his will. The season-pro looked classy on the eye and negated the quality bowling of Wanindu and Chameera for maximum effect.
The bowling front though seemed rejuvenated for the Lankans, which was finally something to be happy about. They did an amazing job to overcome previous lapses like leaking runs in the middle-overs, to wrap Bangladesh for 246 runs. 
Seamer Dushmantha Chameera was brilliant once again as he returned figures of 3 for 44. With the art of swing being the latest addition to Chameera's arsenal, the lanky seamer is looking lethal at present. He sent back both Tamim Iqbal and Shakib Al Hassan to the hut in just the second over of the game.
The Lankan spinners too did a tremendous job with the chinaman Lakshan Sandakan picking up 3 wickets, while Wanindu, who bowled exceptionally well, walked back with 1 wicket to his name. 
Now having lost the series, Sri Lanka will only have the learnings left to take from this series. However, will the country ever learn that without producing skilled batsmen who can play spin and learning the art of milking singles, no one can survive in international Cricket anymore?
A PHP Error was encountered
Severity: Warning
Message: Invalid argument supplied for foreach()
Filename: controllers/Embed.php
Line Number: 86
Backtrace:
File: /var/www/stats.thepapare.com/htdocs/cricket/application/controllers/Embed.php
Line: 86
Function: _error_handler
File: /var/www/stats.thepapare.com/htdocs/cricket/index.php
Line: 315
Function: require_once
A PHP Error was encountered
Severity: Warning
Message: Invalid argument supplied for foreach()
Filename: embed/match_result.php
Line Number: 120
Backtrace:
File: /var/www/stats.thepapare.com/htdocs/cricket/application/views/embed/match_result.php
Line: 120
Function: _error_handler
File: /var/www/stats.thepapare.com/htdocs/cricket/application/controllers/Embed.php
Line: 92
Function: view
File: /var/www/stats.thepapare.com/htdocs/cricket/index.php
Line: 315
Function: require_once