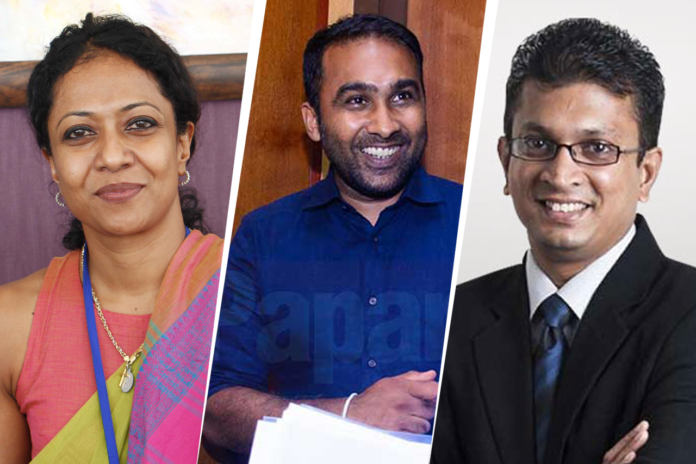 Newly appointed Minister of Sport and Youth Affairs, Hon. Namal Rajapakse has brought together 14 new members, including CEO of Dialog Axiata PLC Supun Weerasinghe and Mahela Jayawardene, to serve on the National Sports Council.
Former Sri Lanka Cricket Captains Jayawardene (appointed chairman) and Kumar Sangakkara are two of the key former sports stars in the council, alongside Julian Bolling, Kasturi Wilson (also CEO of Hemas Holding PLC), Dilantha Malagamuwa as well as Paralympian Major General Rajitha Ampemohotty, each of whom have proven themselves time and again in the sporting arena.
New Sports Minister invites cricket legends to National Sports Council
The committee also includes a number of high-profile individuals from some of Sri Lanka's leading corporate organizations, including CEO of Dialog Axiata PLC Supun Weerasinghe.
Dialog has been a champion of sport in Sri Lanka over the last decade, functioning as main sponsors of the National cricket team and the primary club competitions in the island for Rugby, Football, Netball and Volleyball. Under the guidance of it's parent company, Dialog Axiata PLC, ThePapare.com too has lent its services to uplift schools Basketball, Football and Tennis over the past 4 years, sponsoring the schools Division 1 tournaments, ThePapare Basketball Championship, Football Championship and Tennis Championship.
The council's primary responsibilities will be to provide expertise in the development of the sports law in  Sri Lanka, overseas tours and selections, development of sport in schools and new avenues such as e-sports.
"Keep Politics away from Sports!" – Harin Fernando to Namal Rajapakshe
The members of the council are as follows,
Mahela Jayawardene (Former Sri Lanka Cricket Captain) – Chairman

A.J.S.S Edirisooriya (Director General of Sports) –  Council Member

Supun Weerasinghe (CEO Dialog Axiata PLC) – Council Member

Kumar Sangakkara (Former Sri Lanka Cricket Captain) – Council Member

Dilantha Malagamuwa (Sri Lanka's most successful Racing Car Driver) – Council Member

Kasturi Wilson (Former National Netball & Basketball player/ CEO Hemas Holdings PLC) – Council Member

Julian Bolling (Olympian – Swimming) – Council Member

Major Gen. Rajitha Ampemohotti (Former Paralympic Athlete) – Council Member

Rohan Fernando (CEO Sri Lanka Telecom)- Council Member

Rowena Samarasinghe (Sports Lawyer) – Council Member

Ruwan Keragala (Director Manufacturing MAS Intimates)- Council Member

Lieutenant Gen. Shavendra Silva (Commander Sri Lanka Army) – Council Member

Yashwantha Muttetuwegama (FIBA Technical Delegate) – Council Member

Sanjeewa Wickaramanayake (Chairman Ewis) – Council Member