The Minister of Youth and Sport Namal Rajapaksa has temporarily suspended the registration of the Sports Association for Sri Lanka Rugby Association, and has appointed the Director General of the Department of Sports, Mr. Amal Edirisuriya, as the competent authority.
This was announced via Extraordinary Gazette No- 2273/85 dated 1st of April 2022 and has been ordered by Minister of Sports Namal Rajapaksa with provisions UNDER SECTION 32 AND 33 OF THE SPORTS ACT, NO. 25 OF 1973. (Gazette attached below)
Disregarding an order of the Minister of Sports has been the cause of suspension of Sri Lanka Rugby (SLR) and its executive committee headed by President Rizly Illyas.
Prior to electing the SLR office bearers in 2020, an appeal was made to then Minister of Sports Dullus Allahapperuma to disallow the Western Province Rugby Football Union (WPRFU) and the other unions including the Uva Province, University Sports Association, Schools Rugby Association from voting or competing in the election due to non-payment of their membership fees for the year 2019 to SLR.
In a letter dated 20th July 2020, the Secretary of the Sports Ministry Mr. K.D.S. Chanadrasena formally announced that the membership of the Western Province Rugby Football Union with Sri Lanka Rugby was suspended due to non-payment of membership fees to SLR, and then Sports Minister Dullas Alahapperuma had approved the above recommendation by the advisory committee who had deemed that WPRFU membership including the others were invalid in accordance with sections 16, 17 & 18 of Sri Lanka Rugby constitution. (Letter attached below)
However, it was reported that members of the suspended unions had attended the SLR's Annual General Meeting and the election of office bearers held just a few weeks after the above suspension was announced. It is also alleged that members of the suspended entities have continued to attend SLR meetings despite being a suspended, and have even proposed and seconded matters at SLR council meetings.
It is reported that the matter of WPRFU suspension was brought to the present Minister of Youth & Sports, Namal Rajapaksa. The Department of Sports had sought clarification from the Attorney General regarding the matter, resulting in the suspension announced in the gazette.
Speaking to ThePapare.com, the competent authority of the SLR, Director General of Department of Sports Mr. Amal Edirisuriya confirmed that an interim committee will not be appointed, but that a working committee will be formed on Monday (4th April) to ensure that the ongoing Club Rugby League is completed.  With Sri Lanka Rugby obligated to hold elections to appoint the new executive committee on or before the 31st of May, Mr. Edirisuriya confirmed that an election committee will be appointed to overlook the process in due course.
Gazette Notification – 01.02-2022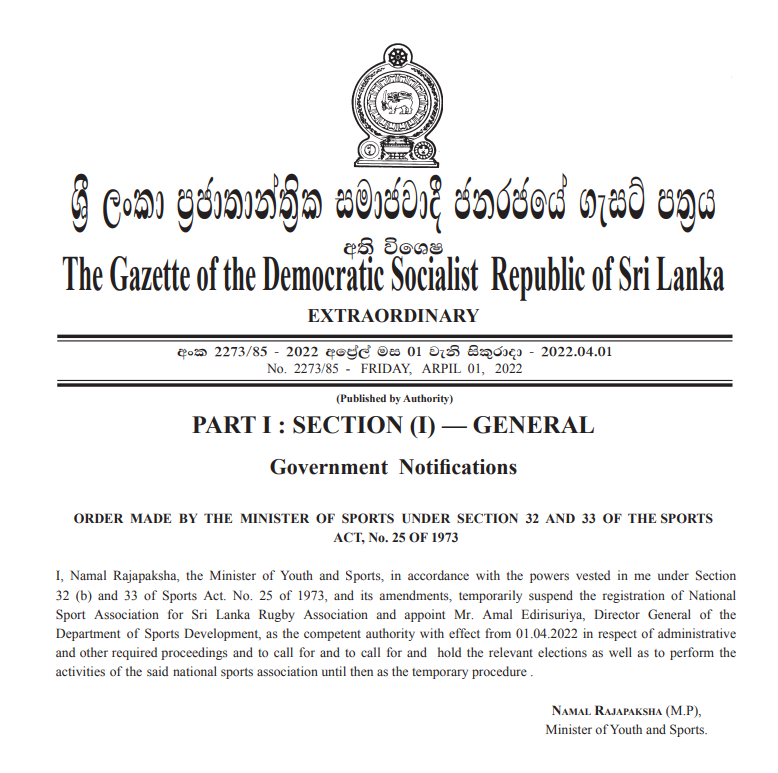 Letter from Secretary to Ministry of Sports –  17.07.2020