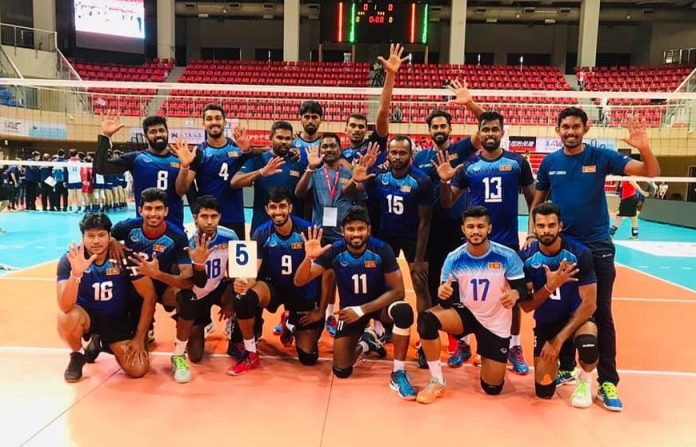 Sri Lanka Ports Authority finished in 5th place at the 2019 Asian Men's Club Volleyball Championship played in Taipei, Chinese Taipei.

Sri Lanka Ports Authority qualified for the final 8 round after finishing 2nd in Pool B…
To date, this is the highest position a Sri Lankan team has finished in an Asian Volleyball Confederation (AVC) Club Competition. The previous best was 7th place in last year's Asian Men's Club Volleyball Championship. That time it was the Sri Lanka National Men's Team who participated as Lanka Lions.
After getting through to the final 8 round, Ports Authority had to face the Panasonic Panthers (Japan) and TP.HCM (Vietnam) in Pool F to determine the quarter final match-ups from Pool E. Results from the group stage were carried forward to the final 8 round.
After an intense battle Ports lost to Panthers 25-21, 25-23 & 25-21. Janitha Surath scored 17-points from 12 spikes, 3 aces and 2 blocks.
Read More: Lanka Lions impress with 7th place
Against TP.HCM the islanders only dropped one set on their way to winning 3-1. The scores read 25-21, 18-25, 25-20 & 27-25. Both Janitha and Lasindu Methmal had huge games. Janitha scored 30-points from 27 spikes, 2 aces and 1 block. Lasindu had 29-points from 26 spikes and 3 blocks. Malith Dinidu scored 14 from 9 spikes, 4 blocks and 1 ace.
Pool F
Sri Lanka Ports Authority v Al-Rayyan (Quarter Finals)
With the tragic situation at home and playing against a far superior team, Ports Authority were not able to mount a considerable challenge apart from the 2nd set as they lost 3-0 to the Qataris.
Al-Rayyan, who recruits players from Serbia, Brazil, Cuba and many top volleyball playing countries, strolled through the 1st set winning 25-14. The 2nd set was a closer fight but in that too the Qatar club edged out Ports 25-22 and won the 3rd 25-12.
Lasindu Methmal Wasanthapriya scored 11-points while Janitha Surath scored 10 from 8 spikes and 2 aces.
Sri Lanka Ports Authority v Queensland Pirates (5th-8th Semi-Finals)
In the 5th-8th place semi-finals Ports Authority defeated Queensland Pirates from Australia 3-1. Ports won the 1st set 25-22 before cruising to an easy 25-17 in the 2nd set.
However, with the game on the line the Pirates fought tooth and nail to win the 3rd set 29-31. But, the Sri Lankans regrouped to win the 4th set 25-21 and move into the 5th Place Playoff.
Lasindu Methmal scored a team high 24-points with 23 spikes and 1 block. Janitha scored 22 from 18 spikes, 3 aces and 1 block.
Sri Lanka Ports Authority v Taichung Bank (5th Place)
Ports Authority defeated Taichung Bank, from the host country Chinese Taipei, 3-2 in a thrilling encounter to finish in 5th place.
Ports won the 1st set convincingly 25-16 but the hosts responded winning the next 20-25. The visitors managed to make it 2-1 after winning a tight 3rd set 26-24. Taichung Bank upped their game to win the 4th set 19-25 and send the game into a deciding 5th set. In the final set Ports were able to get a healthy lead and went onto win 15-9.
For Ports Janitha Surath had a monster game scoring a match high 29-points from 28 spikes and 1 block. Lasindu Methmal scored 18 and Malith Dinidu added 14 from 13 spikes and 1 block.  
>>For more Volleyball News Click Here<<