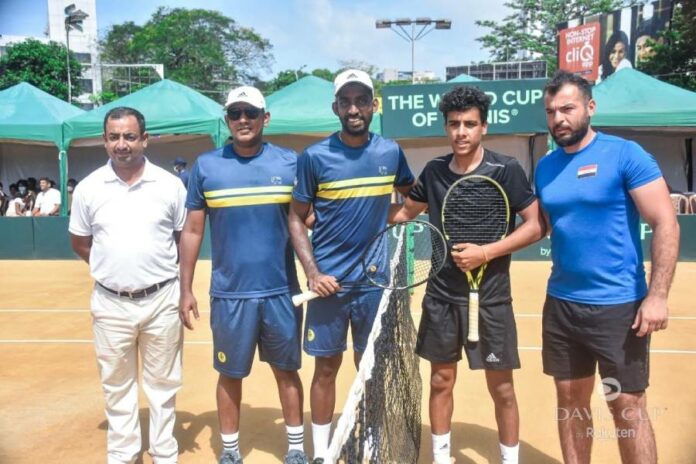 Sri Lanka bagged a win over Iraq after an intensive deciding encounter in Asia Oceania Zone Group IV event 'A' tennis tournament for promotion to Group III.
Matches were worked off at SLTA clay courts in Greenpath, Colombo last Friday [13th August].
The two teams entered the final stage unbeaten, earning the top two spots in their respective groups. The Lankan lads established their victory over Bangladesh and Kyrgyzstan with a comfortable score line of 3-0. The Iraqis claimed their spot in the final match up beating Brunei, Maldives and Yemen with whom they had close encounters.
Team Sri Lanka featured some talented individuals in their set, Yasitha de Silva, Harshana Godamanna, Thehan Wijemanne and Chathurya Nilaweera. Harshana Godamanna bid farewell to his national tennis career with a successful achievement appearing in his last assignment for his motherland.
The promotion playoff was followed by the 3rd – 4th Place playoff and the 5th – 6th Place playoff. Kyrgyzstan sealed the win against Brunei in 3rd -4th playoff whilst Bangladesh triumphed over Yemen in the 5th – 6th playoff.
With this victory under their account Sri Lanka will be joined in Group III by the team that wins the Asia Oceania zone group IV event 'B' Tennis tournament which will be held from the 17th – 22nd of October in Bahrain. This tournament will include 10 countries, namely Bhutan, Cambodia, Guam, Kuwait, Mongolia, Singapore, Tajikistan, Turkmenistan and the host Bahrain.
Results
Promotion playoff [Singles]; Sri Lanka vs Iraq [2-0]
Yasitha de Silva [Sri Lanka] beat Abdullah Ali Hatem [Iraq] – 2-0 [6/4, 6/2]
Harshana Godamanna [Sri Lanka] beat Adel Mustafa Al-Saedi – 2-0 [6/3, 6/2]
3rd – 4th playoff [Singles]; Kyrgyzstan vs Brunei [2-1]
Igiz Kamchibekov [Kyrgyzstan] beat Billie Kee- Loong Wong [Brunei] – 2-1 [6/4, 5/7,6/1]
Mirghaz Mirdzhaliev [Kyrgyzstan] beat Aiman Abdullah [Brunei] – 2-0 [6/0, 6/0]
5th -6th Playoff [Singles]; Bangladesh vs Yemen [2-1]
Mohammad Rubel Hossain [Bangladesh] beat Halil Sallam [Yemen] – 2-0 [8/0, 6/0]
Ghassan Alansi [Yemen] beat Mohammad Kawser Ali [Bangladesh] – 2-0 [7/6, 6/0]
[Doubles]
Mohammad Rubel Hossain/Ranjan Ram [Bangladesh] beat Ghassan Alansi/ Halil Sallam [Yemen] – 2-0 [6/2, 6/2]