On a lovely Friday evening back in March in 2013, a Josephian batsman named Sadeera Rashen Samarawickrama hogged the limelight at the 79th Battle of the Saints with a cracking century (126), against arch-rivals, St. Peter's College.
Most of those present at the P. Sara Oval were of the notion that Samarawickrama will be the next 'Big thing' in Sri Lankan Cricket. Four years later, he says that knock changed his career and after a brilliant 2016/17 season, Samarawickrama stands as one of the most stylish, naturally gifted young wicket-keeper batsmen in the local circuit.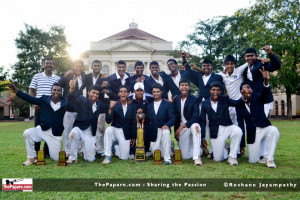 Samarawickrama did not begin is cricketing career at Darley Road, but there is no doubt in his mind that St. Joseph's College has had a major role to play in his career so far, "Even though I learnt the basics of cricket at Thurstan College where I played till Under 15, playing five years of 1st XI cricket for St. Joseph's College, Colombo 10 truly changed my career and certainly that 'Big Match' century helped me establish myself in the Sri Lanka U19 team."
With a wide array of strokes in his repertoire, Samarawickrama has the ability to score at a blitzkrieg pace in the shorter-formats of the game at the top of the order and be a game changer by scoring big hundreds in the longer format of the game. Do not forget, he can also keep wickets and if needed, is a safe fielder at any position as well.  
"I always knew Sadeera has a great future. Since his school days, I always thought he had the best batting technique in comparison to those in his age group. He has grown tremendously as a player in the past couple of years and stands as one of the best young wicket-keeper batsmen in the island." Sadeera's coach from St. Joseph's and current coach educator at Sri Lanka Cricket (SLC) Janaka Deegodagamage said.
In the 2014 ICC Youth World Cup, then Sri Lanka U19 vice-captain, Samarawickrama received immense praise for his crisp cover-drive filled knock of 82 against the England U19s as he went onto become the top run-scorer for the young lions scoring 265 off 6 matches. Samarawickrama's teammates from that side, Kusal Mendis and Binura Fernando have gone onto to represent the national team with the former slowly and steadily becoming the backbone of the national team.
Video: Sadeera Samarawickrama 82 vs England, U19 World Cup, Dubai, 2014
"He is a very positive person. He is always thinking positively. Even his batting is very positive. He is a natural timer of the ball. When the ball is coming on to the bat, he is a better cricketer." Naveed Nawaz who coached Samarawickrama during his tenure with the Sri Lanka U19 stated.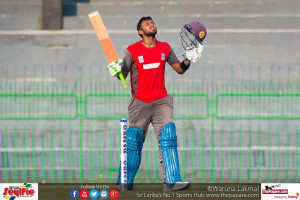 The 21-year old was named the 'Best Batsman' in the recently concluded SLC Super Provincial Limited Over Tournament where he amassed 343 runs in 7 matches for Galle with an average of 49 including 2 centuries. Prior to that in the 2016/17 SLC Premier Club tournament, Samarawickrama was the only player to cross the 1000-run mark where he aggregated 1016 runs in 19 innings, in 10 matches, smashing 6 fifties and 3 centuries for Colts Cricket Club. Incidentally all three centuries came in consecutive games.
Read More : Brilliant Sadeera century drives Galle to final
"I am grateful to almighty God who helped me immensely to perform during the Club and Provincial tournaments. Apart from a few games, I got starts in all the matches and I always wanted to convert them into big scores. Upul (Tharanga) aiya told me to play my natural game and I think that's why we were able to put up good scores and come to the finals, even though disappointingly we lost the final." Samarawickrama said.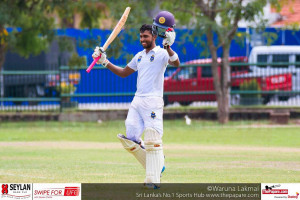 The consistency shown by Samarawickrama during the club season prompted the national selectors to call the youngster for the 2nd unofficial Test match between England Lions and Sri Lanka A earlier this year where he partnered up with Dimuth Karunarathne to demolish the Englishmen in a 315-run fourth wicket stand to announce himself. Sadeera describes his knock of 185 runs in 233 balls with 24 elegant fours as the best knock he has played thus far in his career.
Read More : Sadeera Samarawickrama included in Sri Lanka 'A' team
"It was a dream come true to play for Sri Lanka A and also to get a big score like that on my 'A' team debut was memorable. I think batting with Dimuth aiya was easy because he supported me a lot, up to now, I think that's the best knock I've played." He said.
In the recent Asian Cricket Council Emerging Team Cup 2017 held in Bangladesh, Sadeera was instrumental in guiding the Sri Lanka Emerging XI to the title, scoring 282 runs in 5 matches. He struck a flawless ton against Malaysia and a classy 45 against Pakistan in a low-scoring final.  
"I learnt a lot from him, how he rose up from failures because he is a great cricketer. He has been my hero since I was a kid. My parents have always been behind me and supported me and I'm so gateful to them."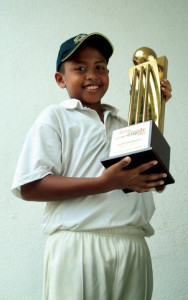 "My brother loves cricket and had no other hobbies than watching cricket or playing cricket since he was very young. He is totally committed to reaching his goals and I think that's the reason for all the runs he's scoring at the moment. I believe he will get his national opportunity soon." Buddhi spoke about his younger brother.
Last year, Sri Lanka Development squad's tour of South Africa and Zimbabwe was a forgettable one for Samarawickrama where he averaged only 20 but his self-believe and intense training together with mental toughness turned the tide in 2016/17.
"I never stopped believing in God and in myself. I did not do any technical changes to my batting style this season, I've only tried to play more in the 'V' but I think it's all due to the mental strength and application." he stated on the change of fortunes during the past season.
Video: කණ්ඩායම් හැඟීම තමයි අපේ ජයග්‍රහණයට හේතුව – සධීර සහ වනිඳු
With plenty of opening batsmen and wicket-keepers already in the national setup, it will be a hard task for Samarawickrama to break into the national team. He has been in the form of his life recently and is determined to continue scoring bucket loads of runs in the coming seasons until he gets his opportunity to represent the country, a chance which does not seem so far away.