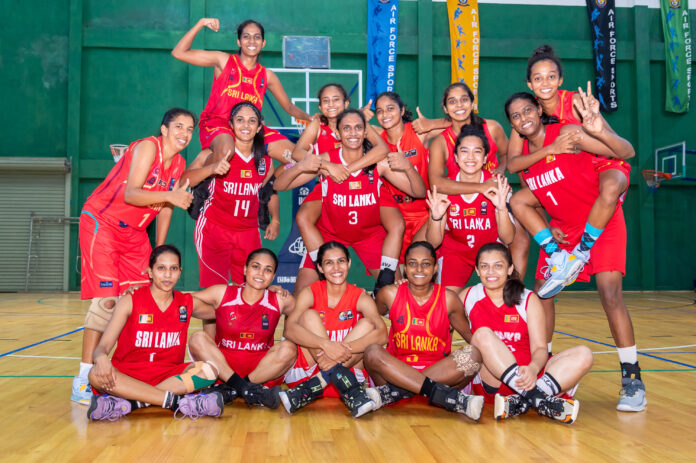 Team Sri Lanka defended their title at the 2nd SABA Women's Championship 2022 after a jaw dropping encounter with hosts Maldives. Sri Lanka dominated the court since the very first second and ended the match with a double figure lead of 13 points, 72-59.
Unbeaten throughout the competition, Maldives was expected to gain the title, however the ladies in red came out with a different mindset. The Lionesses gained first possession of the game but failed to convert it with their first attempt but Lubna Morseth started the score sheet for Sri Lanka a few shots later.
Sri Lanka's half court trap defense was the key for their victory as they pressured their opponents and blocked all their chances of scoring. First quarter ended with a score line of 23 – 11.
The second quarter was when Sri Lanka really pulled away. By the 8th minute of the second quarter Sri Lanka settled in comfortably with a double-digit lead. They were exceptional in both offense and defense. Epciba Washington and Taniya Perera easily penetrated through the Maldives defense and swished the nets for Sri Lanka. Skipper Ekanayake's and Keyasha Siriwaradana's back-to-back 3 points helped Sri Lanka secure the early lead.
However, Maldives did find their pace in the 3rd quarter. They tightened their defense and closed all the options of scoring and Sri Lanka did struggle till the 4th minute to get into points.
Stepping into the 4th quarter, both teams played well but Sri Lanka's early lead secured them the title.
Top Scorers:
Epciba Washington – 21 Points

Sasanthi Samarasinghe – 13 Points

Keyasha Siriwardena – 11 Points