Sri Lanka went on to record their 3rd win of the South Asian Basketball Championship 2018 (SABA 2018), played in Dhaka, Bangladesh. Maldives fell prey to Sri Lanka this time as the final scores read, 82-57.
Previous Games
Sri Lanka beat Bangladesh 65-34

Sri Lanka beat Nepal 70-57

Maldives beat Nepal 63-60

Maldives beat Bhutan 74-66
Starting Five
Sri Lanka: Joseph Gayan, Praneeth Udumalagala, Roshan Suranga, Roshan Randima, Isuru Prabath.

Maldives: Hussain Haleem, Ibrahim Rashwaan, Zakriya Latheef, Mohammed Zilaal, Ahmed Zabeer.
Game in a Nutshell
Both teams stepped into the game unbeaten with high confidence. At the end of gameplay, it was Sri Lanka who drove Maldives off the floor with some scintillating basketball. Maldives did start the game with showing some nerve to take on the fellow islanders, but the 07 blocks from Joseph Gayan, halted them.
Sri Lanka continued the sublime form, from the first two games. With Praneeth Udumalagala reaching high-up for the dunk, the message was clear for the Maldives, Sri Lanka was in the hunt for victory and nothing else. When Sri Lanka went on to score 28 points in the third quarter and Maldivians only managed 11, there was no comeback from that.
Sri Lanka`s offensive game in the campaign had been strong. So, if Maldives were to snatch up a win in the match, they had to unsettle the opposition from the tip-off. Yet, Maldives only managed to score 11 points in the maiden quarter in reply to Sri Lanka`s 16.  Even though Maldives did step up the gas and scored 19 points in the 02nd quarter, Sri Lanka went to score 27 points.
Maldives lacked height and form that Sri Lanka possess. Almost all the players in the Sri Lankan team are in fine touch, so Maldives had to think out of the box and they just couldn't compete.
Key Stats
Yellow = Sri Lanka            Green = Maldives
Shooting Percentage – Sri Lanka converted 33 out their 65 attempted field goals, with a success rate of 50.77%. Kisal Cooray who was given more playing time, proved what an important asset he will be in the future, scoring 16 points in 27:40. Praneeth Udumalagala, Sri Lanka`s sensation added 21 points and top scored. Maldives only converted 20 out of their 70, which marked as 28.57%. There were no notable performances from their end as they failed to connect the ball and hoop most of the time.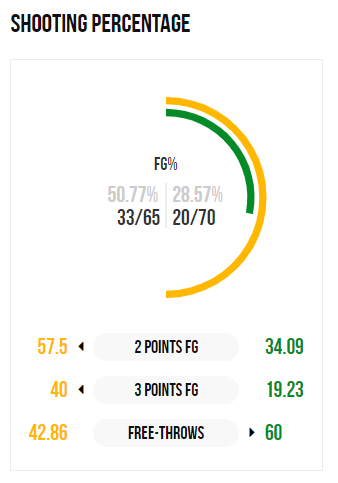 Rebounds – Sri Lanka led the count with 56 total rebounds. Playing an all-around game, the Sri Lankans had it all covered. It was Praneeth Udumalagala who etched the most number of rebounds, stats stating 09. Maldives had 49 rebounds under their name with Ismail Yoosuf grabbing 05 rebounds.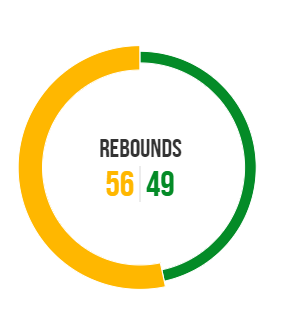 Sri Lanka scored 10 points in fast breaks while 46 points for Sri Lanka came in the paint. They rotated their players swiftly, giving them full exposure. The bench in total scored 49 points. Maldives had 11 second chance points and the Lankans only had 10.
With the 07 blocks of Joseph Gayan, Sri Lanka in total had 13 blocks in the game. Both teams were equaliz on the steals with 05 each. Sri Lanka forced 18 turnovers while Maldives forced 11.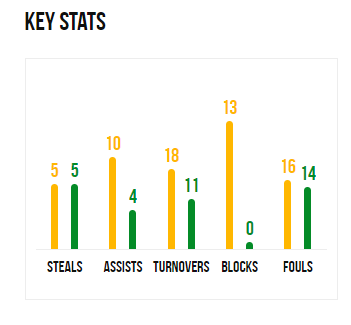 Top Performance
Sri Lanka: Timothi Nithushan followed one simple theory, keep playing your normal game. Scoring 17 points with 07 rebounds and an assist, Nithushan took the defenders on a ride together with Praneeth Udumalagala, Clinton Thevakumar and Kisal Cooray.
Maldives: Abdulla Amzar Mohammed played an efficient game for the Maldivians when they had lost all hope. Scoring 10 points and etching 02 rebounds, he lacked support to over-turn a sublime opposition.