Sri Lanka took on neighboring India, in their first game of the FIBA U16 Asia Championship 2017. Hosts India outclassed the islanders, winning their second match of the tournament 58-86.
India walked into the match after beating Nepal in their first match, 106-37. There was nothing much to be changed in the Indian formula as they looked to continue their form. It was Sri Lanka's 1st game of the tournament and thus they needed some time to find their feet.
Sri Lanka won the jump-ball but Hazeena Abdul failed to convert the possession into points. The Lankan lasses went on to miss the first couple of rebounds and gave away a cheap foul as India capitalized on the mistakes to draw first blood. Sri Lanka`s first quarter was riddled with too many violations of back-court and travelling.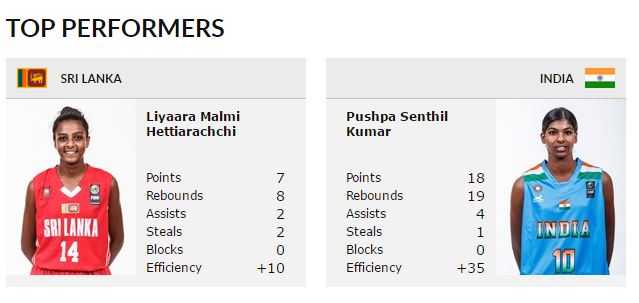 India built on the foundation by scoring thirty points in reply to Sri Lanka`s mere seven. With nobody to contest on rebounds and block the scoring lanes, India had it all their own way on the court.
The rest of the quarters sang the same tune, India scored twenty points for the second quarter and added another 25 in the third. It was only in the final quarter that Sri Lanka did show signs of settling into the game, but to catch up on the lead they gave away in three quarters was near impossible.
India went into lemons with a score line of 50-19 and were able to relax after half-time. Sri Lanka were undisciplined, starting off the second and third quarters by giving away fouls in the first possession itself. India scored on both occasions, converting the free-throws.
Sri Lanka`s full court defensive plot should have started as early as the second quarter, after conceding 30 points in the very beginning of the game. At one point of the game, India enjoyed a 45-point lead which eventually took them over the line.
Sri Lanka in total had only 29 rebounds (9 offensives, 20 defensive) while India made sure they grabbed everything at hand. India`s total rebound count stood at 58 (22 offensives, 36 defensive). Sri Lanks`s FT percentage stood at 54% which topped India by a couple, but it was given way in 2 points FG where India enjoyed a 18% difference against the Lankan lasses.
For Sri Lanka it was Thisari Kapuge who top scored with 20 points and behind her was Taniya Perera with 16 points. Overall it was a performance that was quite disappointing. If Sri Lanka capitalized on rotating the ball, hitting the gaps, tight defense and avoid unnecessary violations, the islanders would could have had the chance to turn things around.
Full time: Sri Lanka: 58 India: 86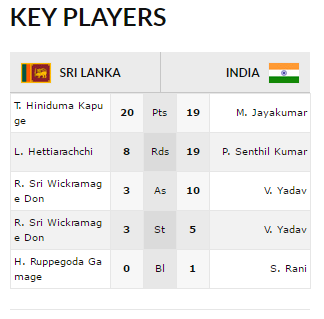 Video credits to : FIBA.com