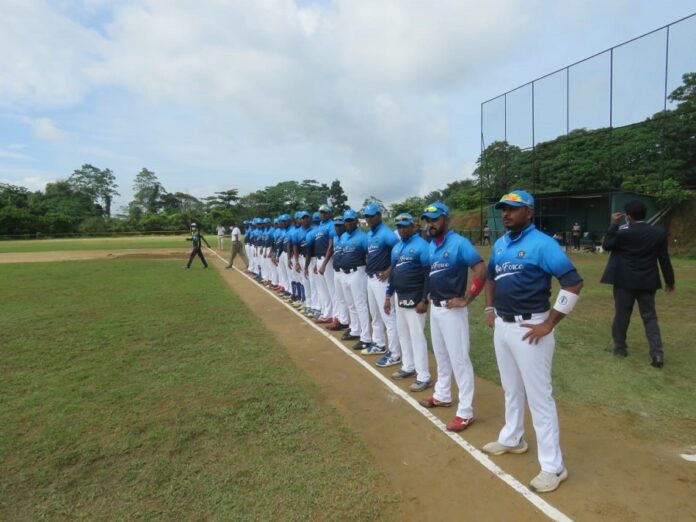 Air Force Baseball Club and the Royal Blues Baseball Club began the 2021 Sri Lanka Baseball Knockout Championship with 10-00 and 13-00 wins respectively over UOC Strikers and Sirdhamma Baseball Club.
The tournament began as Mr. Takema Sakamoto (Director General – South Asia Department) and Mr. Tetsuya Yamada (Chief Representative) of JICA graced the occasion as Chief Guest and Guest of Honour respectively.
Twelve (12) teams registered to take part in the tournament as Sri Lanka Baseball recommenced Baseball in the country after a lapse of nearly 2-years.
New President Mr. Asanga Seneviratne played a key role in organizing the event as he took over from Nissanka Senadhipathi.
Air Force had it all their way as they made easy work of UOC Strikers. The Airmen had a mammoth 3rd innings as they notched up 7 runs to take the game away. There was no coming back from then on as the Malinda Arumadura champions from 2020 ran away with the game.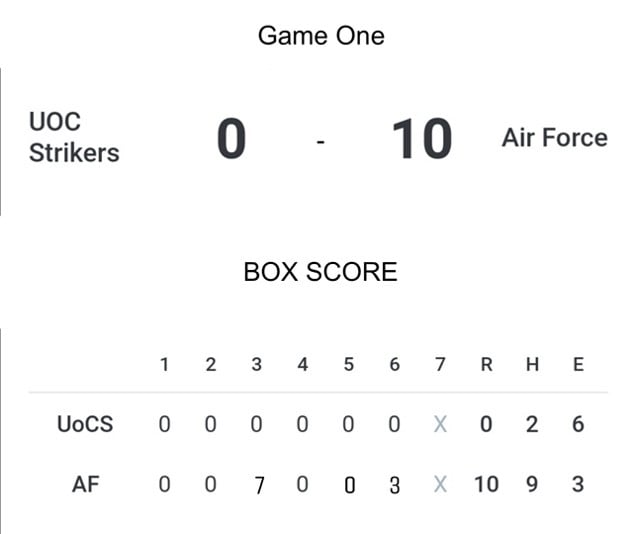 The second game of the day saw Royal Blues take on Siridhamma Baseball club. The Royalists were unstoppable from the beginning, as they hit the ground running from the onset. Siridhamma on the other hand, failed to get off the mark as they were held to zero. The most profitable innings came in the 5th as Royal Blues managed 5 runs and rounded off the game 13-00.
Day two of the tournament sees just one game as Old Anandians Baseball Club play against the Might Sri Lanka Army Baseball Club. The game is scheduled to begin at 2pm.
Match Schedule is as follows:
| | | | |
| --- | --- | --- | --- |
| Match No | Team | Date | Time |
| Game 1 | UOC Strikers Baseball Club | 18.11.2021 | 8.30 am -10.30am |
| | Air Force Baseball Club | | |
| Game2 | Siridhamma Baseball Club | 18.11.2021 | 11.15 am – 1.15 pm |
| | Royal Blues Baseball Club | | |
| Game 3 | Old Anandians Baseball Club | 19.11.2021 | 8.30 am – 10.30 am |
| | Sri Lanka Army Baseball Club | | |
| Game 4 | Ranabima Baseball Club | 19.11.2021 | 11.15 am – 1.15 pm |
| | Winner Game 2 | | |
| Game 5 | Old Nalandians' Baseball Club | 19.11.2021 | 2.00 pm – 4.00 pm |
| | KDU Baseball Club | | |
| Game 6 | DS Knights | 20.11.2021 | 8.30 am -10.30am |
| | Winner Game 1 | | |
| Game 7 | SLN Baseball Club | 20.11.2021 | 11.15 am – 1.15 pm |
| | Winner Game 5 | | |
| Game 8 | Winner Game 3 | 20.11.2021 | 2.00 pm – 4.00 pm |
| | Winner Game 4 | | |
| Game 9 | Winner Game 6 | 21.11.2021 | 8.300 am -10.00am |
| | Winner Game 7 | | |
| Game 10 | Winner Game 8 | 21.11.2021 | 1.00 pm – 4.00 pm |
| | Winner Game 9 | | |
*Article courtesy Sri Lanka Baseball