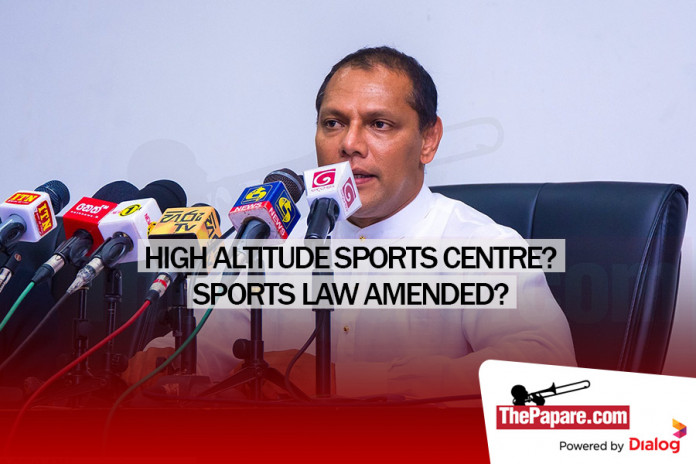 The much debated sports regulation amendments are set to be amended within the year as the Ministry of Sports have forwarded the respective changes to the policymakers and are expected to be gazetted in the near future.
Expressing his views at the sports calendar launch held at the Ministry of Sports the Hon. Minister of Sports Dayasiri Jayasekara added that it was after several meetings held with the National Olympic Committee and the International Olympic Committee that these adjustments are coming into place.
Marking a fresh beginning to the year, the Ministry of Sports re-instated its defunct sports calendar with the launch of the 2017 calendar and the sporting vision to make this year a memorable one for sport in Sri Lanka.
"We had discussions with the NOC and the IOC and we had quite a number of sports regulations to adjust"

"We had requested all sports bodies to fix dates for their special AGMs to announce the amendments in the regulations."
The minister showed his resentment as only a handful of bodies had shown response in this regard and urged everyone to do their respective duties to carry out the process.
Further elaborating on the plans, the Ministry of Sports is set to build a High Altitude Centre in Nuwareliya that will allow athletes to train at a state-of-the-art centre with the guidance of the high end expertise knowledge.
"This will be the second High Altitude Centre in Asia and will be placed in Nuwareliya at a cost of US 80 million and we have already made the necessary arrangements to begin construction."
This High Altitude Centre was a plan that was initially forwarded in the year 2002 when the then government focused on building a state-of-the-art facility to encourage the up and coming athletes to train but was never put into action.
The initiative was forwarded once again in 2013 during the tenure of Mahindananda Aluthgamage who re-instated the effort to progress with the planning. Along the line this too had been neglected and left aside and after the regime change, this has been left isolated. At that time the estimated cost for the centre accounted to US 115 million.
With the new regulations and framework in place with the ministry's three year plan ahead of the 2020 Olympics, the enthusiastic Sri Lankan sporting fraternity can only wish for a better year ahead in sport.