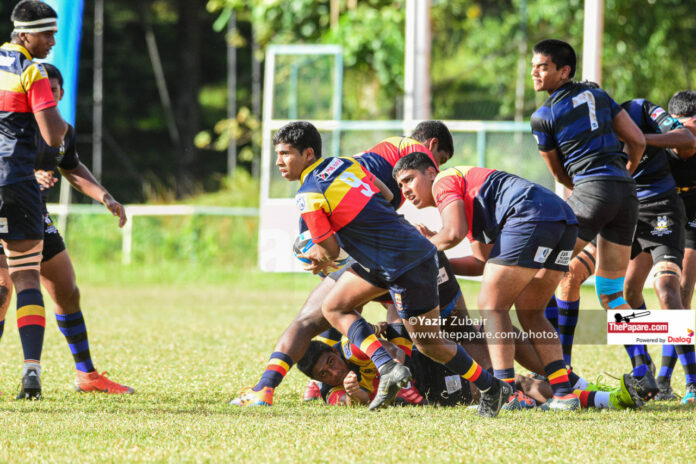 Trinity has scrapped hard in a 20-13 victory of S. Thomas, overcoming a late scare at the Dialog Schools Rugby at Pallekalle Rugby Stadium today.
The ball handling was surprisingly good from both sides, but Trinity's kicking game and good decision-making was brilliant, which proved to be a little too much for the school by the sea.
Things started off with a penalty inside the 22m of Thomian's half, as Yehan Bulathsinhalage did the honors with the penalty goal in the 3rd minute. Offense was a high tackle on the oncoming player right in front of the referee. (Trinity 00-03 S. Thomas)
 Trinity responded almost immediately through their Captain Lithmal Moragoda, after receiving a money ball cut out pass from the fly half Attab Manzil. (Trinity 07-03 S. Thomas)
Soon after, Kovida Wickramasinghe, player of the match, added another three points from right under the posts for an infringement of not rolling away. (Trinity 10-03 S. Thomas)
The game was evenly poised up until then before Kovida Wickramsinghe went over for an individually brilliant try, running all along the west coast of the touch line. The loose ball was collected by Kovida Wickramasinghe and was off in a flash, beating the oncoming defenders. He added the extras himself. (Trinity 17-03 S. Thomas)
Right on the brink of half-time, Yehan Bulathsinhalage added another penalty goal for S. Thomas as the infringement from the referee was the line being offside. (Trinity 17-06 S. Thomas)
Half Time – Trinity 17 (2T 2C 1P) – S. Thomas 06 (2P)
Right after the proceedings off the second half, Trinity was dealt with a blow as their scrum half, who had been playing so well in the game so far, got himself yellow carded for a reckless challenge at ruck time.
The Thomians profited immediately from the resulting penalty, as they picked and dropped over the whitewash. It was their Captain Chariya Kurukulasuriya who came up with ball from a pile of bodies. Yehan Bulathsinhalage once again added the extras to make it 17-13 to make things interesting. (Trinity 17-13 S. Thomas)
The game then swung between the two sides: the Trinity forwards however should be commended for their intelligent ball handling and skills to keep the Thomians at bay. The game had hardly any scrums, but line-outs and penalties were in plenty, as both sides got on the wrong side of the referee.
On the brink of the full time whistle, Kovida Wickramasinge added another penalty goal to stretch the lead to 7 points as Trinity held on at the full time whistle by a converted try. (Trinity 20-13 S.Thomas)
Full Time – Trinity 20 (2T 2C 2P) – S.Thomas 13 (1T 1C 2P)