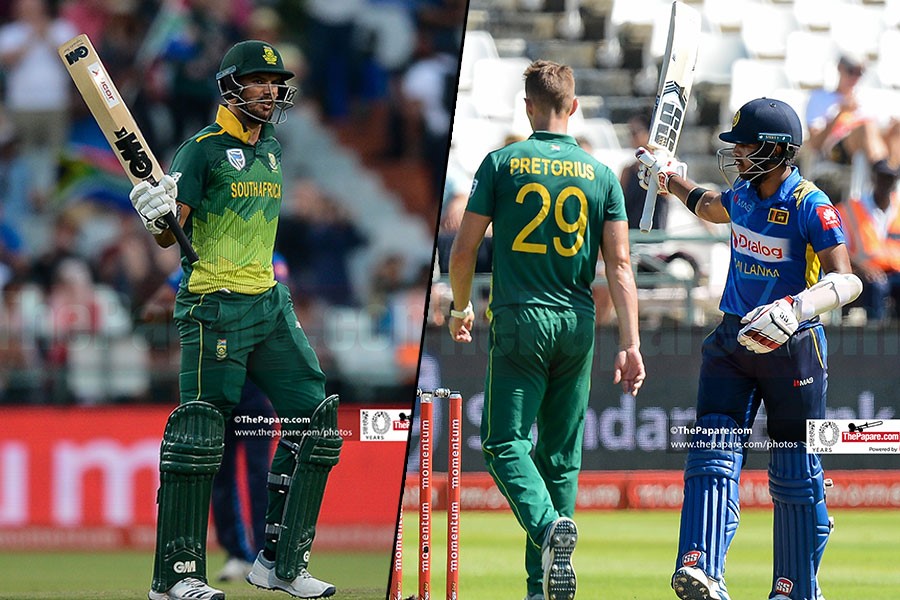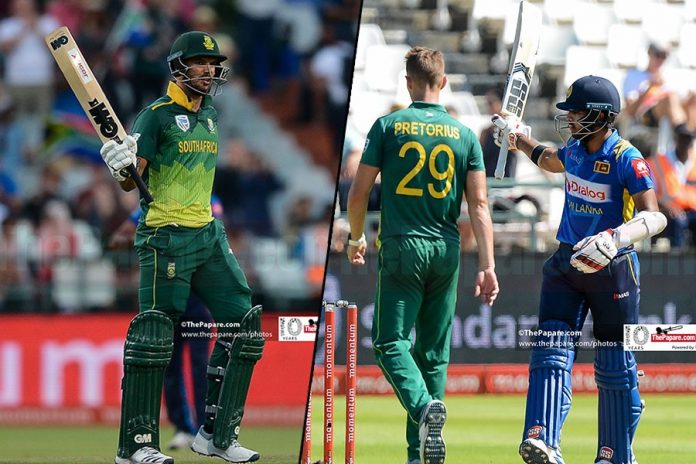 South Africa have won the fifth and final ODI by 41 runs (D/L) at Cape Town to seal the ODI series against Sri Lanka 5-0 after a disappointing floodlight failure forced the game come to an early end. They recorded their 10th consecutive ODI win at home against Sri Lanka. The visitors are still searching for their first ODI win in 2019, having lost 8 out 8 matches on the trot so far this year.
Sri Lanka's inability to manage the bowling of the South African pacers and spinners, was clearly on show throughout this series and today was no different at all as they were bundled out for 225 inside 50 overs. Kusal Mendis was the only one who went past the 50-run mark as the bowlers from the home nation made easy work of the Sri Lankan batsmen.
Chasing a comfortable 225 set by Sri Lanka, in-form Quinton de Kock couldn't get going this time as he mistimed a lofted drive off Malinga's bowling to be dismissed for 6 runs. This is the first time, de Kock wasn't able to reach fifty in this ODI series.
>>Photos: Sri Lanka vs South Africa – 5th ODI<<
Skipper Faf du Plessis and opener Aiden Markram, then had to face some hostile fast bowling from Lasith Malinga and Isuru Udana as the duo exploited the seam movement of the pitch assisted by uneven bounce. Markram presented an easy catch for Oshada Fernando at cover when he was on 13, only to be spilled by the 26-year-old.  
Markram then punished the Sri Lankan bowlers with a fine fifty before a flood light failure interrupted and eventually ended the match. At that point Markram and Rassie van der Dussen were pacing the chase nicely as they only needed 91 runs off 22 overs before the stoppage.
Play was called off after more than an hour and a half delay due to a floodlight failure and South Africa were well ahead of the D/L par score of 95 at that moment.
A 2nd consecutive 5-0 series loss on the cards in South Africa?
Earlier in the day, Sri Lanka skipper Lasith Malinga won the toss and elected to bat first. Playing his final ODI at Newlands, JP Duminy, who announced his intended retirement from the game after the World Cup, came out as the specialist coin-tosser for South Africa, but luck wasn't with him today.
Sri Lanka gave a chance to the middle order batsman Angelo Perera, omitting Kamindu Mendis from the playing XI. Experienced spinner Akila Dananjaya was brought back to the team at the expense of Kasun Rajitha.
South Africa made lots of changes to test their bench strength in this their final ODI before the World Cup. Rassie van der Dussen, Kagiso Rabada and Dwaine Pretorius were included in the playing XI.
South Africa vs Sri Lanka ODI Series 2019 – Let's talk Numbers
Sri Lankan openers Avishka Fernando and Upul Tharanga failed again at the face of the pace from the South African seamers, leaving all the work to be done by the middle order.
Kusal Mendis joined Oshada Fernando to consolidate the innings and the duo put on a patient partnership of 49 runs before South African skipper du Plessis introduced leg spinner Imran Tahir into the attack. Tahir as he does so often against Sri Lanka, struck in his first over to dismiss Fernando when he was on 22.
Then newcomer Angelo Perera played a good supporting hand to the in-form Kusal Mendis, compiling a 37 ball 31 before failing at the hands of Tahir's magic again to grant a catch to du Plessis at slips.
"Can you say that you're an international cricketer?" – Russel Arnold
Kusal Mendis, looked solid in the middle as he has done in the whole series and made a valuable half century to lift Sri Lanka to a respectable score. Mendis and Priyamal Perera who is playing just his second ODI, were involved in a mix-up to end Mendis' innings. This is the 3rd runout in which Mendis has been involved in this series.
The hero for Sri Lanka in the last series, Thisara Perera wasn't able to find his form as he departed for 2 runs when he found the only man in the deep on the leg side, trying to clear the boundary.
Priyamal Perera and Isuru Udana's late finishing touches made sure Sri Lanka reached the 225-run mark as both were dismissed for 33 and 32 respectively.
Imran Tahir and Anrich Nortje shared 2 wickets apiece while late strikes made sure Kagiso Rabada ended up with a 3-wicket haul.
Aiden Markram was nominated as the Player of the Match and unsurprisingly the man who made 3 half centuries and one century, Quinton de Kock was named as the Player of the Tournament.
// var socket=io('http://localhost:8080'); var socket=io('http://202.124.184.250:8080');
jQuery( document ).ready(function() { console.log( "ready" ); var prev_bat_team = 0;
socket.on('message',function (message) { message = JSON.parse(message); console.log(message); if( message.data.cric.commentary){ jQuery('#cmt_wrap').prepend('
'+message.data.cric.commentary.event+'
'+message.data.cric.commentary.comment+'
'); } if(message.data.cric.match){ console.log(message.data.cric.match.teams_1_inn2_r[0]); function ove(balls) { var overs = 0; if(balls %6 == 0){ overs = balls/6; }else{ overs = parseInt(balls/6)+"."+(+balls - +parseInt(balls/6)*6); } console.log(overs); return overs; }
if(!message.data.cric.match.teams_1_inn2_r[0]){
jQuery('#score_1_'+message.data.cric.match.teams_1_r[0]['id']).html(message.data.cric.match.teams_1_r[0]['score'] + " / " + message.data.cric.match.teams_1_r[0]['wkts']); jQuery('#over_1_'+message.data.cric.match.teams_1_r[0]['id']).html("("+ove(message.data.cric.match.teams_1_r[0]['balls'])+" overs)"); }else { jQuery('#score_1_'+message.data.cric.match.teams_1_r[0]['id']).html(message.data.cric.match.teams_1_r[0]['score'] + " / " + message.data.cric.match.teams_1_r[0]['wkts']+" & "+message.data.cric.match.teams_1_inn2_r[0]['score']+" / "+message.data.cric.match.teams_1_inn2_r[0]['wkts']); jQuery('#over_1_'+message.data.cric.match.teams_1_r[0]['id']).html("("+ove(message.data.cric.match.teams_1_inn2_r[0]['balls'])+" overs)"); } if(!message.data.cric.match.teams_2_inn2_r[0]){
jQuery('#score_2_'+message.data.cric.match.teams_2_r[0]['id']).html(message.data.cric.match.teams_2_r[0]['score'] + " / " + message.data.cric.match.teams_2_r[0]['wkts']); jQuery('#over_2_'+message.data.cric.match.teams_2_r[0]['id']).html("("+ove(message.data.cric.match.teams_2_r[0]['balls'])+" overs)"); }else { jQuery('#score_2_'+message.data.cric.match.teams_2_r[0]['id']).html(message.data.cric.match.teams_2_r[0]['score'] + " / " + message.data.cric.match.teams_2_r[0]['wkts']+" & "+message.data.cric.match.teams_2_inn2_r[0]['score']+" / "+message.data.cric.match.teams_2_inn2_r[0]['wkts']); jQuery('#over_2_'+message.data.cric.match.teams_2_r[0]['id']).html("("+ove(message.data.cric.match.teams_2_inn2_r[0]['balls'])+" overs)"); }
if(message.data.cric.match.teams_1_r[0]['extras']!=null){ jQuery('#extras_1_r_'+message.data.cric.match.teams_1_r[0]['id']).html("("+ove(message.data.cric.match.teams_1_r[0]['extras'])); } if(message.data.cric.match.teams_2_r[0]['extras']!=null){ jQuery('#extras_2_r_'+message.data.cric.match.teams_1_r[0]['id']).html("("+ove(message.data.cric.match.teams_2_r[0]['extras'])); } if(message.data.cric.match.teams_1_inn2_r[0]['extras']!=null){ jQuery('#extras_1_r_2_'+message.data.cric.match.teams_1_inn2_r[0]['id']).html("("+ove(message.data.cric.match.teams_1_inn2_r[0]['extras'])); } if(message.data.cric.match.teams_2_inn2_r[0]['extras']!=null){ jQuery('#extras_1_r_2_'+message.data.cric.match.teams_2_inn2_r[0]['id']).html("("+ove(message.data.cric.match.teams_2_inn2_r[0]['extras'])); }
//extras_1_r_2_ // if(prev_bat_team != message.data.cric.team_id){ jQuery('#widget_wrapper').load(document.URL + ' #widget_wrapper'); // } // prev_bat_team = message.data.cric.team_id // }
}); });
SA won by 41 runs (D/L)
Sri Lanka's Innings
Batting
R
B
Avishka Fernando
c A Markram b L Ngidi
9
15
Upul Tharanga
c de Kock b K Rabada
2
8
Oshada Fernando
c du Plessis b I Tahir
22
47
Kusal Mendis
(runout) L Ngidi
56
84
Angelo Perera
c du Plessis b I Tahir
31
37
Priyamal Perera
c & b K Rabada
33
57
Thisara Perera
c I Tahir b A Nortje
2
7
Dhananjaya de Silva
c JP Duminy b A Phehlukwayo
12
12
Isuru Udana
c I Tahir b K Rabada
32
29
Akila Dananjaya
c JP Duminy b A Nortje
3
4
Lasith Malinga
not out
0
0
Extras
23 (lb 8, nb 3, w 12)
Total
225/10 (49.3 overs)
Fall of Wickets:
1-14 (WIA Fernando, 3.3 ov), 2-14 (WU Tharanga, 4.1 ov), 3-63 (BOP Fernando, 17.6 ov), 4-125 (AK Perera, 29.5 ov), 5-136 (BKG Mendis, 34.3 ov), 6-141 (NLTC Perera, 36.3 ov), 7-161 (DM de Silva, 40.2 ov), 8-222 (I Udana, 48.4 ov), 9-222 (PARP Perera, 48.5 ov), 10-225 (A Dananjaya, 49.3 ov)
| Bowling | O | M | R | W | E |
| --- | --- | --- | --- | --- | --- |
| Kagiso Rabada | 10 | 1 | 50 | 3 | 5.00 |
| Lungi Ngidi | 5 | 1 | 16 | 1 | 3.20 |
| Andile Phehlukwayo | 8 | 0 | 40 | 1 | 5.00 |
| Anrich Nortje | 9.3 | 0 | 35 | 2 | 3.76 |
| Imran Tahir | 10 | 1 | 33 | 2 | 3.30 |
| Dwaine Pretorius | 4 | 0 | 27 | 0 | 6.75 |
| JP Duminy | 3 | 0 | 16 | 0 | 5.33 |
South Africa's Innings
Batting
R
B
Quinton de Kock
c A Fernando b L Malinga
6
14
Aiden Markram
not out
67
75
Faf du Plessis
c K Mendis b T Perera
24
42
Rassie vd Dussen
not out
28
37
Fall of Wickets:
1-8 (Q de Kock, 2.6 ov), 2-78 (F du Plessis, 17.2 ov)
| Bowling | O | M | R | W | E |
| --- | --- | --- | --- | --- | --- |
| Lasith Malinga | 6 | 0 | 22 | 1 | 3.67 |
| Dhananjaya de Silva | 1 | 0 | 3 | 0 | 3.00 |
| Isuru Udana | 7 | 1 | 37 | 0 | 5.29 |
| Akila Dananjaya | 7 | 0 | 38 | 0 | 5.43 |
| Thisara Perera | 5 | 0 | 20 | 1 | 4.00 |
| Angelo Perera | 2 | 0 | 11 | 0 | 5.50 |