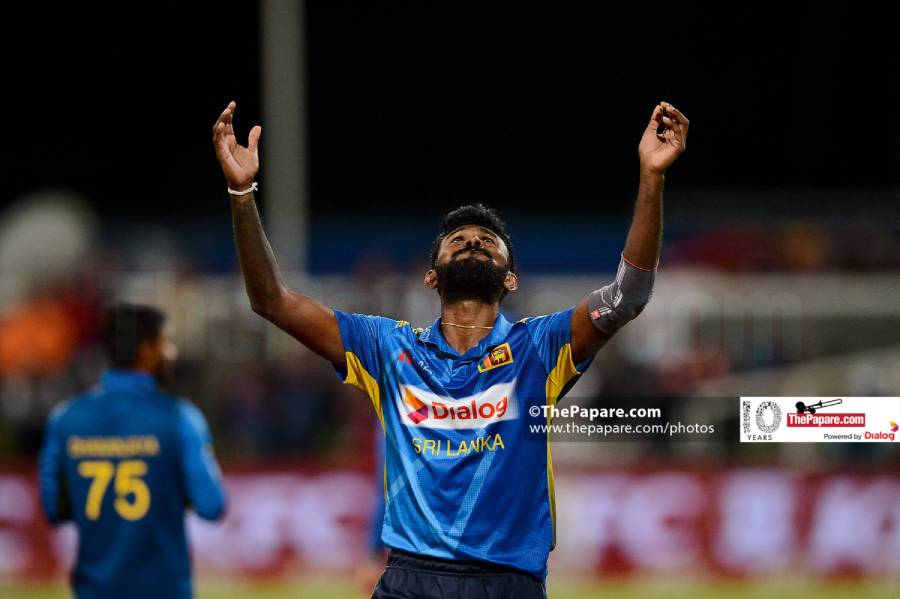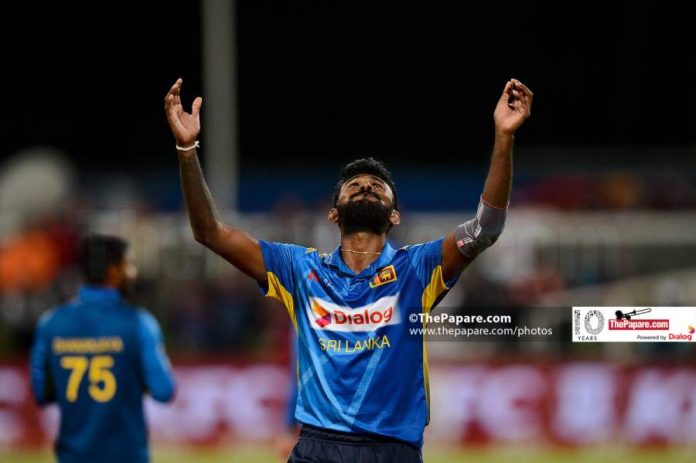 Sri Lanka went down in yet another limited over match today, but in more respectable fashion at Newlands, Cape Town in the 1st T20I. Sri Lanka made a modest 134 runs, with the usual batting collapses but their bowlers, the spinners and especially skipper Lasith Malinga and Isuru Udana broke the South Africa chase to tie the game in thrilling fashion. Unfortunately, the super over ended in favor of the home team.

South Africa whitewashed Sri Lanka in the ODI series 5-0 and the last time these two countries met each other in South Africa in a T20I series, the visitors recorded a 2-1 win despite losing every other match on that tour.
Read More : T20Is provide opportunity to build towards World Cup
South Africa skipper Faf du Plessis won the toss and elected to bowl first as Sri Lanka handed Avishka Fernando a maiden T20I cap. Niroshan Dikwella was recalled to his usual position after his omission from the last 2 ODIs. Sri Lanka opted to go with two specialist pacers, two specialist spinners and three all-rounders.
Sri Lanka were missing their regular head coach Chandika Hathurusinghe in the T20I as he was asked to head home to Sri Lanka after the ODI series by the management of Sri Lanka Cricket with the fielding coach, Steve Rixon filling in.
Read : Hathurusingha to return home; Rixon to fill in
South Africa included 20-year-old fast bowler Lutho Sipamla at the expense of Anrich Nortje from the last ODI.
Proving their skipper's decision was correct, the opening pace pair got rid of Niroshan Dikwella and Kusal Mendis in just 2 overs to send early panic attacks into Sri Lankan minds.
After being 7/2, the inexperienced pair of Avishka Fernando and Kamindu Mendis took the attack to the Proteas, stealing 33 runs in the next 3 overs with 4 massive sixes, sharing 2 each between them.
Photos: Sri Lanka vs South Africa 1st T20I in Cape Town
However Fernando was undone by a special effort by Reeza Hendricks at the square leg boundary when he was on 16. From then, the Sri Lankan innings lacked the impetus it needed to go for a good score as Angelo Perera and Kamindu Mendis found hard to clear the boundary.
Both were dismissed in consecutive overs as Sri Lanka slid down to 76 for 5 in 12.1 overs. Imran Tahir again worked his magic beautifully, tormenting the Sri Lanka batsmen as he concluded another impressive spell for 21 runs with 1 wicket.
The Sri Lanka innings never got going after the initial hiccups as they had to surrender for only 134 runs in 20 overs. All-rounder Andile Phehlukwayo continued his dream season as he was able to snatch 3 Sri Lanka scalps for just 25 runs.
Video – Russel Arnold explains the XI for the 1st T20I
Chasing a below par 135 target, the South African openers couldn't hit the launch pad as expected. Malinga introduced spinners straight away and they continued the pressure from both ends without letting the in form Quinton de Kock stretch his arms.
Spinners and decent fielding efforts reduced South Africa to 52 for 3 in 10 overs but then David Miller and Rassie van der Dussen's patient 66 run partnership almost took South Africa to the winning line.
South Africa only needed 6 runs in the last 2 overs with 4 wickets in hand. But then Lasith Malinga and Isuru Udana bowled two of the most incredible overs to grant only 5 runs to South Africa. In the final ball, needing two runs to win, Imran Tahir missed the ball and ran but Sri Lanka Wicketkeeper Niroshan Dickwella couldn't hit the stumps and as a result, the match was tied.
Eventually South Africa won the game in the super over, scoring 14 runs to 5 by Sri Lanka. David Miller was named the Player of the Match for his match defining 41 runs.
Next T20I between the two countries is set to be played on the 22nd of March in Centurion.
// var socket=io('http://localhost:8080'); var socket=io('http://202.124.184.250:8080');
jQuery( document ).ready(function() { console.log( "ready" ); var prev_bat_team = 0;
socket.on('message',function (message) { message = JSON.parse(message); console.log(message); if( message.data.cric.commentary){ jQuery('#cmt_wrap').prepend('
'+message.data.cric.commentary.event+'
'+message.data.cric.commentary.comment+'
'); } if(message.data.cric.match){ console.log(message.data.cric.match.teams_1_inn2_r[0]); function ove(balls) { var overs = 0; if(balls %6 == 0){ overs = balls/6; }else{ overs = parseInt(balls/6)+"."+(+balls - +parseInt(balls/6)*6); } console.log(overs); return overs; }
if(!message.data.cric.match.teams_1_inn2_r[0]){
jQuery('#score_1_'+message.data.cric.match.teams_1_r[0]['id']).html(message.data.cric.match.teams_1_r[0]['score'] + " / " + message.data.cric.match.teams_1_r[0]['wkts']); jQuery('#over_1_'+message.data.cric.match.teams_1_r[0]['id']).html("("+ove(message.data.cric.match.teams_1_r[0]['balls'])+" overs)"); }else { jQuery('#score_1_'+message.data.cric.match.teams_1_r[0]['id']).html(message.data.cric.match.teams_1_r[0]['score'] + " / " + message.data.cric.match.teams_1_r[0]['wkts']+" & "+message.data.cric.match.teams_1_inn2_r[0]['score']+" / "+message.data.cric.match.teams_1_inn2_r[0]['wkts']); jQuery('#over_1_'+message.data.cric.match.teams_1_r[0]['id']).html("("+ove(message.data.cric.match.teams_1_inn2_r[0]['balls'])+" overs)"); } if(!message.data.cric.match.teams_2_inn2_r[0]){
jQuery('#score_2_'+message.data.cric.match.teams_2_r[0]['id']).html(message.data.cric.match.teams_2_r[0]['score'] + " / " + message.data.cric.match.teams_2_r[0]['wkts']); jQuery('#over_2_'+message.data.cric.match.teams_2_r[0]['id']).html("("+ove(message.data.cric.match.teams_2_r[0]['balls'])+" overs)"); }else { jQuery('#score_2_'+message.data.cric.match.teams_2_r[0]['id']).html(message.data.cric.match.teams_2_r[0]['score'] + " / " + message.data.cric.match.teams_2_r[0]['wkts']+" & "+message.data.cric.match.teams_2_inn2_r[0]['score']+" / "+message.data.cric.match.teams_2_inn2_r[0]['wkts']); jQuery('#over_2_'+message.data.cric.match.teams_2_r[0]['id']).html("("+ove(message.data.cric.match.teams_2_inn2_r[0]['balls'])+" overs)"); }
if(message.data.cric.match.teams_1_r[0]['extras']!=null){ jQuery('#extras_1_r_'+message.data.cric.match.teams_1_r[0]['id']).html("("+ove(message.data.cric.match.teams_1_r[0]['extras'])); } if(message.data.cric.match.teams_2_r[0]['extras']!=null){ jQuery('#extras_2_r_'+message.data.cric.match.teams_1_r[0]['id']).html("("+ove(message.data.cric.match.teams_2_r[0]['extras'])); } if(message.data.cric.match.teams_1_inn2_r[0]['extras']!=null){ jQuery('#extras_1_r_2_'+message.data.cric.match.teams_1_inn2_r[0]['id']).html("("+ove(message.data.cric.match.teams_1_inn2_r[0]['extras'])); } if(message.data.cric.match.teams_2_inn2_r[0]['extras']!=null){ jQuery('#extras_1_r_2_'+message.data.cric.match.teams_2_inn2_r[0]['id']).html("("+ove(message.data.cric.match.teams_2_inn2_r[0]['extras'])); }
//extras_1_r_2_ // if(prev_bat_team != message.data.cric.team_id){ jQuery('#widget_wrapper').load(document.URL + ' #widget_wrapper'); // } // prev_bat_team = message.data.cric.team_id // }
}); });
SA won on super over
Sri Lanka's Innings
Batting
R
B
Niroshan Dickwella
c D Miller b D Steyn
0
2
Avishka Fernando
c R Hendricks b L Sipamla
16
15
Kusal Mendis
c L Sipamla b K Rabada
0
6
Kamindu Mendis
st D Miller b I Tahir
41
29
Angelo Perera
b A Phehlukwayo
16
18
Thisara Perera
c du Plessis b A Phehlukwayo
19
21
Dhananjaya de Silva
b A Phehlukwayo
14
19
Isuru Udana
not out
12
6
Akila Dananjaya
not out
8
4
Fall of Wickets:
1-0 (N Dickwella, 0.2 ov), 2-7 (BKG Mendis, 1.6 ov), 3-42 (WIA Fernando, 5.4 ov), 4-73 (AK Perera, 11.2 ov), 5-76 (PHKD Mendis, 12.1 ov), 6-113 (NLTC Perera, 18.1 ov), 7-113 (DM de Silva, 18.2 ov)
| Bowling | O | M | R | W | E |
| --- | --- | --- | --- | --- | --- |
| Dale Steyn | 4 | 1 | 25 | 1 | 6.25 |
| Kagiso Rabada | 4 | 0 | 42 | 1 | 10.50 |
| Lutho Sipamla | 4 | 0 | 19 | 1 | 4.75 |
| Imran Tahir | 4 | 0 | 21 | 1 | 5.25 |
| Andile Phehlukwayo | 4 | 0 | 25 | 3 | 6.25 |
South Africa's Innings
Batting
R
B
Quinton de Kock
c N Dickwella b A Dananjaya
13
17
Reeza Hendricks
(runout) A Dananjaya
8
8
Faf du Plessis
c D De Silva b J Vandersay
21
23
Rassie vd Dussen
c I Udana b L Malinga
34
30
David Miller
(runout) K Mendis
41
23
JP Duminy
(runout) A Dananjaya
9
7
Andile Phehlukwayo
c I Udana b D De Silva
4
4
Kagiso Rabada
b L Malinga
0
4
Dale Steyn
not out
1
3
Imran Tahir
not out
1
1
Fall of Wickets:
1-21 (RR Hendricks, 3.4 ov), 2-33 (Q de Kock, 6.1 ov), 3-52 (F du Plessis, 9.3 ov), 4-118 (HE van der Dussen, 16.3 ov), 5-119 (DA Miller, 16.5 ov), 6-128 (AL Phehlukwayo, 17.5 ov), 7-130 (K Rabada, 18.6 ov), 8-133 (JP Duminy, 19.5 ov)
| Bowling | O | M | R | W | E |
| --- | --- | --- | --- | --- | --- |
| Lasith Malinga | 4 | 0 | 11 | 2 | 2.75 |
| Dhananjaya de Silva | 4 | 0 | 28 | 1 | 7.00 |
| Akila Dananjaya | 4 | 0 | 28 | 1 | 7.00 |
| Jeffrey Vandersay | 4 | 0 | 25 | 1 | 6.25 |
| Kamindu Mendis | 1 | 0 | 9 | 0 | 9.00 |
| Isuru Udana | 3 | 0 | 32 | 0 | 10.67 |