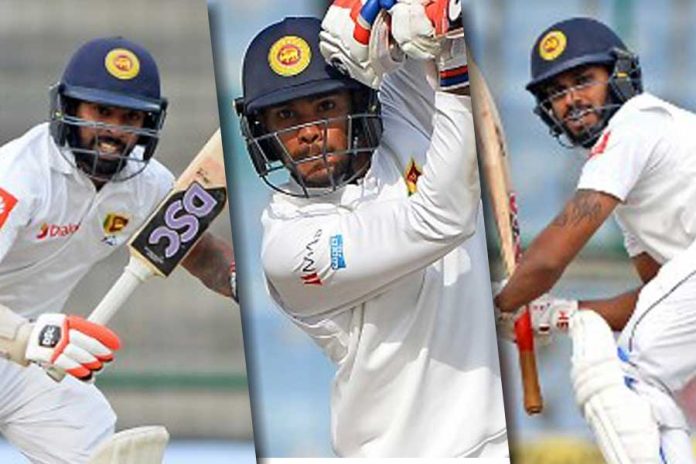 The buzz in the press box when Angelo Mathews was dismissed on the fifth morning of the Delhi Test match was that this is going to be all over by lunch.
Sri Lanka captain Dinesh Chandimal has gained eight..
Sections of the Indian media that had alleged that the Sri Lankans were blowing the Delhi pollution out of proportion were convinced that this Sri Lankan team didn't have the guts to battle it out.
Much better Sri Lankan sides have arrived in India and returned home with bruised egos. But then came the remarkable fight back. For the whole of day five, Sri Lanka lost only two wickets. It was a masterclass. A classic example of how to bat on a fifth day wicket!
When Virat Kohli set Sri Lanka an imposing target of 410 in three and half sessions, the only thing that was in the minds of the tourists was to how to bat out time. If Sri Lanka were to see off this challenge, they needed one of their three premier batsmen – Dimuth Karunaratne, Angelo Mathews or Dinesh Chandimal to bat through the innings.
Karunaratne's poor run in India continued as he was dismissed cheaply but the wicket of Mathews in the fifth over of the final morning was a bitter pill to swallow.
Rex Clementine has played a long innings for Sri Lanka crickeT…
Amidst all the rubble, Dhananjaya de Silva was continuing – cool as a cucumber. Have we found a solid number three? Only time will tell. Kusal Mendis looked set to bat at that position for a decade and half until the opponents worked him out and despite much early promise, Mendis now has massive challenge to fight his way back into the side.
After his hundred in his debut series against the Aussies, Dhananjaya did well to score another ton during the tour of Zimbabwe. He was batting at number six then but when the team went to South Africa,  he was allowed to bat at number four. South Africa is not the place for such experiments and eventually he was dropped and sent back to the 'A' team after a string of failures.
Read – How Roshen Silva resisted Dickwella's temptations
In West Indies, he guided the 'A' team to a come-from-behind victory, scoring a hundred and two fifties in the series. That warranted a place in the senior side. At the conclusion of the West Indies tour, Dhananjaya came in for high praise from team manager Charith Senanayake, who praised the 26-year-old's unselfish approach.
During the tour of India, with Lahiru Thirimanne clearly struggling to make an impact with his temperament exposed against Ravichandran Ashwin, the selectors decided to drop him for the final Test in Delhi. It was a massive call as you don't leave out your vice-captain that often, but the bold decision paid dividends as Dhananjaya grabbed his opportunity with both hands.
His unbeaten 119 now is the highest individual score in India in the  fourth innings by a visiting batsman. Dhananjaya passed none other than Sir Viv Richards, whose unbeaten 109, also in Delhi, handed the Indians their last defeat in one of their strongholds 30 years ago. It was only the fourth time a Sri Lankan had scored a hundred in the fourth innings of a Test match. The last man to do so was Kumar Sangakkara, who produced a terrific 192 in Hobart ten years ago.
Along with Dhananjaya, Roshen Silva was also on that 'A' team tour. Possessing a First Class structure with little competitiveness, 'A' team series are the answer to prepare players for the tougher challenges of Test cricket.
Read Also – Dhananjaya and Roshen prove their worth in Sri Lankan colours
When Roshen collected a duck in the first innings, he would have gone through hell. He had waited for so long for this opportunity and the inability to make it count must have drained him. No one has deserved a place in the Test side more than Roshen. By the time he made his debut, he had played over 100 First Class games and scored more than 6000 runs.
Coincidentally, Ashwin, who had dismissed him in the first innings was bowling with Sri Lanka battling to save the Test match on the last day, when he came in to bat. Captain Dinesh Chandimal had batted for over two hours and had ensured that Sri Lanka lost only one wicket in the morning session. Roshen needed to carry on from that platform, but given his inexperience, there was not much hope. He rose to the occasion remarkably.
Roshen faced three nervous deliveries from Ashwin before the Indian off-spinner offered a full delivery on the leg-side, which the  batsman flicked to the boundary past Cheteshwar Pujara at leg-gully. From thereon, he grew in confidence and brought out some elegant strokes.
Sri Lanka secured a fighting draw in the 3rd Test against India..
Initially, Roshen looked like a predominantly off-side player with some cracking boundaries off the spinners. Once Jadeja bowled a full delivery and the batsman stepped out and nicely caressed it through extra cover for four to score a fifty on debut. But equally good was his on-side play and nimble foot work stepping out to the spinners and whipping past midwicket or going on the back foot and bringing up the on-drives.  Like Dhananjaya, he was a treat to watch.
While Dhananjaya and Roshen were playing proper Test cricket, Niroshan Dickwella was trying to get under the skin of the Indians. During his stand with Roshen, he tempted the senior batsman to go for his hundred by taking a few chances and then reminded that with 50 minutes left in the game and 117 runs required, it could be chased down. Roshen sensibly turned  down the proposal.
You need characters like Dickwella. World cricket is going to see a lot more of his antics. Not only does he talk the talk, but walks the walk as well and exciting times are ahead for Sri Lankan cricket.