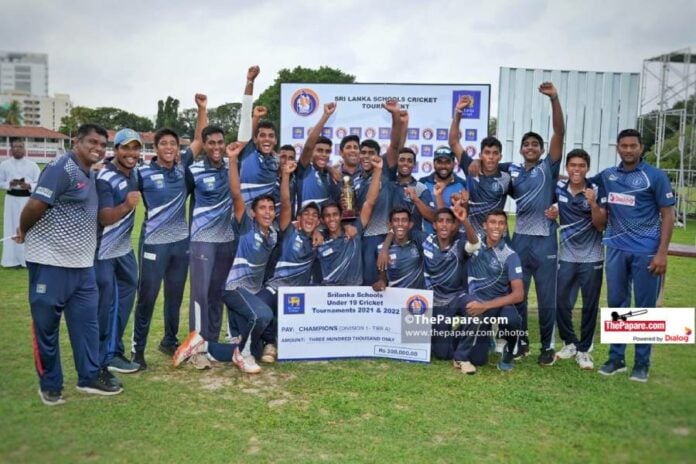 St. Joseph's College were crowned champions of the SLSCA U19 Division 1 – Tier 'A" Limited Over Cricket Tournament, as they beat Richmond College by 106 runs in the final worked off today (20th April) at Police Park Grounds, Colombo.
St. Joseph's College won the toss and chose to bat first in a rain-shortened 47-over game. Sadeesh Jayawardena and Hirun Kapurubandara opened the batting for St. Joseph's College, putting on a 37-run stand.
The number three batter Shevon Daniel impressed with the bat building crucial stands of 57 & 86 runs with Jayawardena and Dunith Wellalage respectively as Joes posted a solid score of 257 runs in the allotted 47 overs.
Daniel top-scored with a brilliant knock of 80 runs off 88 balls with 6 fours and 3 sixes. In the bowling department, it was Malsha Tharupathi who starred with the ball for Richmond College taking 4 wickets for 50 runs.
Chasing 258 runs to win, Southern boys got off to a poor start losing half of their side for just runs putting huge pressure on the tail-enders. Number 6 batter Malsha Tharupathi who starred with the ball earlier for Richmond stood out with the bat as well scoring a fighting half-ton, but it wasn't enough to put his side over the line as Joes registered a comprehensive win to clinch the title.
St. Joseph's College once again showcased their domination in Schools Cricket clinching their 2nd consecutive Division 1 – Tier 'A' title after winning the Two-Day Championship for two consecutive years.
St. Joseph's College's domination in Schools Cricket
2017/18 – Under 19 Division 1 – Two Day Champions
2018/19 – Under 19 Division 1 – Two Day Champions
2020/21 – Under 19 Division 1 – Tier A Limited Overs Champions
2021/22 – Under 19 Division 1 – Tier A Limited Overs Champions


Batsmen
R
B
4s
6s
SR
Sadeesh Jayawardana
st Janeth Kaushal b Malsha Tharupathi
46
78
0
0
58.97
Hirun Matheesha Kapurubandara
c Sharon Abhishek b Hansamana De Silva
13
17
0
0
76.47
Shevon Daniel
c Vishara Fernando b Hansamana De Silva
80
88
0
0
90.91
Hiran Jaysundara
c Hansamana De Silva b Malsha Tharupathi
3
8
0
0
37.50
Dunith Wellalage
c Janeth Kaushal b Kalpa Nethsara
42
53
0
0
79.25
Mithira Thenura
b Kalpa Nethsara
5
8
0
0
62.50
Deshan Seneviratne
c Tharindu Nirmal b Malsha Tharupathi
18
10
0
0
180.00
Muditha Lakshan
not out
34
19
0
0
178.95
Lahiru Amarasekara
c Tharindu Nirmal b Malsha Tharupathi
2
3
0
0
66.67
Rishma Amarasinghe
run out (Thamindu Pradeeptha)
1
2
0
0
50.00
Yenula Dewthusa
not out
0
0
0
0
0.00
| | |
| --- | --- |
| Extras | 13 (b 0 , lb 1 , nb 4, w 8, pen 0) |
| Total | 257/9 (47 Overs, RR: 5.47) |
| Bowling | O | M | R | W | Econ |
| --- | --- | --- | --- | --- | --- |
| Kalpa Nethsara | 7 | 0 | 40 | 2 | 5.71 |
| Hansamana De Silva | 8 | 0 | 48 | 2 | 6.00 |
| Tharindu Nirmal | 9 | 0 | 37 | 0 | 4.11 |
| Malsha Tharupathi | 9 | 0 | 50 | 4 | 5.56 |
| Sharon Abhishek | 10 | 0 | 34 | 0 | 3.40 |
| Nalaka Jayawardana | 3 | 0 | 33 | 0 | 11.00 |
| Bhanuka Manohara | 1 | 0 | 14 | 0 | 14.00 |


Batsmen
R
B
4s
6s
SR
Vishara Fernando
c Sadeesh Jayawardana b Deshan Seneviratne
0
1
0
0
0.00
Tharindu Nirmal
run out (Rishma Amarasinghe)
6
23
0
0
26.09
Thamindu Pradeeptha
c Shevon Daniel b Dunith Wellalage
16
55
0
0
29.09
Bhanuka Manohara
b Yenula Dewthusa
5
16
0
0
31.25
Janeth Kaushal
c Sadeesh Jayawardana b Lahiru Amarasekara
8
21
0
0
38.10
Malsha Tharupathi
lbw b Deshan Seneviratne
62
54
0
0
114.81
Hansamana De Silva
b Dunith Wellalage
7
16
0
0
43.75
Mahesha De Silva
c Shevon Daniel b Deshan Seneviratne
18
27
0
0
66.67
Sharon Abhishek
c Muditha Lakshan b Shevon Daniel
4
17
0
0
23.53
Kalpa Nethsara
c Hirun Matheesha Kapurubandara b Dunith Wellalage
14
14
0
0
100.00
Nalaka Jayawardana
not out
3
6
0
0
50.00
| | |
| --- | --- |
| Extras | 8 (b 0 , lb 0 , nb 1, w 7, pen 0) |
| Total | 151/10 (41.3 Overs, RR: 3.64) |
| Bowling | O | M | R | W | Econ |
| --- | --- | --- | --- | --- | --- |
| Deshan Seneviratne | 7 | 1 | 26 | 3 | 3.71 |
| Mithira Thenura | 4 | 1 | 11 | 0 | 2.75 |
| Dunith Wellalage | 8.3 | 1 | 18 | 3 | 2.17 |
| Shevon Daniel | 10 | 0 | 28 | 1 | 2.80 |
| Yenula Dewthusa | 7 | 0 | 41 | 1 | 5.86 |
| Lahiru Amarasekara | 3 | 0 | 17 | 1 | 5.67 |
| Muditha Lakshan | 2 | 1 | 10 | 0 | 5.00 |