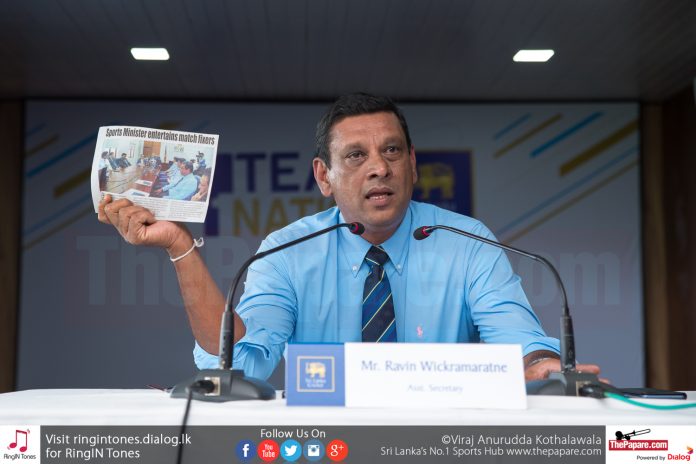 Sri Lanka Cricket (SLC) Assistant Secretary and former Panadura SC President Ravin Wickramarathne has denied all the match-fixing allegations on his name related to the controversial Panadura-Kaluatara 'Tier B' match last year.
At a special press conference held at SLC headquarters on Tuesday, Wickramarathne stated that he has done nothing wrong in this incident.
"I have done nothing wrong in this incident and strongly deny any involvement in this match-fixing issue. How can only I get crucified for a crime I have not done? Everyone with common sense would know that an official alone cannot fix matches. If the match was fixed, the players, umpires and coaches, all should be involved. " Wickramarathne said.
The controversial tier 'B' tournament match between Panadura Sports Club and Kalutara Physical Culture Club on January 23, 24 and 25 played at Surrey Grounds, Maggona in 2017 sparked an investigation after 24 wickets fell for 603 runs in just 59 overs on a rain-hit final day.
In contrast, the first and the second days witnessed tallies of 362 for 8 (3.85 runs per over) and 207 for 4 (3.83 runs per over) respectively.
Match-fixing allegations rock Sri Lanka Domestic Cricket
A committee appointed by SLC made an inquiry which lasted more than 7 months and then punished the players and the clubs last September. The players appealed to the Ministry of Sports and they started a fresh probe into this matter. The appeal committee found that the players were not given an opportunity to show cause against the charges and not given an opportunity to participate in the inquiry, thus breaching the rules of natural justice.
"Many people with different agendas have started this mud-slinging campaign on the current administration thus targeted me to hurt our President (Thilanga Sumathipala). I love the game of cricket and I am a well-reputed person in the cricketing circle so I don't like to get any bad name hence I am going to take legal action to clear my name." Wickramarathne further stated.
The findings of that appeal committee inquiry have made nine special recommendations to SLC, including action against the current Assistant Secretary of SLC.
"The Sports Minister's recommendations have not yet been tabled at the SLC Executive Committee. I personally wrote to the Ex-Co to look into it because this is bizarre. Once the AGM is over, the new committee will look into it and take necessary action. Wickramarathne went onto say.