Sevens referee Matt O'Brien has apologised to the Springbok Sevens team for his performance in last weekend's controversial Wellington Sevens final.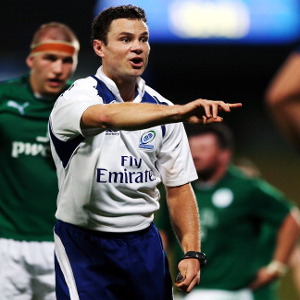 O'Brien met with Bok Sevens coach Neil Powell on Wednesday in Sydney ahead of this weekend's Sydney Sevens along with World Rugby Sevens assessor Tappe Henning and delivered a "heartfelt" apology for the way he refereed the final of the tournament.
It was little consolation to the Bok sevens side, who led 21-7 before O'Brien put in some of the worst calls on the Sevens circuit, penalising the dominant team with a 9-1 penalty count against them and allowing New Zealand to come back and score three tries in the last three minutes of the game to take the title.
O'Brien has since been lambasted across the globe for his performance, as well as the fact he is the son of World Rugby Sevens Referees boss Paddy, grew up in New Zealand and was appointed to referee a final involving the All Blacks as well.
While the apology will not do any good in the greater scheme of things, Powell told Supersport.com the team had accepted it and moved on and were now concentrating on this weekend's tournament and underlying their lead in the HSBC Sevens series.
O'Brien will referee this weekend's Sydney Sevens but will not referee any of the Springbok Sevens' pool games. Whether this is by design or on purpose isn't clear, but the Blitzboks could run into him in the Cup knockout rounds if they make it that far.
Still, Powell believes the matter is now buried, and accepted the apology, which he believes was heartfelt.
"I sat with him and we went through the second half of the game and he explained his decisions. It was really honest and open, and I think he realised at times he had made big mistakes. I think his apologies were sincere.
"He apologised to me for the way he refereed the game."
"I'm obviously still disappointed with what happened and I'm not a guy for records, but it would have been nice to win it, because we've only won Wellington once before. We don't normally concentrate on the result, but in this case we would have really wanted to win the Sevens there. In that aspect we are disappointed in how we lost, but we can't fault the effort and performance of the players. They really put their hearts and bodies on the line, we couldn't look at one game and say there was someone who wasn't up for it.
"I'm very proud of the guys and the effort they put in. As I said after the tournament they deserved better than second place."
That being said, Powell now needs to get his side up for this weekend's pool round on Saturday, where they once again face Scotland and Russia while Kenya are this time the third side in their pool.
While the team had done exceptionally on defence Powell said he would be looking for them to not make the "little mistakes" they had made in the Wellington tournament, which mostly were missing one-on-one tackles.
But while they expected the task to be just as difficult, Powell and his team know at least what to expect from day one of the tournament in Sydney.
Impressive loose forward Tim Agaba will also make his debut during the tournament, with the Blitzboks ravaged by injury and without regulars Kyle Brown, Frankie Horne, Cecil Afrika, Branco du Preez and Justin Geduld will have to rely heavily on a very inexperienced bench for the weekend outing.
SQUAD:
1. Chris Dry (47 World Series tournaments)
2. Philip Snyman (captain, 33)
3. Carel du Preez (4)
4. Kwagga Smith (18)
5. Sandile Ngcobo (1)
6. Francois Hougaard (3)
7. Cheslin Kolbe (DHL Western Province, 11)
8. Dylan Sage (2)
9. Tim Agaba (0)
10. Rosko Specman (8)
11. Seabelo Senatla (22)
12. Juan de Jongh (DHL Western Province, 4)