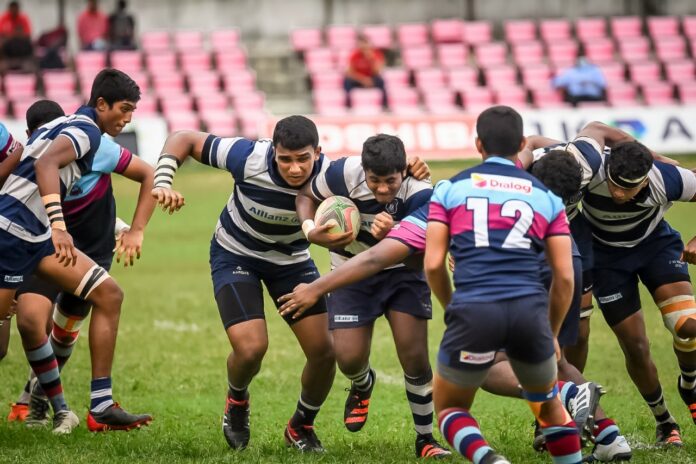 Five-try second half by St. Joseph's College ensured safe passage into the super round, beating St. Anthony's College 35-20 at Havelock Park in the Dialog Schools Rugby League.
The Josephians entered the fray with four changes, while the Antonians made three changes themselves in the final game of the first round.
The visitors started off on the front foot with a try of their own as they dominated the hosts, leaving the Josephians searching for answers.
Sahan Keerthisiri notched over a penalty shortly after a try from Zaky Jeffrey to extend the visitors lead. (SJC 00-08 SACK)
The Josephians score twice, first off a sublime backline move through Deshan Tharuka as they brought about the razzle dazzle to leave the visitors in shock.
The hosts' forwards stepped up to the plate as the lads from Maradana doubled their try tally through hooker Chamodh Seneviratne, to gain the lead for the first time in the game. Dilhara Subash failed with both conversions. (SJC 10-08 SACK)
Keerthisiri notched over three further penalties, as Josephian winger Shanuka Alahakoon saw red for a high shot, and the visitors took a 7-point lead into the lemons, leaving the Josephians with everything to play for.
Half Time: St. Joseph's College 10 (2T) train St. Anthony's College 17 (1T 4P)
With the game on the line and a place in the super round, the Josephians brought about their A-game, leaving the visitors not knowing what hit them.
Five tries in the second half saw the Josephians seal the bonus point, and with it, a passage to the second round, securing the final place available.
It was the hosts' forwards that stepped up to the plate, leaving the visitors awestruck.
Five different try scorers – namely Chamodh Seneviratne, Mandara Amarasekara, Minidu Pathirana, Jehan Athukorala and Sithaja Sanjeewa – scored as the game was stolen off the visiting Antonian lads to leave the home team and their faithful cheering on till the final whistle.
Dilshan Subash, Isuru Kanchana and Ruchitha Rodrigo all failed with the five conversions, as the game was pretty much sealed in favor of the home team.
Keerthisiri notched over a penalty after the hooker. However, the game was far from secured by the hosts, sealing a super round birth and a date against 2A table toppers Isipathana College.
Full Time: St. Joseph's College 35 (7T) defeat St. Anthony's College 20 (1T 5P)
NDB Player of the Match: Sachinthana Waidyanatha (SJC Flanker)
Points Breakdown:
St. Joseph's College:
Deshan Tharuka 1T, Chamodh Seneviratne 2T, Mandara Amarasekara 1T, Minidu Pathirana 1T, Jehan Athukorala 1T, Sithaja Sanjeewa 1T
St. Anthony's College:
Zaky Jeffrey 1T, Sahan Keerthisiri 5P