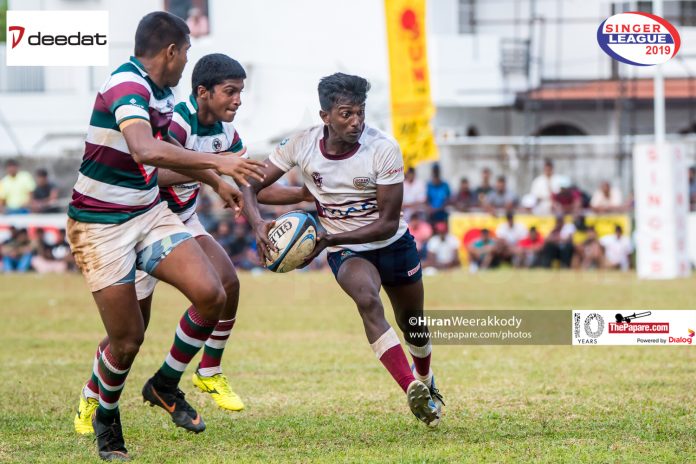 Science College, Mount Lavinia secured their first win in the Singer Schools Rugby League 2019, against a spirited Zahira College outfit at the Science College Grounds, this evening (9th March). After leading 19 – 3 at half-time, the home team went on to win the game 19 – 8 failing to earn a bonus point. 
The game kicked off in ideal conditions for fast running rugby and that's exactly what the visiting team, Zahira College, was served with in the whole of the first half. Both teams showed early nerves throughout the first quarter of the game – until the Zahirian full-back kicked the ball straight into the hands of experienced winger, Rohan Sanjula. The next 30 seconds saw the Zahirians go into a moment of brain-freeze, as Sanjula ended under the posts after cutting straight through the visitor's defense line. Fly-half Hasaranga Akmeemana made no mistake as he took his team 7 points up.
In an attempt to bridge the gap, Abdul Salam slotted in a three-pointer drawing first blood for Zahira in the 21st min, but an immediate response from winger Sanjula left Zahira bamboozled. He managed to complete a hat-trick of tries in the 1st half and put his team on the pedestal before lemons. Both tries came in similar fashion, after he spotted the weakness in the Zahirian back line defense. He kicked and chased the ball to recollect and jot down over the white-wash. Akmeemana only managed to get 1 of the 2 conversions in as his team led 19 – 3 at half time.
Half-time: SC led 19 – 3 ZC
The final half was a do or die situation for Zahira College, as they were yet to go over the try line. Coach, Collin Denish tried switching three different half-backs and two different fly-halves, but nothing seemed to work for his team. Disappointing touch-finders and an unstructured pattern of play cost Zahira deeply, as they defended their hearts out preventing Science from extending their lead.
Photo Album : Science College v Zahira College | School Rugby 2019
But hopes of a comeback sparked the Zahirian bench when Fazlath Fawmy went over the whitewash after barging forward from the back of a ruck. Zaid Thajudeen and his troops then had 13 minutes remaining to score 2 more converted tries and steal the game. But unfortunately, similar to Salam's conversion attempt, Zahira's shot at a win went astray as the team failed to beat the clock and make a remarkable comeback.
Full time: SC won 19 (3T 2C) beat ZC 8 (1T 1P)
Score Breakdown – SC

Tries: Rohan Sanjula 3
Conversions: Hasaranga Akmeemana 2

Score Breakdown – ZC

Tries: Fazlath Fawmy
Conversions: Abdul Salam 1
Penalties: Abdul Salam 1
Player of the Match: Rohan Sanjula (SC)