Adding to the already heightened March Madness, the Singer A division schools rugby league will kick-off on the 18th March between St. Joseph v S. Thomas'College at CR&FC grounds and Trinity v Wesley College at Pallekele on the same day.
The league
Sri Lanka Schools Rugby Association (SLSRFA) brought up the new format two years ago which allows the lower divison team to compete with top rugby playing schools. Thirty six schools will be playing in the division one under 6 segments. Below are the groups.
Segment -1A  
Royal College Colombo
Trinity College Kandy
Joseph's College Colombo
Thomas' College Mt. Lavinia
Wesley College Colombo
D.S. Senanayake College
Segment -2A  
Prince of Wales College Moratuwa
Thurstan College Colombo
Piliyandala MMV Piliyandala
Vidyartha College Kandy
Benedict's College Colombo
Mahanama College Colombo
Segment  – 1C  
Sylvester's College Kandy
Maliyadeva College Kurunegala
Richmond College Galle
Ehiliyagoda MMV Ehiliyagoda
Carey College Colombo
Thomas' College Matale
Segment -1B
Isipathana College Colombo
Science College Mt. Lavinia
St. Peter's College Colombo
Kingswood College Kandy
St. Anthony's College Kandy
Dharmaraja College
Segment – 2B   
Zahira College Colombo.
C.W.W. Kannangara MV Colombo
Ananda College Colombo
Lalith Athulathmudali College Mt. Lavinia
St. John's College Nugegoda
Royal College Panadura
Segment – 2C
Lumbini College Colombo
Nalanda College Colombo
Nugawela MMV Werellegama
Moratu Vidyalaya Moratuwa
Veluwana Vidyalaya Colombo
Bandaranayake MV Gampaha
Segment -1A
St. Anne's College Kurunegala
Devapathiraja College Galle
Vidyaloka MV Galle
Thalduwa Buddhist MV Thalduwa
Sri Sumangala MMV Kandy
Vidura College Nawla Rajagiriya
Segment – 2A
Wayamba Royal College Kurunegala
Kegalu Vidayalaya Kegalle
Zahira MV Mawanella
Sri Sumangala MMV Panadura
Rahula College Matara
Aloysiu's College Galle
Segment – 1B
Dharmapala MV Pannipitiya
Mahinda College Galle
soka Vidyalaya Colombo
Sri Rahula Vidyalaya Katugasthota
President's College Maharagama
Siri Piyarathana MMV Padukka
Segment – 2B
Rewata Vidyalaya Balapitiya
St.Servetus' College Matara
Upananda College Galle
Rahula College Matara
Ginthota Vidyalaya
Segment – 3A
De.S.Jayasinghe MMV Dehiwala
Sebastian's College Kandana
Anthony's College Wattala
Sri Rajasinghe MMV Hanwella
Sir John's Kotalawala MV Kurunegala
Hindu College Colombo.04
Segment – 3B
Kalutara Vidyalaya Kalutra
St. Peter's College Udugampola
Kottawa Ananda MV Kottawa
S. Thomas' Prep School Colombo.03
Lakadasa De Mel Mv Kurunegala
Each team will play five matches along with the other teams in their group. The top four team will play crisscross against the other group for the cup title between the segment 1A & 1B. The bottom two teams of segment 1A & 1B will play for the plate championship along with the top two teams of segment 2A & 2B.
The teams that finish 2-6 in the segment 2A & 2B will play crisscross for the bowl title while top four in the segment 1C & 2C will play for the shield. The bottom two teams of 1C & 2C will have the relegation battle against division 2 schools.
CWW Kannangara which was promoted to play in the top category for the first time in history last year, could not match up to the challenge as they lost all their games. D.S. Senanayake College also had a similar journey when they played in the top division in 2014. After finishing in the top four in the plate competition last year (2015) they will have a big task in the promotional affair as they kick off this season with the champions Royal College on the 20th Sunday.
A recap of the 2015 cup final
Royal College were crowned last year under their ever-smiling captain Banuka Gamage with the coaching maestro Sanath Martis guiding the team. Most importantly Royal placed the icing on the cake with a brilliant second leg routing in the traditional Bradby fixturevs Trinity.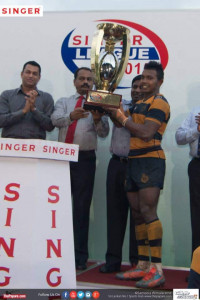 The league final was set out as a thriller last year where Isipathana tried to defend the title under the monsterous no8 Omalka Gunarathne and their coach Nilfer Ibrahim, but it was all Royal as they won 21 – 08 at their Sports Complex.
This year too this highly competitive schools' league is sure to dish out some red-hot rugby; chants, cheers, colour and controversy mixing with blood, sweat and tears to deliver an unequivocal passage of scrumptious rugby. Ever since S. Thomas'won the schools sevens title after 22 years this January, the quest for the title has been thrown wide open.
Twists and Turns
Science College clinched their first ever major title winning the President Trophy beating Isipathana College by 21 – 18 in the final. Although Isipathana produced a 45 – 20 win during the league against Science, the school from Mt.Lavinia showcased a lot of courage and desire to win a final last year. Science appointed Collin Denish as their consultant coach from St. Peters but Collin has made areturn to his Alma-mater quite surprisingly. The Science college physio and the trainer Ransilu Jayathilake too moved to St. Peters for this season. Science has beaten St. Peters continuously in the recent past and this year it will be interesting to watch some grudge-battles between the two schools.
Thomas', Royal, St. Peters, Trinity and Science has a very high percentage of players who played last year. On the other hand the other schools in the segment 1A and 1B do not have that luxury this season but certainly they would have nurtured the players during the pre and off seasons.
Both Kingswood and Dharmaraja College played some excellent sevens rugby and their talent in the XV format could not be under-estimated. Wesley, St. Anthony's and D.S. Senanayake College have a lot to do this season although Wesley won the plate championship last two years in a row, they will be hoping to play in the cup segment at the end of round one.